printer friendly version
Evolution of home technology from connected to proactive
Issue 1 2020 Smart Home Automation, Electronics Technology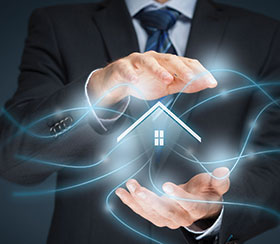 The idea of 'home' has evolved greatly over the millennia. Over the last decades, technology has transformed homes into hubs of functionality – centres of entertainment, environmental management, work, fitness, security and more.
Molex believes looking at home technology in an evolutionary context is valuable – if not essential – to manufacturers developing the solutions that will further transform tomorrow's homes. The better we are able to see where we were and where we are, the better we may be able to see where we will be. This is of great importance to manufacturers of home products and systems, for they must place bets now to retain a competitive edge down the road.
Molex sees the connected home as the current phase in the ongoing evolution of home technology. While some may view the connected home as the future, the company believes that it is already reality, as the hurdles to achieving connectivity have largely been met. While connected home adoption continues to expand, it is looking ahead to the next phase, developing the technology that will guide the transition to homes that grow more proactive and automated than we can currently imagine.
Presently, connected home adoption varies widely throughout the world, both in market penetration and use cases. The United States and Canada make up the largest market, growing by 31% per year, but the majority of usage is for home security systems, or detecting fire or water leaks.
Europeans are adopting connected home technology in growing numbers, with an overwhelming focus on reducing energy costs through monitoring and adapting applications. Healthcare applications are also popular for an aging European population.
Asia is currently the fastest growing market, driven not only by a large, innovative telecom industry, but also by the need to save energy in a region where an inadequate infrastructure can lead to energy shortages.
Gartner predicts there will be 20.8 billion Internet of Things-enabled devices by 2020, while Strategy Analytics anticipates that Americans will spend up to $48 billion on these devices by 2020. Globally, the Internet of Things market is estimated at $1,7 trillion. In the United States, one in four Internet users already owns a smart home device (most often a security system or home automation device), with adoption strongest among men with an annual household income greater than $100 000.
To a greater or lesser degree, the connected home has arrived. But how did it get here and where is it going?
The enabled home
By the end of the 20th century, most homes contained items once considered extravagant luxuries, from refrigerators to multiple television sets, to programmable thermostats. Manufacturers with expertise in miniaturisation and digitalisation were leading the way, developing technology that grew richer in features while taking up less space and costing less.
While the home's occupants benefited from greater safety, comfort and convenience, they still had to deal with two significant (by today's standards, anyway) constraints. The first was that these products needed to be activated by people in order for them to respond. For example, when a person turned on an appliance, opened a garage door, set a thermostat or armed a security system, their physical action was required before the electronics could react.
Second, enabled products were not connected. Manufacturers who created them typically enhanced the discrete functionality of the products themselves, but without integrating those products with anything else in the home or environment. While some products might have used sensor technology (e.g., for motion detection), the products themselves were not interoperable – one product could not react to a sensor in another product.
The connected home
As sensors and interconnects have become more pervasive, and cloud technology more robust, homes evolved into today's connected home. Devices and appliances can now connect with each other and the cloud through greater interoperability. Additionally, human actuation is becoming less necessary.
Devices such as the Amazon Echo with the Alexa voice service, the Google Home smart speaker and Apple's HomePod with Siri make the home an increasingly connected, interoperable environment. Occupants can now prompt more actions through voice commands rather than physically pressing a button, and devices are more programmable to act at certain times or conditions without human intervention. Security, cost savings, social engagement, and health and wellness are more easily integrated into the daily routine, rather than another to-do or afterthought.
Still, interoperability of devices remains a work in progress. Competing technology ecosystems that place myriad products under central control now vie for prominence in the marketplace, and monitoring and control of different devices not made to work with these platforms can be clunky, if not impossible. The connected home is the present, but the future will demand more seamless interoperability.
The proactive home
The next evolution is speculative, but its seeds have already taken root. Leveraging growing artificial intelligence, machine learning, natural language processing and visual recognition, the home itself will acquire the ability to sense – to watch, listen, smell and feel. At the heart of this ability will be sensors that can detect movement, temperature, occupancy, etc.
By 2025, approximately 80 billion devices will be connected to the Internet. Gartner projects that by 2022, a typical home could contain more than 500 smart devices. Using artificial intelligence that combines data from across these devices, the house will learn, and take responsibility for functions such as switching on lights at certain times of day, setting temperature based on the weather, suggesting music and creating grocery lists.
"I think that the individual may not know what's happening, these cognitive systems will ooze into our lives," says John Cohn, IBM Fellow for the Internet of Things. For all intents and purposes, the home will become a proactive partner in its occupants' daily existence. It will predict what it is that they need or desire, and act – based on current or changing conditions – even at times before they themselves may realise their own inclination.
For example, the proactive home might observe that traffic is heavy on a particular day, and decide to wake an occupant (let's call her Jane) 30 minutes earlier than usual to compensate for it. The smart mattress she is sleeping on will track her sleep pattern so the home will know that a gentle wakeup alarm will do the trick that morning.
As Jane gets up, the shower will already be at her preferred temperature (the home will recognise different people living in it due to their size or other visual characteristics) and the coffee she likes will be brewing. As she gets ready, a smart mirror may offer advice on everything from wardrobe choice to makeup, together with news and an update on that day's traffic situation.
This example shows how, in the span of a few minutes, the home performed a complicated analysis of data drawn from the cloud and local sensors, compared it with learned knowledge and preferences, and made a series of intelligent, proactive decisions that saved the home's occupant time and energy (and likely reduced her stress level).
Making tomorrow's proactive home a reality
Molex believes this coming proactive home will improve the quality of life for millions of people around the world. By eliminating repetitive tasks or routine chores, life is made easier, but it is the anticipatory aspect of this next technology wave that shows the most promise.
As with autonomous driving, 'autonomous living' will usher in a new age of personal productivity at home. With extra time on their hands, people will enjoy greater opportunities for self-fulfilment. Manufacturers truly able to connect smart devices across platforms and their users are poised to capture and lead new markets – and make their products indispensable to modern life.
There are still a number of challenges to iron out in transforming the connected home into the proactive home. Power consumption, connectivity and interoperability are just a few. But as these hurdles are overcome, new ones will replace them as the home technology evolution progresses.
Since each consumer's routines and preferences vary, proactive home solutions will need to be greatly adaptable, while keeping a positive user experience at their core. One-size-fits-all solutions will not impress tomorrow's consumers, who will expect their homes to flawlessly anticipate their needs with a minimal learning curve. Product developers must also determine how to reconcile homes with multiple occupants, each with distinct preferences and habits.
Critical to the success of the connected home (and the manufacturers who enable it) is the ability to translate harvested data into product value. The many overlapping data streams in a home will be powerful predictors for all kinds of behaviour, and will present new opportunities across home technology ecosystems.
No one company can overcome these challenges; instead, collaboration along the entire home technology value chain will be required. Rather than thinking in terms of individual devices, suppliers for the proactive home will strive for complete solutions that combine devices, applications, services and processes to harvest and intelligently use all the available data.
To truly be 'smart,' these solutions must articulate and address consumer needs and wants. Leading manufacturers will leverage insights from across the entire supply chain, acquiring and transferring knowledge fluidly from their own component and sub-system suppliers to and from the broader technology ecosystem of which they are a part.
Strategically choosing the right solutions developer
There are suppliers who focus on one segment within the ecosystem only, but there are also an increasing number of companies that are getting involved in the entire ecosystem. The latter will be better positioned to act as strategic resources in the coming proactive home.
Molex, for example, has been traditionally an interconnect company and, as a result, mostly focused on the device layer. But today, it is transforming itself into a solutions provider by continuously acquiring new technologies, ranging across sensor, software and firmware developments. Additionally, it is collaborating with its own sister companies within Koch Industries to explore bringing ancillary technologies to the home.
For example, Molex has joined the EnOcean Alliance with the goal of incorporating EnOcean energy harvesting technology within the Molex Transcend network connected lighting system. This low-voltage lighting system powers and controls LED fixtures to enable lighting that adapts to mood, tasks, ambient lighting and more. The system not only creates a personalised experience that supports higher productivity, it also enables digital ceiling and smart building networks to converge over IP. The applications feed sensor data to a central host, enabling the measurement of real-time energy consumption, air quality, temperature and more for increased operational efficiency.
Molex also offers the Soligie line of flexible printed electronic solutions, providing a thin, flexible, robust and economical alternative to rigid printed circuit boards (PCBs) or copper flex circuits. The Soligie line enables the use of flexible sensors in a host of applications for the smart home, including remote medical diagnostics.
As mentioned, connectivity and power consumption are critical requirements for connected home devices. Molex laser direct structuring (LDS) technology uses a laser beam to create the required antenna pattern on the surface of complex 3D parts, enabling customers to achieve a higher level of product integration with fewer components at a lower cost.
Wireless charging will also be a feature of the proactive home. Molex is now offering both standard and custom wireless power coils with NuCurrent technology for plug-free device charging per the PowerLife standard. The integrated wireless power coils feature a thin design and high power transfer efficiency (Q-factor).
Conclusion
OEMs need to leverage solution providers that not only understand the connected home, but where it's going. Today's connected home manufacturers need to predict where technological change is heading in order to steer design in the right direction. That means they need to work with a solutions provider that not only delivers the products and solutions to help them win consumer acceptance in a crowded field, but one that understands the possibilities of underlying technologies to transform what their products can become.
For more information contact Roger Young, Molex, +27 (0)72 327 1012, roger.young@molex.com, www.molex.com
Further reading:
Smart opener for gates and garages
Smart Home Automation Access Control & Identity Management
The Smart Gate and Garage Opener allows consumers to control and monitor gates and garage doors that have already been fitted with automation devices via the Yale Home app on their smartphone.
Read more...
---
Ring announces second generation indoor camera
Smart Home Automation Surveillance Residential Estate (Industry)
Introducing a removable manual privacy cover, Ring's latest indoor camera provides customers with increased privacy, control and peace of mind when it comes to home security.
Read more...
---
Understanding the language of connectivity
Smart Home Automation
Having a better understanding of the available options can help you communicate your internet needs more effectively with a service provider. You don't need to be an expert on the topic, but having some insight can ensure you always stay connected.
Read more...
---
IoT users' cybersecurity outlook
Smart Home Automation IoT & Automation
A new global survey conducted by Kaspersky 'The smart home of almost everything: From the fridge to TV, how we'll embrace the year of the virtual assistant in 2023', explores the key digital habits, obstacles and smart home device usage.
Read more...
---
Intelligent security for high-end complex
Dahua Technology South Africa Smart Home Automation
Residents can enjoy a smart and convenient living experience brought by advanced AI technology, make video conversations with guests, call security personnel for help, or manage all smart home control systems remotely.
Read more...
---
Batteries creating false alarms due to load shedding
Uniross Batteries Smart Home Automation Products & Solutions
A local security company has solved the problem of receiving false alarms during loadshedding by replacing its customers' 12 V lead batteries with lithium batteries.
Read more...
---
Smart home security
Olarm Smart Home Automation Perimeter Security, Alarms & Intruder Detection Products & Solutions
The applied use of smart technology within the Olarm ecosystem, through smart features coupled with existing systems, extends the benefits of technology into different spheres.
Read more...
---
All-in-one smart access solution for residential living
Salto Systems Africa Smart Home Automation
SALTO Homelok is set to change residential living with its all-in-one solution that integrates smart access control technology, hardware, cloud software, digital keys, a smart living ecosystem, and global service support.
Read more...
---
Cut the home access fuss with Fluss
Smart Home Automation
The Fluss app integrates with a small device connected to your home or business electrical system that turns your smartphone into a key to open any gate, garage, or door.
Read more...
---
Keeping your home surveillance private
Smart Home Automation
Camect autodetects home surveillance cameras and offers advanced AI and 1 TB of storage in a single box while also ensuring online access and full privacy for its users.
Read more...
---