printer friendly version
To cloud or not to cloud
1 May 2018 Editor's Choice, CCTV, Surveillance & Remote Monitoring, IT infrastructure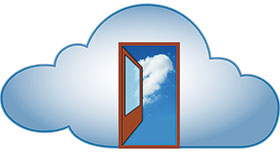 The recent growth in South Africa's data centre infrastructure has led some industry players to believe that there will be a related increase in demand for video surveillance due to increased local cloud storage options. According to recent predictions, South Africa will follow global trends with an upsurge in cloud-based services in the physical security industry, leading customers to unlock great cost savings once they've moved their video surveillance footage to cloud storage.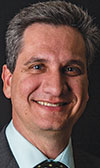 Laurence Smith.
This will steer a shift in market interest toward Video Surveillance as a Service (VSaaS), As a result, customers will be able to upgrade their storage to meet current and future demands in a remote database by sending video data and storing video footage in the cloud.
Realistically, this is not the case locally and businesses should be wary of moving everything to the cloud just because it is marketed as more secure and cost-effective. Businesses should rather do a cost-benefit analysis of moving their video data to the cloud for storage purposes, just as they would for any other data. Such an analysis may reveal that it is far more cost-effective and practical to consider outsourcing the storage of surveillance events footage to the cloud, rather than all footage in entirety.
Not yet a reality for South Africa
Storing all video footage in the cloud sounds good in theory. It implies that customers will be able to avoid the costs and headaches involved in setting up and managing on-premise storage by simply moving all of it to the cloud. This would be the case in an ideal world, if the transfer mechanism and connectivity between a business and the remote data centre was unlimited and all-powerful. This is not the case.
In South Africa, limited connectivity infrastructure and the persistent cost of bandwidth makes it a challenge to stream large volumes of video footage to the cloud, particularly high-resolution feeds from camera systems that can contain upward of a hundred or more cameras.
Furthermore, relying on a third-party network service provider for the capacity to upload or download video to and from the cloud means that any outage could cut your organisation off from its video assets. There is the very real possibility that uploads may fail, data may be lost and information may be unavailable until network services are restored.
When video is stored on premise, there's always the comfort of having local access and control. In addition, most enterprise-class servers and network video recorders (NVRs) include the ability to have failover servers and procedures to ensure video recording continues in the event of a temporary network outage.
Be practical about what needs to go in the cloud
Before moving video surveillance to the cloud, businesses need to remember that the majority of collected video footage is rarely used, and it is only specific events that will require a follow-up action. Merely pushing volumes of video data into the cloud does not make sense if it does not deliver any value. That's why it makes sense to only store events footage in the cloud, and have this as a service. The key to unlocking the cost and security benefit of the cloud for video customers in South Africa's current reality would lie in achieving a balance between on-premises storage of video footage and cloud storage for events footage. Here, data management considerations, such as how long video footage needs to be stored before being archived or destroyed, can be structured to minimise the costs of on-premises storage and management.
Not to say that the cloud holds no promise for video surveillance as it stands right now. Rather, the benefits of cloud can be exploited in other ways and enterprises are now in a position to make use of cloud-powered video surveillance analytics engines. This can help security and public safety entities in the development of comprehensive security and investigative capabilities using recorded video footage. By adding capabilities like advanced search and facial recognition, it becomes possible to automate the difficult, time-consuming processes of finding critical information across multiple video files from different camera types.
Work with what's available right now
Cloud-based video surveillance storage and management is an emerging approach that holds massive potential for the physical security realm. However, until substantial bandwidth hurdles can be overcome, it won't be a cost-effective video surveillance storage solution for most mid- to large-sized businesses with multiple locations and more demanding video requirements. This will require further advances in terms of video compression technology and more affordable bandwidth services. Until this hurdle has fallen, it remains important for South African organisations to bear in mind the practical realities of cloud storage for video surveillance footage and to look to the cloud for productivity and cost-cutting benefits in other ways.
For more information contact Graphic Image Technologies, +27 (0)11 483 0333, laurence@git.co.za, www.git.co.za
Credit(s)
Further reading:
The year resilience paid off
Issue 8 2020 , Editor's Choice, Security Services & Risk Management
Hi-Tech Security Solutions spoke to Michael Davies about business continuity and resilience in a year when everything was put to the test.
Read more...
---
Retail solutions beyond security
Issue 8 2020, Axis Communications SA, Technews Publishing, Hikvision South Africa , Editor's Choice, CCTV, Surveillance & Remote Monitoring
The need for security technology to deliver more than videos of people falling or stealing from retail stores is greater than ever.
Read more...
---
AI-powered hardhat detection
Issue 8 2020, Hikvision South Africa , Industrial (Industry), CCTV, Surveillance & Remote Monitoring
Hardhats save lives, but only if people wear them. Intelligent, AI-powered hardhat cameras are helping to ensure workers in dangerous locations stay safe at all times.
Read more...
---
Intelligent video analytics for CCTV
Issue 9 2020, Kleyn , Editor's Choice
Lesley-Anne Kleyn expands on the growth and utility of analytics at the edge, including the benefits AI and deep learning have added to analytics algorithms.
Read more...
---
New public CCTV system secures Sandton Central
Issue 9 2020 , Editor's Choice
The Sandton Central Management District's (SCMD) state-of-the-art system uses artificial intelligence to detect and respond to specific events.
Read more...
---
Opportunities on the edge
Issue 9 2020 , Editor's Choice, IT infrastructure
The ability of organisations to realise business value from data increasingly depends on their capacity to collect, process, store and analyse it at the edge.
Read more...
---
Enabling data-driven governments
Issue 9 2020 , Editor's Choice
Across the globe, governments are exploring ways to use data to improve the life of citizens, increase efficiency of operations, and create more innovative business models.
Read more...
---
City installs 13 000 cameras in four months
Issue 9 2020, Eagle Eye Networks , Editor's Choice, CCTV, Surveillance & Remote Monitoring
Eagle Eye Networks and its reseller partner fast-tracked installation of 13 720 cloud managed cameras in a cyber-secure city-wide surveillance programme in Mexico City, using 4G connectivity.
Read more...
---
Looking back with a new perspective on the future
Issue 9 2020, Axis Communications SA , Editor's Choice, Security Services & Risk Management
Peter Lindström reflects on predictions he made about the macro trends affecting the sector in 2020 in the light of the pandemic.
Read more...
---
Eagle to land in SA in 2021
Issue 9 2020, Eagle Eye Networks , Editor's Choice
Eagle Eye Networks raises $40 million to transform video surveillance by combining cloud and AI, has plans for South Africa.
Read more...
---