printer friendly version
Polygraphing versus voice analysis
May 2018
Security Services & Risk Management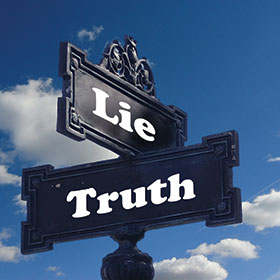 We've all seen the use of polygraphs in American movies, especially when someone says a polygraph is not admissible in court or when they catch a bad guy after using a 'lie detector'. There are many polygraph service providers in South Africa and this mechanism has been used in various situations over the years, but is it a good option when doing employee screening.

Jenny Reid
Hi-Tech Security Solutions asked Jenny Reid, CEO of iFacts for her take on the polygraph and its utility in screening today, as well as voice stress analysis.
Reid says that current trends indicate that people and organisations are actually moving away from the traditional polygraph test (the one made famous by movies), to the new Voice Stress Analysis (VSA). Opinions differ in terms of which method is better, but the industry is certainly moving in the direction of the VSA.
The VSA measures the flexibility of a subject's vocal chords, Reid explains. "Typically, when a person is put under stress, they will enter into 'fight, flight, or freeze' mode. This in turn causes their throat muscles to tighten, which has an effect on their vocal chords. Subjects are asked a range of questions by a qualified analyst, and the VSA measures the physical changes taking place in the subject's body. However, unlike a polygraph, this is not done through any physical attachments."
The VSA is a much friendlier test in terms of how it interacts with the subject. Figures suggest that typically around 80% of people that are tested are actually 'innocent', and so it certainly makes sense to give these subjects a much friendlier test.
Chris Nel, the managing director of Welcor Truth Verification Centre, suggests that people should do their own research into both the polygraph and the VSA. In short the benefits of the voice stress analysis include:
• More hygienic;
• More subject friendly; and
• Less intimidating to subjects.
However, in many cases it is a personal decision as to which method is better. Some of the key differences between these two methods, which mostly point towards the benefits of VSA, include:
• The VSA doesn't make use of any physical attachments;
• Subjects are free to move around as they wish;
• VSA is a much newer technology than the polygraph;
• The only possible countermeasure is for the subject to be silent;
• All results are claimed to be conclusive;
• Alcohol, drugs, age and health will not impact on results;
• An unlimited number of questions can be asked in the test; and
• Result charts are able to show and quantify stress patterns.
Dismissing an employee based on a VSA
Remember that an employee cannot be dismissed purely as a result of a polygraph or VSA test, Reid cautions. The results of these tests can and must only be used as supporting evidence when a case is presented at the CCMA. If you are attempting to dismiss an employee based on that person failing a voice stress test, you must make sure that the following is in place:
• Correct paperwork, including a release form signed by the subject;
• Once the test has been conducted, charts have been analysed (in front of subject), and the subject has shown deception to some or other degree, you should tell the subject they have failed, and then complete the report and forward this to the client; and
• The client needs to hold a disciplinary hearing.
For more information contact iFacts, +27 (0)11 609 5124, sonya@ifacts.co.za, www.ifacts.co.za
Credit(s)
Further reading:
Ransomware predictions
Issue 1 2020 , Security Services & Risk Management
As we enter a new decade, Simon Jelley, VP of product management at Veritas, explores how ransomware is likely to continue evolving in the year ahead.
Read more...
---
The HR environment in 2020
Issue 1 2020, iFacts , Security Services & Risk Management
As 2020 grabs hold of every one of us with great intent, we need to know what to be aware of when employing people or appointing vendors for our business.
Read more...
---
The instruments for investigation
Issue 1 2020, Technews Publishing , Security Services & Risk Management
Regardless of the reason for investigation, the investigation is only as good as the investigators.
Read more...
---
Nothing holds Eudricht back
Issue 1 2020, Sensor Security Systems , Security Services & Risk Management
In this personality profile, Eudricht Kotze talks of his journey overcoming adversity in the security industry.
Read more...
---
Leaders in risk and security: You have to know it to manage it
Issue 1 2020, Technews Publishing , Security Services & Risk Management
Hi-Tech Security Solutions profiles Nash Lutchman, Senior Vice President and Head of Protection Services at Sibanye-Stillwater.
Read more...
---
Drilling deeper into essential building management systems
Issue 1 2020 , Security Services & Risk Management
As the demand for the automation of security and other systems in buildings and large construction sites around the world grows, we are seeing an increase in the demand for building management systems.
Read more...
---
From physical security to cybersecurity
Access & Identity Management Handbook 2020, Genetec , Cyber Security, Security Services & Risk Management
Genetec discusses the security-of-security concept as a means to protect cameras, door controllers and other physical security devices and systems against cybercriminal activity.
Read more...
---
Biometrics in identity
Access & Identity Management Handbook 2020 , Access Control & Identity Management, Security Services & Risk Management
With multiple identity providers offering to manage digital identities for the general public, the root identity – the single sovereign trusted identity upon which all others are based – must start with government.
Read more...
---
Success lies in planning
November 2019, Vox Telecom , Security Services & Risk Management
A safe and smart city will only be successful if it is planned properly, if there is buy-in from all the stakeholders and if it is managed efficiently.
Read more...
---
Matching governance to context
November 2019, ContinuitySA , Security Services & Risk Management
When building resilience and planning for business continuity, take proportionality to heart, advises Michael Davies, CEO of ContinuitySA.
Read more...
---