printer friendly version
Polygraphing versus voice analysis
1 May 2018 Security Services & Risk Management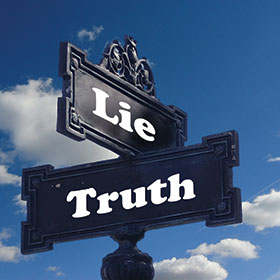 We've all seen the use of polygraphs in American movies, especially when someone says a polygraph is not admissible in court or when they catch a bad guy after using a 'lie detector'. There are many polygraph service providers in South Africa and this mechanism has been used in various situations over the years, but is it a good option when doing employee screening.

Jenny Reid
Hi-Tech Security Solutions asked Jenny Reid, CEO of iFacts for her take on the polygraph and its utility in screening today, as well as voice stress analysis.
Reid says that current trends indicate that people and organisations are actually moving away from the traditional polygraph test (the one made famous by movies), to the new Voice Stress Analysis (VSA). Opinions differ in terms of which method is better, but the industry is certainly moving in the direction of the VSA.
The VSA measures the flexibility of a subject's vocal chords, Reid explains. "Typically, when a person is put under stress, they will enter into 'fight, flight, or freeze' mode. This in turn causes their throat muscles to tighten, which has an effect on their vocal chords. Subjects are asked a range of questions by a qualified analyst, and the VSA measures the physical changes taking place in the subject's body. However, unlike a polygraph, this is not done through any physical attachments."
The VSA is a much friendlier test in terms of how it interacts with the subject. Figures suggest that typically around 80% of people that are tested are actually 'innocent', and so it certainly makes sense to give these subjects a much friendlier test.
Chris Nel, the managing director of Welcor Truth Verification Centre, suggests that people should do their own research into both the polygraph and the VSA. In short the benefits of the voice stress analysis include:
• More hygienic;
• More subject friendly; and
• Less intimidating to subjects.
However, in many cases it is a personal decision as to which method is better. Some of the key differences between these two methods, which mostly point towards the benefits of VSA, include:
• The VSA doesn't make use of any physical attachments;
• Subjects are free to move around as they wish;
• VSA is a much newer technology than the polygraph;
• The only possible countermeasure is for the subject to be silent;
• All results are claimed to be conclusive;
• Alcohol, drugs, age and health will not impact on results;
• An unlimited number of questions can be asked in the test; and
• Result charts are able to show and quantify stress patterns.
Dismissing an employee based on a VSA
Remember that an employee cannot be dismissed purely as a result of a polygraph or VSA test, Reid cautions. The results of these tests can and must only be used as supporting evidence when a case is presented at the CCMA. If you are attempting to dismiss an employee based on that person failing a voice stress test, you must make sure that the following is in place:
• Correct paperwork, including a release form signed by the subject;
• Once the test has been conducted, charts have been analysed (in front of subject), and the subject has shown deception to some or other degree, you should tell the subject they have failed, and then complete the report and forward this to the client; and
• The client needs to hold a disciplinary hearing.
For more information contact iFacts, +27 (0)11 609 5124, sonya@ifacts.co.za, www.ifacts.co.za
Credit(s)
Further reading:
Communication in any situation
Issue 8 2020, Elvey Security Technologies , Global Communications , Security Services & Risk Management
Global Communications offers an industry-first with five-year warranty on select Kenwood two-way radios.
Read more...
---
The year resilience paid off
Issue 8 2020 , Editor's Choice, Security Services & Risk Management
Hi-Tech Security Solutions spoke to Michael Davies about business continuity and resilience in a year when everything was put to the test.
Read more...
---
Change management for project ROI and reduced risk
Issue 1 2021, AVeS Cyber Security , Security Services & Risk Management
Companies that prioritise their employees' change journeys during digital transformation projects, such as the remote working initiatives seen in 2020, are less exposed to risk and more likely to realise the return on their investments.
Read more...
---
Even in a touchless world, cash is king
Issue 1 2021 , Security Services & Risk Management
A cashless society has been a topic of conversation for many years, but while cashless payment options have exploded, the use of cash has not declined.
Read more...
---
MSPs should think small for success
Issue 1 2021 , Security Services & Risk Management
Check Point's new Quantum Spark security gateways for SMBs bring major new Security-as-a-Service opportunities to Managed Service Providers (MSPs) while offering customers complete threat prevention with easy, intuitive management and integrated communication capability.
Read more...
---
Start your POPIA compliance journey
Issue 1 2021 , Security Services & Risk Management
Head of legal and chief privacy officer at LAWtrust, Rian Schoeman, says it is time to look thoroughly at South African businesses and how far they are with their Protection of Personal Information Act (POPIA) compliance journey.
Read more...
---
What to do in a mall robbery
Issue 1 2021 , Security Services & Risk Management
Shopping centres and malls are often targets for robberies and other criminal acts. Knowing what to do in the event of a mall robbery could save your life or the life of a loved one.
Read more...
---
Embracing machine learning in every vertical
Issue 9 2020 , Security Services & Risk Management
Machine learning (ML) has become more commonplace in enterprises as the number of areas where it is effective grows.
Read more...
---
Managing guarding staff
Issue 9 2020, OnGuard , Security Services & Risk Management
Making sure that security staff are managed to the fullest and that the mandate from the client is met and professionally managed is critical to retaining customers.
Read more...
---
Sustaining business continuity
Issue 1 2021 , Security Services & Risk Management
Unpacking the value of sustainable business continuity in a landscape defined by complexity and uncertainty.
Read more...
---