printer friendly version
Securing identities and transactions
May 2018 Financial (Industry), Access Control & Identity Management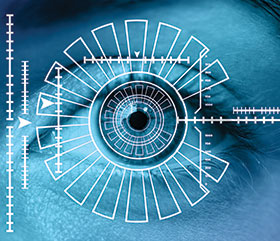 Financial services in Africa are evolving at a rapid pace. Fintech firms are using innovative technology to provide new services, a number of 'digital only' banks are gearing up for launch, while players in other industries (such as telecoms and retailers) are moving heavily into financial services. In fact, telecoms players have been positioning themselves in the mobile-money space for a number of years. A vast array of new payments and banking technologies are emerging.
We're seeing great enthusiasm for the likes of distributed ledger technology and crypto-currencies, and the continued new challenges raised by global giants like Apple, Facebook and Google, all offering payment solutions.
For banks to keep up in the face of stiff- ening competition and disruption, they need to smartly integrate new technologies into their offerings – improving levels of convenience, providing exceptional user experiences, and ensuring iron-clad security.
To cater for these needs, IDEMIA, a major player in the payments industry, supplying solutions to 1800 financial institutions worldwide, is committed to providing high-tech, end-to-end payment solutions that cover every aspect of the customer lifecycle.
Huge revolution
"We're standing on the cusp of a huge revolution in the payments industry," notes Carole Brits, director of strategic sales at IDEMIA SA. "Physical cards are evolving towards usage 'beyond' payment, for example by using biometric cards as proof of life. We're also seeing almost all local bank cards being issued with contactless capabilities. We think that the convenience of the contactless cards will lead to a significant migration from cash to card payments.
IDEMIA has released new innovations such as MOTION CODE, where the CVV number is digitally displayed on the card, and changes on an hourly basis to secure online payments. To increase convenience and security levels even further, F.Code replaces the PIN with a fingerprint reader embedded in the card to ensure that only the valid card owner is able to make transactions.
"F.CODE is one example of how we've harnessed the power of biometrics to enable seamless payment transactions without compromising security," says Brits.
She explains that the payments landscape will become more diverse in the future, as alternative payment methods rise to the fore – including the likes of tap-to-pay on mobile devices and wearables, bitcoin wallets, virtual/digital cards, in-vehicle payments, and new authentication methods.
"As new technologies emerge, our focus is to enable secure identification of customers from the outset, secure authentication when they are looking to transact, digital signature processes to approve certain types of transactions, and digital payments solutions to complete the transaction."
Poised for digital payments growth
At the origin of the customer lifecycle, biometrics technology has tremendous application in identifying, onboarding and credit scoring customers. It ensures that banks meet their 'know your customer' compliance and legal requirements, and improves operational efficiency within their value chains as well as in the fight against fraud.
For smartphone-capable users, the biometric readers and cameras on the phone could even allow customers to self-register for new services or accounts.
"In the future, we cannot manage security in the same way that we have done in the past – by making passwords longer or more complex. We need to develop entirely new paradigms for managing the security of data, of identities, and of transactions," she adds.
IDEMIA'S focus on 'augmented identity' harnesses the strength of fingerprints, facial or iris, to enable highly-secure identity management and high levels of assurance when making transactions.
For more information contact IDEMIA, +27 (0)11 286 5800 andrina.diedericks@idemia.com, www.idemia.com
Further reading:
HID addresses identification challenges at ID4Africa
August 2019 , News, Access Control & Identity Management, Government and Parastatal (Industry)
Being able to verify people's identities is critical for a nation's growth and prosperity and yet HID says nearly half of all African citizens can't prove who they are to vote, travel freely and receive government benefits and services.
Read more...
---
Came acquires Turkish company Özak
August 2019, CAME BPT South Africa , News, Access Control & Identity Management
Came broadens its market horizons and signals growth and consolidation in the Middle East.
Read more...
---
MorphoAccess Sigma Extreme
August 2019, IDEMIA , Products, Access Control & Identity Management
MorphoAccess Sigma Extreme from IDEMIA is a touchscreen device with multiple recognition device interfaces (NFC chip reader, PIN and BioPIN codes, contactless card readers).
Read more...
---
MorphoWave Compact
August 2019, IDEMIA , Products, Access Control & Identity Management
The MorphoWave Compact captures and matches four fingerprints on either the right or left hand in any direction. It is robust to environmental factors such as extreme light or dust.
Read more...
---
MorphoAccess Sigma Lite
August 2019, IDEMIA , Products, Access Control & Identity Management
IDEMIA's MorphoAccess Sigma Lite and Lite + are fingerprint access control terminals, offering time and attendance in and out function keys.
Read more...
---
Eliminating forced gate opening scenarios
August 2019, ET Nice , Home Security, Access Control & Identity Management
When activated by the gate forced open alarm feature, the transmitter transmits a wireless alarm signal up to 750 metres in any direction.
Read more...
---
Delta Scientific prevents two vehicle attacks
August 2019 , Editor's Choice, Access Control & Identity Management, Security Services & Risk Management
Two vehicular attacks that occurred eight days apart at the Mayport Naval Station were stopped, the preventing both intruders from penetrating the site.
Read more...
---
Child fingerprint identification solution
July 2019 , News, Access Control & Identity Management
Gavi, NEC, and Simprints to deploy world's first scalable child fingerprint identification solution to boost immunisation in developing countries.
Read more...
---
Versatile electronic lock cylinders
July 2019, Salto Systems Africa , Products, Access Control & Identity Management
Fully integrated with the SALTO System's Space and SALTO KS platforms, the new Geo range of electronic cylinders are compact in size, making them a suitable solution for almost any type of door.
Read more...
---
SIA talks open APIs at ID4Africa
July 2019 , Editor's Choice, Access Control & Identity Management, Integrated Solutions
Pioneering industry-first open standards initiative from the Secure Identity Alliance assures interoperability for sovereign ID programmes and promises to eliminate vendor lock-in.
Read more...
---