printer friendly version
Access control radar system
May 2018 Access Control & Identity Management, Products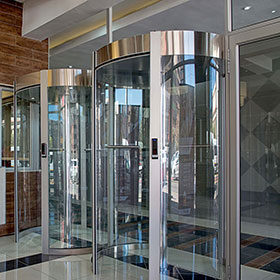 Flow Systems has introduced a new barrier-free access control radar system to market.
The access control radar system is a package of modules that can be retro-fitted into a commonly configured building reception area or lobby, converting that space into a high security mantrap which allows the entry of only one authorised person at a time, while ignoring any cart, luggage or parcels in their possession.
The system is a combination of interconnected electronic door locks, ceiling-mounted stereo cameras, sophisticated software and motion detectors.
Access control radar is designed to work with the most customary door control configuration: a pre-existing, externally mounted entry control card or fingerprint reader or PIN unit adjacent to the locked outside single or double door. The adaptive FSC radar system requires no extensive door, wall or ceiling alterations and is resistant to sunlight, glass and mirrors.
The heart of the FSC Radar system is the unique, patented technology. This technology admits only one person into a restricted area per valid authorisation by tagging, and tracks the person within the scanning zone, thus eliminating the security risks of piggybacking and tailgating.
The FSC Radar software accepts data from virtually any badge or access system, including biometric and smart ID systems, card readers, or PIN pads. FSC radar controls the electromechanical door locks so that when any one door is open, all other doors of the security area are automatically locked.
Benefits of radar:
• Adapts to existing buildings and can be integrated into an existing reception, lobby or interior room
• Simple to install – no civil works such as the digging up of expensive flooring
• Seamless incorporation into existing building security systems
• Low or no maintenance – the system has no motors, gearboxes or moving parts to wear out or break
• No special lighting required. Overhead office level of 300 lux is sufficient and the system is unaffected by full ambient light from the outside
• Allows mixed traffic. Can be used as an entry and egress point for both pedestrian and carts without the need of special staging areas on the floor
• Allows free egress from the building by multiple persons at the same time
• It is a stand-alone system requiring no central monitoring, control or management
For more information contact Flow Systems Manufacturers, +27 (0)11 762 2453, info@flowsystems.co.za, www.flowsystems.co.za
Credit(s)
Further reading:
The AI knows best
Access Control & Identity Management
RBA makes use of the vast computing power of machine learning to analyse thousands of data points to determine how risky a transaction may be.
Read more...
---
Enterprise identity fraud prevention
Access Control & Identity Management
Trustmatic brings government-grade facial 1:N search capabilities to the cloud, supporting face deduplication and identification against watchlists, and providing seamless integration via REST API.
Read more...
---
AI Box for retail
Retail (Industry) CCTV, Surveillance & Remote Monitoring Products
IDIS AI Box for retail delivers advanced video intelligence, even for smaller stores. The simple add-on gives retailers powerful business insights without the price tag.
Read more...
---
Gallagher announces ISO 27001 certification
Gallagher News Access Control & Identity Management
Gallagher has announced it has achieved ISO 27001 accreditation, a standard that ensures organisations protect their information in a systematic and efficient way, through a comprehensive Information Security Management System (ISMS).
Read more...
---
New innovations in bomb protection and cash storage
Fidelity Services Group Security Services & Risk Management Products
The recent increase in retail bombing, grinding and impact attacks on cash acceptance devices (CAD) in the retail sector has prompted a relook at the technology required to protect both staff and assets.
Read more...
---
Remote management of access points
Salto Systems Africa Access Control & Identity Management
SALTO BLUEnet Wireless has been developed to meet the demands of security and ease-of-use. This access control system is networked through Bluetooth RF and designed for doors where real-time control is required.
Read more...
---
Biometrics and breathalysers
Access Control & Identity Management
ERSBio partners with ALCO-Safe to incorporate alcohol testing into customised, intelligent time and attendance solutions.
Read more...
---
RealPass-N document reader
Suprema Access Control & Identity Management
A compact, multi-functional full-page document reader, Suprema's RealPass-N offers one-step scanning to capture images and data from multiple documents including ICAO Doc 9303 compliant eMRTD such as e-passports, e-visas, ID cards and barcodes.
Read more...
---
Contactless access control solution
LD Africa Access Control & Identity Management
The Matrix Cosec Argo Face offers advanced contactless user access in an all-in-one product composed of a door controller powered by facial recognition technology.
Read more...
---
ZKTeco Experience Centre
ZKTeco News Access Control & Identity Management
ZKTeco South Africa has opened the doors to its innovative and interactive space, the ZKTeco Experience Centre in Centurion, Pretoria and welcomes visitors to partake in the 'Powered by ZKTeco' experience.
Read more...
---