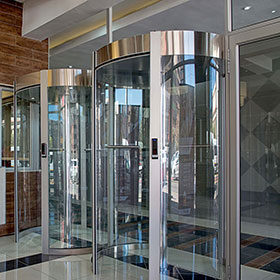 Access control radar system
May 2018, Access Control & Identity Management, Products
Flow Systems has introduced a new barrier-free access control radar system to market.
The access control radar system is a package of modules that can be retro-fitted into a commonly configured building reception area or lobby, converting that space into a high security mantrap which allows the entry of only one authorised person at a time, while ignoring any cart, luggage or parcels in their possession.
The system is a combination of interconnected electronic door locks, ceiling-mounted stereo cameras, sophisticated software and motion detectors.
Access control radar is designed to work with the most customary door control configuration: a pre-existing, externally mounted entry control card or fingerprint reader or PIN unit adjacent to the locked outside single or double door. The adaptive FSC radar system requires no extensive door, wall or ceiling alterations and is resistant to sunlight, glass and mirrors.
The heart of the FSC Radar system is the unique, patented technology. This technology admits only one person into a restricted area per valid authorisation by tagging, and tracks the person within the scanning zone, thus eliminating the security risks of piggybacking and tailgating.
The FSC Radar software accepts data from virtually any badge or access system, including biometric and smart ID systems, card readers, or PIN pads. FSC radar controls the electromechanical door locks so that when any one door is open, all other doors of the security area are automatically locked.
Benefits of radar:
• Adapts to existing buildings and can be integrated into an existing reception, lobby or interior room
• Simple to install – no civil works such as the digging up of expensive flooring
• Seamless incorporation into existing building security systems
• Low or no maintenance – the system has no motors, gearboxes or moving parts to wear out or break
• No special lighting required. Overhead office level of 300 lux is sufficient and the system is unaffected by full ambient light from the outside
• Allows mixed traffic. Can be used as an entry and egress point for both pedestrian and carts without the need of special staging areas on the floor
• Allows free egress from the building by multiple persons at the same time
• It is a stand-alone system requiring no central monitoring, control or management
For more information contact Flow Systems Manufacturers, +27 (0)11 762 2453, info@flowsystems.co.za, www.flowsystems.co.za