printer friendly version
Access control radar system
May 2018 Access Control & Identity Management, Products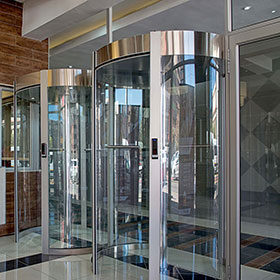 Flow Systems has introduced a new barrier-free access control radar system to market.
The access control radar system is a package of modules that can be retro-fitted into a commonly configured building reception area or lobby, converting that space into a high security mantrap which allows the entry of only one authorised person at a time, while ignoring any cart, luggage or parcels in their possession.
The system is a combination of interconnected electronic door locks, ceiling-mounted stereo cameras, sophisticated software and motion detectors.
Access control radar is designed to work with the most customary door control configuration: a pre-existing, externally mounted entry control card or fingerprint reader or PIN unit adjacent to the locked outside single or double door. The adaptive FSC radar system requires no extensive door, wall or ceiling alterations and is resistant to sunlight, glass and mirrors.
The heart of the FSC Radar system is the unique, patented technology. This technology admits only one person into a restricted area per valid authorisation by tagging, and tracks the person within the scanning zone, thus eliminating the security risks of piggybacking and tailgating.
The FSC Radar software accepts data from virtually any badge or access system, including biometric and smart ID systems, card readers, or PIN pads. FSC radar controls the electromechanical door locks so that when any one door is open, all other doors of the security area are automatically locked.
Benefits of radar:
• Adapts to existing buildings and can be integrated into an existing reception, lobby or interior room
• Simple to install – no civil works such as the digging up of expensive flooring
• Seamless incorporation into existing building security systems
• Low or no maintenance – the system has no motors, gearboxes or moving parts to wear out or break
• No special lighting required. Overhead office level of 300 lux is sufficient and the system is unaffected by full ambient light from the outside
• Allows mixed traffic. Can be used as an entry and egress point for both pedestrian and carts without the need of special staging areas on the floor
• Allows free egress from the building by multiple persons at the same time
• It is a stand-alone system requiring no central monitoring, control or management
For more information contact Flow Systems Manufacturers, +27 (0)11 762 2453, [email protected], www.flowsystems.co.za
Credit(s)
Further reading:
Gallagher launches Tech Talk
Gallagher News Access Control & Identity Management Perimeter Security, Alarms & Intruder Detection
Gallagher has announced the launch of its new Security in Focus podcast series called Tech Talk, hosted by chief technology officer Steve Bell.
Read more...
---
IDEMIA and Ideco demonstrate their value stacks
Technews Publishing Ideco Biometrics IDEMIA Conferences & Events Access Control & Identity Management News
Ideco and IDEMIA recently hosted a travelling show where attendees were given an update on the companies, as well as the full value stack they offer.
Read more...
---
Paxton10 simplifies building security
Paxton Access Control & Identity Management
Paxton provides a single platform for access control and video management in Paxton10, its newest innovation that allows users to manage their facilities from one simple security system.
Read more...
---
Hikvision releases panoramic camera range with ColorVu
Hikvision South Africa CCTV, Surveillance & Remote Monitoring Products
Hikvision has released a new range of panoramic cameras that use integrated ColorVu technology to provide vivid and full-colour video imaging for a wide field of view in light conditions as low as 0,0005 lux.
Read more...
---
Water deluge fire suppression system
FS Systems Editor's Choice Fire & Safety Mining (Industry) Products
The FS Group custom-designed and installed an electronically actuated water deluge fire suppression system for an underground explosives magazine, ensuring both the safety of miners and operations, as well as regulatory compliance.
Read more...
---
Have biometrics changed the way mines operate?
ZKTeco Mining (Industry) Access Control & Identity Management
The mining industry continues to improve conditions for mine workers, striving for zero harm, however, innovations which improve worker safety and increase operational efficiency are still needed.
Read more...
---
Adapting to the new normal
Access Control & Identity Management
SATEC (SA Technologies) had to develop a new strategy to enhance its current product features to align and adapt to market trends within the technology sector.
Read more...
---
AI will drive the future of access control
Suprema Access Control & Identity Management
Artificial intelligence is driving changes previously in the realm of the imagination. AI-based voice recognition and image recognition enable machines to understand and recognise things better than humans are able to.
Read more...
---
All-mobile people management solution with facial recognition
Editor's Choice Integrated Solutions Security Services & Risk Management Products
The new mobile Incident Desk People Management platform with facial recognition combines identification data on suppliers, staff, sub-contractors and even people on watch lists, for less than the cost of traditional service management tools.
Read more...
---
Powder coating provides durable finish
Turnstar Systems Access Control & Identity Management Industrial (Industry)
Turnstar's powder coating line provides corrosion resistance, high-quality surface finishing and a long-term environment-friendly impact for all access control components the company manufactures.
Read more...
---