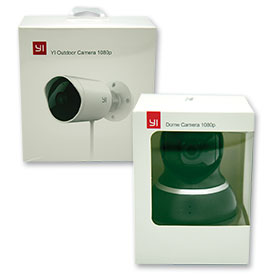 Easy Wi-Fi home surveillance
May 2018, This Week's Editor's Pick, CCTV, Surveillance & Remote Monitoring, Perimeter Security, Alarms & Intruder Detection
Home users have different requirements from your average business user when it comes to the surveillance solutions they choose and how they expect them to work. For one, the systems have to be easy to install and use as most home users can't afford to go the way of integrators and installers (unless it's a mansion you want to surveil), and they want to be able to manage their own system and move cameras around if required.
Arguably the most beneficial development in the surveillance market has been the ability to manage and view your cameras via a smartphone. This allows you to keep an eye on your home (or small business for that matter) from wherever you are, while analytics will alert you via the phone if movement is detected or any other analytics function is triggered.
Syntech has a range of surveillance solutions for the home or small office and sent two cameras to Hi-Tech Security Solutions, one indoor and one outdoor. The cameras are manufactured by Yi Technology and we decided to see how they performed.
Indoor dome
The indoor Yi Dome Camera uses your home Wi-Fi and there are no cables to connect except for the power, which is supplied via a USB port on the camera – adaptor and cable included in the box. It provides a clear 1080p (1920 x 1080) image and is a breeze to set up.
Setup is done via the Yi app which is free to download. During the setup process, which takes less than 5 minutes, the camera guides you via audio instructions when it's ready to connect. You enter your Wi-Fi password in the app, which then displays a QR code which you hold in front of the camera. And that's all you need to do.
The camera can pan, tilt and zoom (345° horizontal, 115° vertical rotation), automatically moving to capture a 10-second clip of any movement it detects – when the motion detection is activated. Even at night, you are able to get a clear image of the room you are covering with Yi's infrared night vision, although the image is in greyscale (as one expects).
As noted, audio is built into the camera, allowing you to hear what is happening while watching it via the app. Moreover, the audio is 2-way, meaning you can communicate with someone via the camera through your phone. You can also bookmark certain positions in the app and return to them when required. You can also set the camera to 'auto-cruise' and cover the whole room, or move between saved bookmarks automatically.
Apart from the motion detection built into the system, it also has a 'baby crying feature' to help new parents monitor their new arrivals.
While optional, Yi also offers a cloud subscription service that allows you to save footage in the cloud for a number of days or weeks (depending on the option selected).
Outdoor bullet
If you want to have an easy to setup and use camera to monitor outside your house, the weatherproof IP65-rated Yi outdoor bullet camera is a good choice. It also offers 1080p resolution at 20 fps (frames per second) with a micro-SD slot for storage. This camera is also equipped with 2-way audio for conversing with someone up to about 5 metres away, and infrared night vision.
Once again the system uses your home Wi-Fi for connectivity and you have the option to make use of Yi's cloud storage.
Setting up and running the camera is as easy as the indoor dome, all done via the Yi app – available on Android and iOS. Motion detection is included and alerts are sent to your smartphone where you can view the camera footage, which is provided by a 110o wide-angle lens. The only difference to the dome camera is you are provided with the kit to mount this camera on a wall.
For users looking for good home surveillance options with basic video analytics that is simple to set up and use, the Yi range from Syntech is definitely worth a look.