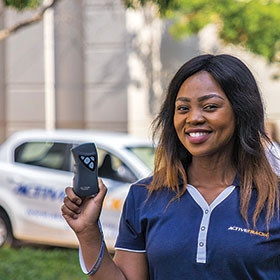 Active Track
Securex 2018 Preview, Asset Management, EAS, RFID, Security Services & Risk Management
Active Track is a workforce management and reduction of payroll specialist. Its products optimise clients' security services by ensuring that patrols and duties are carried out on time, every time. The products also guarantee control over your workforce, and ensure that you only pay for real hours worked.
Active Track's success stems from reliance on cutting-edge technology, as well as cost-effective, all-inclusive monthly rental fees. The Active Track device offers real-time monitoring and two-way communication with your personnel. Designed as a user-friendly, tamper-proof and waterproof device, the Active Track can withstand the harsh conditions of your labour-intensive industry.
The device ensures that your guard or employee is awake, carrying out all patrols or duties correctly, and assisted in emergencies, by relying on its GPS, GSM and RFID capabilities, panic and duress functions and 24-hour support centre.