printer friendly version
Hikvision shapes intelligence
May 2018 Editor's Choice, CCTV, Surveillance & Remote Monitoring, News, Integrated Solutions, IT infrastructure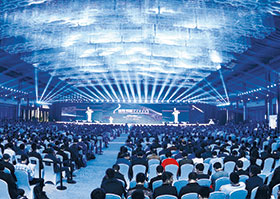 Organised by Hikvision, the 2018 AI Cloud World Summit was successfully held at Hangzhou International Expo Centre from March 30–31.
Over 2 000 participants attended the summit, including industry experts and scholars, as well as Hikvision partners including Microsoft, Intel, Milestone Systems and Axxonsoft. Attendees and presenters explored trends in AI development, its real-world applications and opportunities for AI-related partner cooperation in global markets.
Hikvision introduced AI Cloud in October 2017 at the China Public Security Expo in Shenzhen. AI Cloud is a development concept born out of the Internet-of-Things (IoT) era. It is a three-layered architecture that incorporates cloud and edge computing to provide multi-dimensional perception and front-end processing at Edge Nodes, and then process data in real-time, converged to Edge Domains for intelligent applications and to create new data, and further converge to on-demand data to the Cloud Center for big data analysis.
Building AI cloud ecosystems through open collaboration
In his keynote speech, Yunhe Pan, a member of the Chinese Academy of Engineering, highlighted that artificial intelligence is already evolving to its next stage due to the emergence of new social needs such as smart cities, smart medicine, and unmanned driving, as well as significant changes in information environments like the Internet, mobile computing, cloud computing, Internet of Things and others. In short, the next generation of artificial intelligence is moving towards big data intelligence, collective intelligence, and cross-media intelligence.
"A large number of application requirements are surging in a fragmented way. The implementation of AI is restricted mainly by three factors – data, computing power and application. To accelerate the process, it is necessary for all stakeholders in every industry to be open and collaborative to build an AI industry ecosystem," said Yangzhong Hu, president of Hikvision, addressing in the summit. "To enable more partners to participate in the construction and sharing of the AI ecosystem, the company will be fully open on its products and services, including the AI Cloud software platform, training system, AI services, data annotation and data sharing services, etc."
The emerging needs for edge computing
At the summit, Oliver Philippou, associate research director at IHS Markit, gave Hikvision's international attendees a presentation titled Artificial Intelligence – The Present and Future Prospects for Video Surveillance.
According to Philippou, increasing numbers of network cameras on the global market pushes the development of video analytics further toward convergence – to edge and cloud systems – requiring better algorithms and deep learning to provide maximum accuracy.
For more information contact Janis Roux, Hikvision South Africa, +27 (0)10 035 1172, support.africa@hikvision.com, www.hikvision.com
Credit(s)
Further reading:
FortiGuard labs reports disruptive shift of cyber threats
Editor's Choice
Threat intelligence from the second half of 2020 demonstrates an unprecedented cyber-threat landscape where cyber adversaries maximised the constantly expanding attack surface to scale threat efforts around the world. Adversaries proved to be highly adaptable, creating waves of disruptive and sophisticated attacks.
Read more...
---
The worst of times
Technews Publishing Editor's Choice
Cyber resilience in terms of people, processes and technology is where it's at when it comes to prevailing in a world beset with cybercriminals.
Read more...
---
Cyber trends for 2022
Editor's Choice
In the last six months, an organisation in South Africa was attacked on average 1737 times per week. This is more than double the global average (819) of attacks per organisation per week.
Read more...
---
Cybersecurity for the board of directors
Editor's Choice
Bike-shedding is a common distraction in boardrooms, especially when discussing issues board members are responsible for, but don't understand – like cybersecurity.
Read more...
---
Cybersecurity is now a digital transformation imperative
Editor's Choice
New research from the IDC reveals cloud security is the number one priority for investment, 50 percent of South African business leaders are concerned with the consequences of security breaches.
Read more...
---
Providing real-time visibility
Technews Publishing Editor's Choice
Comprehensive visibility is critical, but not always attainable without the support of a managed service provider dedicated to monitoring and securing your cyber environment around the clock.
Read more...
---
Getting the basics right
Technews Publishing Editor's Choice
Cybersecurity is like any other discipline, you can't start at the top, you need to get the basics right. Hi-Tech Security Solutions asks how to best do this.
Read more...
---
How to stop security threats early
J2 Software Cyber Security Integrated Solutions
Integrating a security ecosystem allows one to better protect the company, while also better understanding and improving the company's risk posture.
Read more...
---
Partnering to make South Africa more cyber secure
Editor's Choice
Cybersecurity professionals from the public and private sectors as well as academia have joined forces to establish the Cybersecurity Digital Alliance.
Read more...
---
Turnstar ramps up countermeasures
Turnstar Systems Editor's Choice Access Control & Identity Management News Products
Turnstar has developed and patented an early warning and deterrent system which will alert security, and anyone nearby, of any attempt to place ramps over the raised spikes.
Read more...
---