printer friendly version
Hikvision shapes intelligence
May 2018 Editor's Choice, CCTV, Surveillance & Remote Monitoring, News, Integrated Solutions, IT infrastructure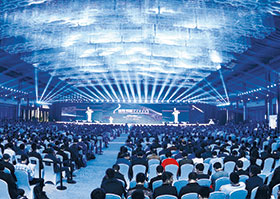 Organised by Hikvision, the 2018 AI Cloud World Summit was successfully held at Hangzhou International Expo Centre from March 30–31.
Over 2 000 participants attended the summit, including industry experts and scholars, as well as Hikvision partners including Microsoft, Intel, Milestone Systems and Axxonsoft. Attendees and presenters explored trends in AI development, its real-world applications and opportunities for AI-related partner cooperation in global markets.
Hikvision introduced AI Cloud in October 2017 at the China Public Security Expo in Shenzhen. AI Cloud is a development concept born out of the Internet-of-Things (IoT) era. It is a three-layered architecture that incorporates cloud and edge computing to provide multi-dimensional perception and front-end processing at Edge Nodes, and then process data in real-time, converged to Edge Domains for intelligent applications and to create new data, and further converge to on-demand data to the Cloud Center for big data analysis.
Building AI cloud ecosystems through open collaboration
In his keynote speech, Yunhe Pan, a member of the Chinese Academy of Engineering, highlighted that artificial intelligence is already evolving to its next stage due to the emergence of new social needs such as smart cities, smart medicine, and unmanned driving, as well as significant changes in information environments like the Internet, mobile computing, cloud computing, Internet of Things and others. In short, the next generation of artificial intelligence is moving towards big data intelligence, collective intelligence, and cross-media intelligence.
"A large number of application requirements are surging in a fragmented way. The implementation of AI is restricted mainly by three factors – data, computing power and application. To accelerate the process, it is necessary for all stakeholders in every industry to be open and collaborative to build an AI industry ecosystem," said Yangzhong Hu, president of Hikvision, addressing in the summit. "To enable more partners to participate in the construction and sharing of the AI ecosystem, the company will be fully open on its products and services, including the AI Cloud software platform, training system, AI services, data annotation and data sharing services, etc."
The emerging needs for edge computing
At the summit, Oliver Philippou, associate research director at IHS Markit, gave Hikvision's international attendees a presentation titled Artificial Intelligence – The Present and Future Prospects for Video Surveillance.
According to Philippou, increasing numbers of network cameras on the global market pushes the development of video analytics further toward convergence – to edge and cloud systems – requiring better algorithms and deep learning to provide maximum accuracy.
For more information contact Janis Roux, Hikvision South Africa, +27 (0)10 035 1172, [email protected], www.hikvision.com
Credit(s)
Further reading:
Security risk and the sum of small things
Leaderware Editor's Choice
Dr Craig Donald advises that the small things we often write off as unimportant can quickly scale to become serious threats to security and safety.
Read more...
---
Hikvision integration with Page Automation
Hikvision South Africa News
Hikvision has announced the integration of its MinMoe Face Recognition terminals and its Hik-ProConnect online device and service management platform with Page Automation's SmarTTime software.
Read more...
---
IDEMIA and Ideco demonstrate their value stacks
Technews Publishing Ideco Biometrics IDEMIA Conferences & Events Access Control & Identity Management News
Ideco and IDEMIA recently hosted a travelling show where attendees were given an update on the companies, as well as the full value stack they offer.
Read more...
---
Sustainability, trust and predictability
Technews Publishing Bosch Building Technologies Conferences & Events CCTV, Surveillance & Remote Monitoring News Integrated Solutions
The future for Bosch Building Solutions is focused on predictive solutions based on sustainability and trust in an AIoT world of cloud services.
Read more...
---
Specialised surveillance and communications
Technews Publishing Editor's Choice News Integrated Solutions Residential Estate (Industry)
Hi-Tech Security Solutions spoke to Arcanum Africa's Peter Stolwerk and Aaron van Schaik to find out a bit more about the company and the unique products it is bringing to the local market.
Read more...
---
From Hill Street Blues, to Hillbrow, to managing risk for BMW
Technews Publishing Editor's Choice News Security Services & Risk Management
Jane-Eleanor Morrison's success story starts from growing up in the stressful pre-democracy times in KZN, moves through a successful career in SAPS. to BMW South Africa where she is now the risk control manager.
Read more...
---
Hikvision releases panoramic camera range with ColorVu
Hikvision South Africa CCTV, Surveillance & Remote Monitoring Products
Hikvision has released a new range of panoramic cameras that use integrated ColorVu technology to provide vivid and full-colour video imaging for a wide field of view in light conditions as low as 0,0005 lux.
Read more...
---
Locally designed lock designed to stay locked
Editor's Choice
The new Blade Lock makes it close to impossible to break a lock by conventional means; combined with the Smart Gate, your security behind the door is certain.
Read more...
---
Water deluge fire suppression system
FS Systems Editor's Choice Fire & Safety Mining (Industry) Products
The FS Group custom-designed and installed an electronically actuated water deluge fire suppression system for an underground explosives magazine, ensuring both the safety of miners and operations, as well as regulatory compliance.
Read more...
---
Hard times, increased crime
Technews Publishing Security Services & Risk Management Integrated Solutions IT infrastructure
Hi-Tech Security Solutions spoke to Mezuzah Security Services to find out what is happening in the real world, and how security companies are dealing with the added pressure inherent to the South African market.
Read more...
---