printer friendly version
Huge width and depth capability with high quality
CCTV Handbook 2013
Products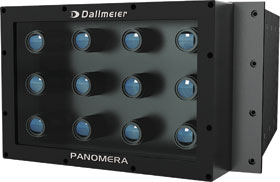 Dallmeier's Panomera system allows users to view wide vistas, over large distances, at high resolutions.
Ettiene Swanepoel, technical director for local distributors MASS, explained that the main limitation with many megapixel panoramic cameras is the gradual degradation of picture quality as the digital zoom ratio increases.
"The engineers at Dallmeier tackled this issue and developed a technology that utilises a multi-focal sensor system. By implementing a number of megapixel sensors, each with its own lens, into the Panomera system, it is able to isolate a single sensor/lens combination to focus on a specific area within the total field of vision, while the other sensors are deployed to provide an overall panoramic view and recording," said Swanepoel.
The sensors are arranged with preselected focal length lenses to focus on close-up areas, mid-field areas and longer distances, together with one overall view. The combination of sensors will all be viewed and recorded as one scene with the ability to access a single sensor during either playback or live viewing.
A well-known problem with PTZ cameras is that the operator is forced to choose between overview image and detailed view. However, irrespective of where specific lenses are deployed in the field of vision, the Panomera always records the entire scene. It is thus possible to later reconstruct any event for use as evidence in court, regardless of where it took place, and to recognise all persons involved.
In contrast to PTZ cameras, where only one operator can control the camera, with Panomera, an unlimited number of operators can navigate across the entire scene independently of each other. Although all operators are connected with the same camera, each of the individual users can select their view individually and zoom or pan as they desire.
It is commonly accepted that with increasing distance, one will see increasing pixellation of the image. "The Panomera camera overcomes this and is capable of recording up to 30 frames a second with viewing and recording in real-time," Swanepoel said.
In contrast to PTZ cameras, Panomera has no movable mechanical parts, which means there is no wear, thus extending the camera's lifetime and drastically reducing maintenance.
Credit(s)
Further reading:
The benefits of Managed File Transfer
IT infrastructure Products
Blue Turtle Technologies looks into how a Managed File Transfer platform benefits businesses, as opposed to the usual FTP or SFTP suspects.
Read more...
---
Cyber resilience is more than cybersecurity
Technews Publishing Editor's Choice Cyber Security Integrated Solutions IT infrastructure
Hi-Tech Security Solutions held a round-table discussion focusing on cyber resilience and found that while the resilience discipline includes cybersecurity, it also goes much further.
Read more...
---
Hikvision unveils first 'True 8K' NVRs
Hikvision South Africa CCTV, Surveillance & Remote Monitoring Products
The new M-Series NVRs can be used with a host of Hikvision cameras, and are ideal for environments where a wide field of view and extremely high image resolution are needed.
Read more...
---
Manage energy usage with Paxton access control
Paxton Access Control & Identity Management Products
Paxton provides access control systems that can integrate with existing infrastructure and manage a building's energy-consuming activities to save energy and costs.
Read more...
---
The next generation of Point of Sale
Commercial (Industry) Security Services & Risk Management Products
New digital point-of-sale (POS) platforms are gaining traction, which means payment providers and investors should take note.
Read more...
---
Kaspersky announces new consumer portfolio
Products Smart Home Automation
Kaspersky has announced availability of its new, simplified consumer solutions portfolio, with an enhanced user interface and experience across multiple platforms.
Read more...
---
DeltaTrak and Ericsson IoT offer real-time cold chain traceability
News Products Logistics (Industry)
Ericsson's Internet of Things (IoT) business and DeltaTrak announced a collaboration through Deutsche Telekom that will drive cold chain traceability enhancements powered by the Ericsson IoT Accelerator platform.
Read more...
---
Industrial outdoor Gigabit PoE+ extender
TRENDnet IT infrastructure Products
Easily extend up to two PoE+ signals an additional 100 m for a total PoE distance of 200 m with this new industrial outdoor gigabit PoE+ extender from TRENDnet.
Read more...
---
GSM intercoms for mobile visitor management
Access Control & Identity Management Products
Controlling who has access to your property is vital, however, who gave that access is also important, if not more so.
Read more...
---
No supply chain delays from Germany
Dallmeier Electronic Southern Africa News CCTV, Surveillance & Remote Monitoring Products
Dallmeier announces that its complete Domera single-sensor camera family is available without delivery problems for installers and channel partners.
Read more...
---