printer friendly version
Watching the diamonds
CCTV Handbook 2013 Integrated Solutions, Access Control & Identity Management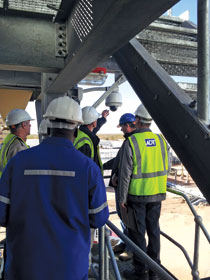 Martin van der Westhuizen, business development manager Fire, Security and Integrated Systems, Johannesburg, ADT Security, has been integrally involved with the implementation of security solutions for a diamond mine in Botswana. He provides the following information on the project.
What were the client's needs?
The project scope was to supply a fully-integrated security solution for a diamond mine in Botswana. The system needed to provide full biometric access control into the mining area, to and from the security areas and within the high-risk diamond recovery building. Focused surveillance was needed on all mining areas included in perimeter, mining and materials handling, crushing and flotation, recovery and process areas, short house and diamond export areas. Two monitoring control rooms were required, one for security and one for process control.
What solutions did ADT Security put in place?
We applied the Tyco C-Cure 9000 access control system with full IP Edge door controllers. The video system installed is the Tyco American Dynamics Video Edge Network video recorders with the Illustra 400 Series IP dome and bullet cameras as well as VideoEdge IP Speed dome PTZ cameras. The IP intercom system delivered was the Aiphone IP intercom system. The biometric system used was the Morpho Access fingerprint biometrics.
What technology was used?
All systems implemented were full IP systems with power over Ethernet connections. The security system was the latest in digital security with virtual matrices and content analytics. On the access side, smart card technology with Morpho Access fingerprint biometrics and full IP PoE door controllers were used.
What were the customer benefits?
Using a full IP system, the customer received easy and fast implementation and ease of use. We were able to utilise the fibre ring network around the mine and plant to connect all systems to the servers and control rooms. Minimal cable runs were required as all devices connected back to network switches with a single cable for data and power. The customer is also guaranteed of a future-proof solution fully upgradable should they require growth or changes.
What was unique about this particular solution?
CCTV and access control was used to manage high risk areas without the hindrance of physical barriers. Access to work areas was granted per area and per duration and loaded into the system. Staff can now proceed to working areas through virtual barriers to the approved and disarmed areas. Should the staff member deviate from this, the CCTV system will register the intrusion and immediate action can be taken. This is a very innovative use of the integrated power of the security system to support operations without interfering with it.
Further to this, the CCTV system is installed for security as well as process and production. Cameras were placed at all critical process areas to monitor the process flow. There are also cameras mounted inside the vacuum chambers of the cyclone sorting units to monitor a process that is normally impossible to see. This use of technology for both security and process is fairly unique.
What was the time-frame in which you implemented the solution?
The project ran over a seven-month period (starting in February 2012 and ending in Sept 2012) and coincided with the civil construction of the mine and plant.
What would you say are the success factors of this case?
Close cooperation of ADT, the security provider, DRA, the engineering contractor, and the mine staff ensured the system was designed and implemented to be efficiently applied and supported all disciplines on the mine.
Any other comments you want included?
Although the fire system was delivered by another vendor, ADT was able to integrate it into the security system for monitoring and secure mustering of staff during a fire.
For more information contact ADT, 0860 100 911, [email protected]
Further reading:
Cyber resilience is more than cybersecurity
Technews Publishing Cyber Security Integrated Solutions IT infrastructure
Hi-Tech Security Solutions held a round-table discussion focusing on cyber resilience and found that while the resilience discipline includes cybersecurity, it also goes much further.
Read more...
---
Hybrid licence plate recognition
ZKTeco Products Access Control & Identity Management Transport (Industry) Logistics (Industry)
The ZKTeco LPRS2000 is a hybrid-recognition vehicle management terminal that combines the latest high-performance UHF reader.
Read more...
---
A key to urban transport challenges
Axis Communications SA Transport (Industry) CCTV, Surveillance & Remote Monitoring Integrated Solutions Logistics (Industry)
There are many enabling technologies that can impact transportation in South Africa, but a good place to start is by considering the applications for smart physical technology with the ability to collect and respond to data.
Read more...
---
Hikvision aims for solutions
Technews Publishing Hikvision South Africa Editor's Choice CCTV, Surveillance & Remote Monitoring News Integrated Solutions Conferences & Events
Hikvision recently held a roadshow titled Industry X, where the company highlighted its latest products and solutions, supported by partners and distributors.
Read more...
---
Suprema joins FiRa Consortium
Suprema News Access Control & Identity Management
Suprema recently became a member of the FiRa Consortium, a consultative body that establishes standards for ultra-wideband (UWB) technology, the next generation of wireless communication.
Read more...
---
Technology and the future of security installation in South Africa
Editor's Choice Integrated Solutions Security Services & Risk Management
What are the technologies and trends shaping installation, service and maintenance teams globally, and how will they shape South African businesses today and in the future?
Read more...
---
Upgraded security and AI monitoring at upmarket estate
Watcher Surveillance Solutions Editor's Choice CCTV, Surveillance & Remote Monitoring Integrated Solutions Residential Estate (Industry)
Estate upgrades and enhances its security through a partnership between surveillance specialist Watcher and the incumbent guarding company.
Read more...
---
Streamlining processes, integrating operations
Security Services & Risk Management Integrated Solutions Transport (Industry) Logistics (Industry)
With Trackforce Valiant, Airbus now has one single platform that connects its security guards, supervisors and management across its organisation.
Read more...
---
Physical security at distribution centre
Turnstar Systems Transport (Industry) Access Control & Identity Management Products Logistics (Industry)
Turnstar's Velocity Raptors create a high-security physical barrier at Massmart's new 75 000 m2 distribution centre in Riversands, Johannesburg .
Read more...
---
Nomad launches early adopter programme
Editor's Choice News Integrated Solutions Smart Home Automation
Participants in Nomad's Early Adopter Programme will receive 10% of their volume order to facilitate testing before the commercial launch later this year.
Read more...
---