printer friendly version
Perimeter protection at its most effective
CCTV Handbook 2013 CCTV, Surveillance & Remote Monitoring, Perimeter Security, Alarms & Intruder Detection, Industrial (Industry)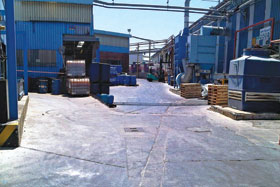 AECI's Chemserve Systems provides chemical products to a diverse range of industries. Its site at Chloorkop, a small industrial town just outside of Johannesburg, was being monitored by four different analogue camera systems, making effective security surveillance extremely difficult. A decision was taken to consolidate and upgrade the existing solution.
Seasoned IP CCTV and systems integration provider, SLA Group, designed and installed a cohesive solution, using Axis network cameras, that offers complete perimeter coverage and extensive internal monitoring capabilities.
The main entrance control room maintains centralised control of the entire system, while the IT server room records and acts as a main buffer for the whole system, thereby reducing the risk of an incident or intrusion failing detection by security personnel.
The vacant land that borders the north and west sides of the Chloorkop AECI's site no longer poses a threat to the security of the premises. Previously this open area was responsible for continuous trespassing and the removal of large quantities of valuable stock. Thanks to the installation of Axis thermal network cameras, even complete darkness cannot offer criminals a place to hide.
Protecting essential stock
AECI–Chempark divisions supply an extensive range of specialty chemical products and related services for industrial use across a broad spectrum of customers in the manufacturing and mining sectors, mainly in South Africa and in southern Africa.
1. Chemsystems: provides chemical products to a diverse range of industries.
2. Akulu Marchom: supplies chemical raw materials and value-adding services to the cosmetics, toiletry and detergent industries in South Africa.
3. IU: manufactures and supplies a range of polyurethane products, technologies, systems and solutions in southern Africa.
4. Plastamid: plays a leading role in the manufacture and supply of thermoplastic compounds to a diverse range of industries.
5. Chemfit: has 30 years' experience in supplying traded and blended specialty chemicals to a broad range of industries, including water treatment, soil fumigation, petrochemical, lubricants, polymers and plastics.
"It is imperative that warehouses, administrative buildings, workshops and storage tankers are under 24-hour surveillance. This ensures that our customer has complete control of the entire site at all times," remarks SLA Group's Alexandre Teixeira. "Any movement after working hours will automatically trigger an alarm that security officers can react to immediately. The Axis PTZ network cameras provide a visual of what security can expect to encounter during these responses."
A fortified boundary
SLA Group has over 24 years' experience in the design, manufacture and installation of CCTV and automation systems for the power generation, mining, iron and steel and chemical industries. This sustained involvement allows SLA Group to offer best value for money solutions without compromising on quality, reliability or long-term stability.
"We realised that AECI–Chempark's perimeter was a major security issue that required careful attention and meticulous product investigation," says Teixeira. "The Axis Q1910-E Thermal Network Camera presented itself as the most intelligent option."
Axis Q1910-E uses thermal imaging to detect people, objects and incidents in complete darkness or challenging conditions such as smoke, haze, dust and light fog. For a long time thermal imaging was too costly for any application outside of the military, however, as price is driven down by improved technology, it is rapidly becoming a force to be reckoned with in the security and surveillance industry. Creating images based on the heat that is generated by any object, person or vehicle and requiring no additional light source, thermal cameras are ideal for securing perimeters and dark or shadowed areas.
High definition images
The main entrance to the site and the internal roads are monitored by Axis P1344 Network Cameras. The first-rate HDTV image quality of Axis P1344 ensures that control room personnel are able to view video surveillance of the highest possible resolution in the zones where clarity and detail are critical.
"Picture quality and ease of installation were just two of the many reasons that we selected Axis as our IP partner for this project," says Teixeira. "Every single corridor, intersection, entrance and exit needs to be accessible by the surveillance cameras. The versatility of the Axis-based solution makes this entirely possible."
Credit(s)
Further reading:
Avoiding human error at ports
LD Africa Transport (Industry) CCTV, Surveillance & Remote Monitoring Products Logistics (Industry)
LD Africa introduced a local port to the AxxonSoft Port Security System ,a solution that helps overcome the element of human error and eliminate paperwork.
Read more...
---
Compact, lightweight bullet cameras with support for analytics
Axis Communications SA Products CCTV, Surveillance & Remote Monitoring
Axis Communications announced two new outdoor-ready bullet-style cameras featuring deep-learning processing units for analytics based on deep learning on the edge.
Read more...
---
Numerous challenges for transport and logistics
Transport (Industry) CCTV, Surveillance & Remote Monitoring Security Services & Risk Management Logistics (Industry)
Operators are making significant investments in automation and digitalisation in order to address security concerns, improve loss prevention as well as efficiency, and reduce unit order costs.
Read more...
---
A key to urban transport challenges
Axis Communications SA Transport (Industry) CCTV, Surveillance & Remote Monitoring Integrated Solutions Logistics (Industry)
There are many enabling technologies that can impact transportation in South Africa, but a good place to start is by considering the applications for smart physical technology with the ability to collect and respond to data.
Read more...
---
Hikvision aims for solutions
Technews Publishing Hikvision South Africa Editor's Choice CCTV, Surveillance & Remote Monitoring News Integrated Solutions Conferences & Events
Hikvision recently held a roadshow titled Industry X, where the company highlighted its latest products and solutions, supported by partners and distributors.
Read more...
---
Olarm launches PRO 4G communicator
Olarm News Perimeter Security, Alarms & Intruder Detection Products
Olarm has announced an additional 4G/LTE version of its Olarm PRO smart communicator. It is aimed at areas suffering from poor connectivity by providing support for 4G, 2G and Wi-Fi networks.
Read more...
---
Reliable, low-maintenance video appliances
Technews Publishing Editor's Choice CCTV, Surveillance & Remote Monitoring News IT infrastructure Products
Symetrix, part of the Agera Group, has added the AES range of video recording servers, storage appliances and workstations to its portfolio.
Read more...
---
A new full-colour era
Dahua Technology South Africa CCTV, Surveillance & Remote Monitoring
Traditionally, there have been two options for using surveillance cameras in the dark: flooding the scene with visible light, or alternatively using infrared (IR) illumination.
Read more...
---
AIoT delivers dynamic digital platforms
Hikvision South Africa CCTV, Surveillance & Remote Monitoring
Many stadiums or venues are seeking new, smart solutions that can help venue operators to stay on top of real-time situations dynamically on digitally driven platforms, and to achieve more efficient and sustainable venue management.
Read more...
---
Upgraded security and AI monitoring at upmarket estate
Watcher Surveillance Solutions Editor's Choice CCTV, Surveillance & Remote Monitoring Integrated Solutions Residential Estate (Industry)
Estate upgrades and enhances its security through a partnership between surveillance specialist Watcher and the incumbent guarding company.
Read more...
---