printer friendly version
The expanding role of thermals
CCTV Handbook 2013 CCTV, Surveillance & Remote Monitoring, Industrial (Industry), Residential Estate (Industry)
Thermal cameras are still a popular addition to the security arsenal of many organisations. Hi-Tech Security Solutions asked a few people in the know for their views on this market and where they thought it was heading.
Hi-Tech Security Solutions: Apart from price declines and more companies becoming involved in manufacturing thermal cameras, how has the thermal market changed over the past few years?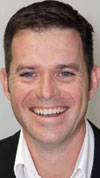 Jason McGregor, Axis Communications sales manager for Africa
Jason McGregor, Axis Communications: There has been a definite change in the market from analogue to IP thermal cameras. With the price shift, it has made thermal technology more accessible and available to everyday use. The first thermals launched had lower resolution sensors which made detection ranges fairly limited. Today the image sensors have much higher resolution giving us farther detection ranges as well as cleaner and crisper imaging.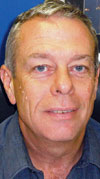 John Loftus, MD of MASS
John Loftus, MASS: Price decline has been the prime mover in helping thermal technology break into the mainstream CCTV market. Thermal manufacturers have been at pains to be to point out cost benefits and point to the fact that although undoubtedly thermal cameras are more expensive than conventional CCTV, larger areas can be protected using a far less number of thermal cameras, than using conventional video cameras. Another major driving factor has been the take up of premium motor manufacturers utilising thermal technology for nighttime driving. This has allowed the technology to be accessed and tested by a greater number of potential customers, who then want to use this technology on their own property. The introduction of dual thermal imaging cameras has increased the appeal of thermals dramatically. Couple that to PTZ units and you have an all-encompassing solution.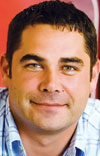 Brendon Cowley, director of C3
Brendon Cowley, C3:
* Thermals are becoming more IP orientated and able to integrate to IP surveillance solutions.
* Thermals are being manufactured to include intelligent video analytics for surveillance purposes.
* Thermals are being used far more as a 24/7 surveillance camera and not just used for night-time viewing.
* Their capabilities of detecting intrusion through heavy fog / mist are improving.
* A variety of detectors can be found nowadays. (180x120; 320x240; 384x288; 640x480).
Philip Smerkovitz, MD of TeleEye (South Africa): Security installers and design engineers have historically considered such state-of-the-art technology as thermal imaging to only be suitable for military applications. However, history shows that many applications designed for use in the world's militaries have the potential to cross over into the civilian space with just a few clever tweaks. While not related to the CCTV arena, General Motors' Hummer is an excellent example of how a vehicle with a military pedigree can perfectly appeal to civilians following a well thought-out makeover.
Similarly, innovative engineering has seen thermal imaging now well integrated into security applications throughout the civilian sector. However, as with any military pedigree, there is still the challenge of trying to properly communicate the advantages of thermal imaging in the commercial security arena. Many corporate managers still view the technology as somewhat 'over the top' Fortunately, this thinking is gradually giving way to a realisation that South Africa is indeed engaged in a war of sorts. We need to bring military applications to bear against the country's hardened criminals, many of whom – somewhat ironically – have a military background.
The crossover of military technologies into the civilian arena has the advantage of price decreases being able to be realised as uptake increases. An army might order 10 000 thermal imaging devices whereas a civilian population, and corporate organisations, might order 100 000 thermal imaging systems. Within corporate South Africa we are seeing excellent uptake when it comes to reliable perimeter protection at an affordable price.
Hi-Tech Security Solutions: What are the primary functions people are using thermals for? Where are they best suited?
McGregor: We are seeing thermal being used across the board into varying segments. Industrial requirements remain high and we contain to see healthy growth in this area. Perimeter monitoring remains one of the most popular applications for thermal cameras, which has been eagerly adopted by many residential estates.
Loftus: Perimeter detection, wide open spaces, areas where there is little or no additional or ambient lighting. Outdoor applications where long range recognition, detection or identification is required.
With the increased use of unmanned analytics, thermals offer a far more reliable detection medium than conventional video cameras due to the high contrast of the images relayed. Primary use is detection rather than surveillance. The vast majority of thermal cameras are sold alongside a video camera as a complimentary technology.
Cowley: Best suited for low light conditions and large open spaces where intrusions with a normal day/night camera become difficult to detect. Day/night cameras/IR devices and night vision devices work by detecting reflected light energy. But the amount of reflected light they receive is not the only factor that determines whether or not you will be able to see with these cameras: image contrast matters, too. They need enough light, and enough contrast to create usable images.
Thermal cameras do not have these shortcomings as they detect heat/energy and not reflected light. Everything you see in normal daily life has a heat signature. Many of the objects you could be looking for, like people, generate their own contrast because they generate their own heat. Thermal imagers can see them well because they do not just make pictures from heat; they make pictures from the minute differences in heat between objects. Without a doubt, thermal cameras are the best 24-hour imaging option.
C3 has installed thermal cameras at a variety of places such as power stations, residential estates, tunnels of the Gautrain, gold mines, precious metal refineries and classified national keypoint sites. Wherever there is a high risk or high value area that requires a sophisticated surveillance system, thermals are suitable.
Smerkovitz: Applications include areas where it is impractical, not cost effective or environmentally restricted when it comes to white light or IR illumination. One must remember that thermal cameras are not only suitable for night-time illumination. Few people realise that thermal cameras are not blinded by sunlight making them an excellent daytime option as well.
They also have the ability to cover long ranges meaning they have traditionally been deployed in the protection of large perimeters found in mines, estates and office parks. TeleEye, Flir Systems distributors, can convincingly demonstrate that the total cost of ownership of thermal cameras is much lower over long distances compared to traditional surveillance cameras.
Thermal cameras also have the distinct advantage of being able to see through smoke and fog and this makes them ideal for marine, nature conservation, and law enforcement applications. This ability also means they can transcend security applications and also be ideal for traffic monitoring, process control, automation, health and safety, preventative maintenance and so on. Potential thermal camera applications are limited only by the creativity of the installer.
Hi-Tech Security Solutions: A thermal camera is a thermal camera, they just have different lenses for different distances. Is this true? How do your thermals differentiate themselves?
McGregor: Whilst sensors themselves can be quite similar, albeit different resolution are available our differentiating factor is the ability to stream multiple colour palettes from the same camera which enables better detection in changing environments. Edge storage as well as the ability to load third-party analytics directly onto the camera gives the end user flexibility and scalability to customise each camera to their required application.
Loftus: Thermal cameras are split into two main categories cooled and uncooled modules. Cooled thermals calibrated to a known temperature which means they are more sensitive to minute temperature changes, they are particularly suited for very long-range applications and are generally only used by military or government in high risk areas where the cost can be accepted against the protection required.
The mainstream security market is using uncooled thermal modules and the first of these introduced to the mainstream security market were general low resolution 160x90 pixels. These are still popular and are used generally as a detector with analytics. 320x240 and more recently 640x480 thermals modules are now available and these provide excellent images, in some cases very similar in quality achieved from a monochrome video camera. Due to this increased resolution these modules are suitable for identifying and surveying areas in their own right. Megapixel sensors are now available but are very expensive and will not reach the mainstream market in the foreseeable future.
Oculus offers three different thermal cores (from three different core manufacturers) each with different pricing, red-tape requirements and resolutions. Oculus offers an industry leading hi-res 640x480 option. We also offer either 9 Hz or 25 Hz units.
Cowley: No, this statement is not true. There are quite a few factors that differentiate one thermal camera from another. Let us talk about a few of them:
* Sensitivity of the thermal sensor: As you review published camera specifications you will see thermal sensitivity specifications range between 0,25°C (250 mK) and 0,05°C (50 mK). While you might consider a quarter of degree to be adequate thermal sensitivity as soon as you look at a low contrast scene you'll discover the image quality adversely effects the image quality as noise begins to dominate the image. Less than 50 mK is ideal and will result in higher sensitivity of the thermal sensor which will result in better detection of intrusions and higher image quality (less noise).
* Micron Pitch (μm): The smaller the micron pitch number is , the farther the field of view (FOV) is. For example, a camera that has an Micron Pitch 50 μm using a 50 mm lens may detect intrusions at a distance of 300 m, whereas a camera with a 20 μm using the same 50 mm lens, will detect intrusions at a much farther distance (450 m).
* Hertz: This is the frequency at which the camera operates and is directly related to frame rate. The higher the frequency the higher the frame rate the better the quality of the image.
* NUC: As the number of pixels increases and their sensitivity improves the quality of image is increasingly dependent on a process called Non Uniformity Calibration or NUC. This calibration process results in greater image quality and improved camera performance.
Smerkovitz: Leading manufacturers in thermal imaging, such as Flir, offer many lens variants which, again, is another in a long list of advantages of these devices. Different lenses are indeed offered for different distances with one particular lens being able to detect a human being at a staggering 18 kilometres. As one would imagine, image quality is crucial and several different resolutions are available, depending on client requirements. TeleEye always recommends that clients ensure their thermal imaging systems use the DDE software algorithm for optimal image quality.
Hi-Tech Security Solutions: Some manufacturers offer dual thermal/visual cameras that allow operators to zoom in when an alert is raised, will these solutions become the norm?
McGregor: This is becoming an offer from many manufacturers but is very costly so will remain a niche requirement.
Loftus: The vast majority of thermal cameras are sold alongside a video camera as a complementary technology, the thermal being used to detect a threat and the video camera to identify.
Cowley: At present there is only one high end manufacturer of thermal cameras for the commercial market that has the zoom capability on both the thermal and visual/CCD camera. The rest of the dual thermal/CCD with zoom capabilities offer the zoom on the CCD only.
Smerkovitz: These dual function cameras are already widely used and will remain popular since they offer all the benefits of long-range thermal detection, verification and recognition of targets in the absence of light. Operators can also make use of the optical zoom camera to further interrogate the target, light permitting.
Hi-Tech Security Solutions: What advances in thermal technology can we expect to see in the next year or so?
McGregor: More analytics, coupled with stronger processors and higher resolutions.
Loftus: Higher resolutions, exact positioning devices, multiple camera options on one platform.
Cowley: Temperature monitoring/flame detection/intelligent video analytics.
Smerkovitz: Image quality will continually improve in leaps and bounds as advanced software becomes available. Product ranges will be expanded to include dome-type multi-sensors. Perhaps most importantly, better quality products will become available at lower prices.
Hi-Tech Security Solutions: Are we going to see more intelligence built into thermals in the future?
McGregor: Axis will continue to support and promote our ACAP (Axis Camera Application Platform) offering, which will continue to drive development of edge analytics providing the customer with an array of applications which can be installed on the camera.
Loftus: Yes, many thermal cameras are now available with built-in analytics. Oculus currently offers an IP option with a DRS core. Alternatively, analogue units with an additional encoder.
Smerkovitz: Absolutely. Greater analytical capability will be built into future camera systems further reducing reliance on human operators who are by nature never 100% reliable or accurate.
Credit(s)
Further reading:
Accelerating your Zero Trust journey in manufacturing
IT infrastructure Cyber Security Industrial (Industry)
Francois van Hirtum, CTO of Obscure Technologies, advises manufacturers on a strategic approach to safeguarding their businesses against cyber breaches.
Read more...
---
Cyber resilience is more than cybersecurity
Technews Publishing Editor's Choice Cyber Security Integrated Solutions IT infrastructure
Hi-Tech Security Solutions held a round-table discussion focusing on cyber resilience and found that while the resilience discipline includes cybersecurity, it also goes much further.
Read more...
---
Hikvision unveils first 'True 8K' NVRs
Hikvision South Africa CCTV, Surveillance & Remote Monitoring Products
The new M-Series NVRs can be used with a host of Hikvision cameras, and are ideal for environments where a wide field of view and extremely high image resolution are needed.
Read more...
---
A robust OT cybersecurity strategy
Editor's Choice Cyber Security IT infrastructure Industrial (Industry)
Cyber experts are still struggling to convince senior management to spend money to protect their control system assets, resulting in a lack of even basic measures to protect control systems.
Read more...
---
AI in video analytics
CCTV, Surveillance & Remote Monitoring Integrated Solutions
AI (artificial intelligence), has been developed and debated ever since the first computers were invented, and while the most revolutionary incarnations are not yet here, AI-based technologies are widely used today.
Read more...
---
Milestone flies a Kite for small businesses
Milestone Systems CCTV, Surveillance & Remote Monitoring
Milestone Systems introduces Milestone Kite for small to medium-sized businesses and organisations, supporting 6000+ camera models from 100+ manufacturers.
Read more...
---
Railway AI-enabled video analytics
Rugged Interconnect Technologies CCTV, Surveillance & Remote Monitoring
The Rugged Computing Group has announced the AVA-RAGX, a fanless AIoT video analytics platform for railway applications, paired with Nvidia's Jetson AGX Xavier platform.
Read more...
---
No supply chain delays from Germany
Dallmeier Electronic Southern Africa News CCTV, Surveillance & Remote Monitoring Products
Dallmeier announces that its complete Domera single-sensor camera family is available without delivery problems for installers and channel partners.
Read more...
---
Hikvision releases eDVR Series with eSSD technology
Hikvision South Africa CCTV, Surveillance & Remote Monitoring Products
Hikvision recently added the eDVR Series to its expanding portfolio of security solutions for SMBs, offering compact, durable, easy-to-use and energy-efficient solutions.
Read more...
---
Axis announces W101 body-worn camera
Products CCTV, Surveillance & Remote Monitoring
Axis Communications has designed a body-worn camera, the Axis W101, that has an operating time of up to 17 hours with over 12 hours at 1080p.
Read more...
---