printer friendly version
Don't ignore wireless
March 2013
CCTV, Surveillance & Remote Monitoring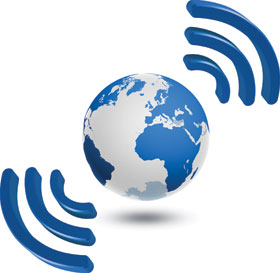 With all the planning and preparation that goes into buying surveillance cameras and the supporting software, one can be forgiven for forgetting another vital component of the mix, the connectivity. If you forget to ensure there is enough bandwidth over the network technology you choose, your surveillance solution is going to be a disappointment.
Fortunately, we have a few options when it comes to connectivity, with a growing trend to using wireless networks in support of surveillance streams. Not only that, but with the right technology, remote locations can also be connected to live streams at very low bandwidth requirements – which is perfect for our unreliable cellular networks.
When it comes to selecting the solution for your project, Graham Duxbury, CEO of Duxbury Networking says it is a question of horses for courses. "Wired solutions, including copper and fibre-optic, always provide the best in bandwidth. So, if you can, use them – but they may not always be suited to the environment. Likewise, wireless technologies (mostly WiFi) are significantly more flexible, but again may not be the perfect option."
He adds that there may also be additional considerations, such as other traffic to cater for, as found in a multi-service environment. "In my opinion, it is how you use and integrate all the communication systems, and how you build the overall solution that matters more than the individual components and technologies. Thus, the experience and expertise of the reseller or installer comes to the fore."
Looking at wireless
When it comes to wireless networking, the jury is still out. Not that the right wireless technology cannot handle video streams, but there seems to be a tendency for installers to prefer wired systems.
Duxbury says most data-oriented wireless technologies are well suited to CCTV applications. Their security is robust and reliable and shared media solutions such as 802.11ABGN (and future releases) are cost-effective and can be built to reliably carry video and other data traffic in the last mile.
"In addition, many IP cameras support built-in WiFi, while meshing type technologies also make the technology more resilient. Moreover, point-to-point and point-to-multipoint solutions in both the licensed and unlicensed frequencies provide for measurable and reliable video backhaul."
Peter Turvey, MD, Radwin SADC Region is naturally a supporter of wireless solutions. When asked what wireless technology is suited for surveillance solutions that require reliability and constant throughput, he says: Any wireless technology that has tick boxes next to the following:
* A wireless portfolio that includes Point-to-Point (PtP) as well as a solution for Point-to-Multipoint where dedicated bandwidth is allocated per subscriber unit, which equates to dedicated bandwidth per CCTV surveillance camera in a Point-to-Multipoint (PtMpt) environment.
* Configurable uplink and downlink – remember video surveillance is mostly one way in the direction of uplink, which is quite different to technologies like Internet access where most of the traffic is one way in the direction of downlink.
* Fixed and low latency for zero video hiccups.
* Robust performance in dense urban areas in non-line-of-sight (NLOS) and near-line-of-sight (nLOS) situations.
* Outstanding interference mitigation mechanisms in unlicensed wireless frequency bands.
* Sophisticated Media Access Control (MAC) protocols and Air Interfaces/Frames which cater for the un-interrupted delivery of time sensitive data, eg, video.
* Enough bandwidth per PtP link.
* Enough bandwidth per sector in PtMpt to handle at least 50 x 3MP cameras, ie, over 200 Mbps per sector for a typical large CCTV deployment.
In a similar vein, Turvey notes that some wireless technologies are not suited for CCTV surveillance, these include:
WiMax: Due to technology being designed for home-user Internet access traffic, it has a typical one-third uplink and two-thirds downlink ratio. It is a shared media solution, not designed for dedicated high bandwidth traffic. In addition, due to the 35 Mbps per sector limit on bandwidth, economies of scale cannot be reached.
WiFi: Due to the cheap nature of these solutions, typically they are intended for the low end of the market. The nature of the WiFi 802.11 CSMA/SA Mac protocol does not allow for the dedicated delivery of traffic and it cannot guarantee low latencies. Due to the collision nature of the protocol, WiFi cannot guarantee the timeous delivery of video traffic.
3G: Has a ratio of one-third uplink and two-thirds downlink for data traffic (3G HSDPA+ standard – 5,7 Mbps uplink and 21,1 Mbps downlink), and is therefore intended for applications that most downlink in nature, eg, Internet access. It is a shared media solution, which means that the more 3G phones, dongles, tablets, etc, are used in a 3G cell, the less bandwidth is available for the video surveillance solution, therefore there is no dedicated bandwidth.
"Traditionally, organisations built separate surveillance networks alongside their regular corporate networks," says Duxbury. "When the significant cost and performance benefits of fully converged networks was realised, they began to engineer end-to-end solutions that used a single transport medium. If the corporate or campus network was fibre based, then an integrated fibre option was selected. However, with the proliferation of wireless networks today, converged CCTV/data networks are headed in this direction.
"That said, when dealing with converged multiservice networks, management of these infrastructures becomes critical, underlining the fact that sheer bandwidth is no guarantee of ultimate performance."
Certain wireless technologies are also suited for long distances without the hassles associated with laying and maintaining cable. Turvey says that, unlike fibre, the nature of wireless is obviously un-tethered and can be delivered over long distances (up to 120 kilometres) as long as the above criteria is met.
"What is more, it must be understood that if a fibre installation is one metre short, it is too long a distance for fibre, as the cost of trenching, splicing, time, etc adds excessive costs to the deployment. Wireless, on the other hand, can be installed in a day, has no real distance limitations for CCTV, is quick and easy to install and very cost-effective when compared to fibre."
He does note, however, that where fibre is already installed it is very good option and should be utilised if possible. "However, even on a campus or in building, if the fibre does not exist then costs will soar. Wireless is typically not an in building solution but can be deployed to cover a campus wide CCTV deployment."
How get connected
Technology is not the only issue to consider when deploying a surveillance solution. Duxbury notes that one of the issues one needs to focus on is finding a supplier that knows how to offer the best advice.
"The CCTV market is being advanced by users' needs to monitor more locations, serve larger geographic areas, view clearer images and automatically analyse large amounts of data. Today, the market teems with new high definition IP camera options, software, a variety of wireless communication, control and management systems, as well as leading-edge storage, distribution and analytics solutions capable of recognising potential security breaches without human involvement.
"Customers/installers face the challenge of incorporating these new systems into existing networks and integrating them with information management systems. They therefore need to source from suppliers who understand the connectivity requirements of an overarching, end-to-end solution – from the camera to the disk drive."
Turvey says that one must also exercise caution and not just believe what one reads when presented with a vendor's marketing documentation, sometimes it might stretch the truth somewhat. It is advisable to always do a proof of concept (POC) to ensure that a solution will operate as marketed."
He adds that it is an alarming issue that a chief finance officer (CFO) or a chief technical officer (CTO) is being asked to make decisions on technologies that could be foreign to them. They are typically presented with marketing material that is similar between vendors even though the underlying technologies are very different. And while in a perfect laboratory environment a vendor might be able to reproduce its marketing specifications, it typically can never be reproduced in a real-live field environment.
Connectivity: cable or wireless?
By Chris Sutherland, brand manager, Miro
IP surveillance, being IP based means that a number of different connectivity options are available, and no longer are installers compelled to use coax cable, as with analogue CCTV systems. Now that so many different IP-based connectivity options are available, it begs the question, which one is best?
The truth is, there is not a single best method of connectivity, and some of the best-designed surveillance systems do not purely rely on one data transport medium, but a combination of many.
Each connectivity method usually has its own unique set of characteristics that make it ideal for certain applications. CAT5 networking cable is typically the preferred medium for IP surveillance as it provides great speed and very few hassles once installed. Although CAT5 is great for the task, there are some circumstances where a cable infrastructure simply is not viable or even possible.
Mining environments, which are constantly changing, simply cannot rely on a cable-based solution. Gated communities and estates also tend to have issues with cable systems, as this requires digging up pavements and roadways in order to lay trunking for the cables to use.
For these scenarios, installers typically turn to wireless networking, which offers great throughput and great reliability, as long as the right product is used, and said product is installed properly. Standard outdoor WiFi equipment has been used successfully in many of these applications, and with the introduction of the latest wireless standard (802.11n), implementations are offering faster speeds and even more reliability than ever before. However, standard WiFi equipment is still not the best option for wireless transmission, due to it not being specifically designed for surveillance applications. Packet loss, high latencies, and dropped links are always a possibility when using standard WiFi. Carrier grade products are a far better option.
Carrier grade wireless equipment manufacturers such as Radwin and Linkra, who do not conform to standard WiFi protocols, are able to transmit data much faster, more efficiently, and with less interference, making them much more suitable for surveillance applications.
In short, standard WiFi IP surveillance systems are indeed possible, but having a carrier grade wireless solution, combined with cable infrastructure where possible, will ensure a reliable surveillance system, with fluid recordings and no dropped frames.
Credit(s)
Further reading:
TAPA: The role of an effective treasury function in business risk management
June 2019, Technews Publishing , News
Neil Le Roux, the Founder of Diligent Advisors will speak at the TAPA SA (Transported Asset Protection Association) annual conference on 26 July 2019.
Read more...
---
iLegal 2019: Enhancing and empowering your control rooms
July 2019, Technews Publishing , News, Conferences & Events
iLegal 2019 will be held on 12 September 2019 at The Rosebank Crowne Plaza in Johannesburg. iLegal is the surveillance industry's premier one-day conference hosted jointly by Hi-Tech Security Solutions and Dr Craig Donald.
Read more...
---
Residential Estate Security Conference 2019: Managing for efficiency
July 2019, Technews Publishing , News, Conferences & Events
The Residential Estate Security Conference 2019 will be held on 20 August 2019, once again at the Indaba Hotel in Fourways, Johannesburg.
Read more...
---
Spending to save
August 2019, Technews Publishing , News
As residential estates and complexes grow like weeds across South Africa, often promoting themselves as more secure than a stand-alone house, many are finding that close proximity to a neighbour or a ...
Read more...
---
Risk assessment or product placement?
August 2019, Technews Publishing, Alwinco, SMC - Security Management Consultants , Editor's Choice, Security Services & Risk Management, Residential Estate (Industry)
Hi-tech security solutions asked a couple of experts to provide estate managers and security managers with some insights into what a 'real' risk assessment includes.
Read more...
---
Securing Savannah Hills Estate
August 2019, Rhyco Risk Projects , CCTV, Surveillance & Remote Monitoring, Perimeter Security, Alarms & Intruder Detection
Savannah Hills Estate in Midrand planned a security upgrade which was awarded to Rhyco Risk Projects. The project started in March 2019 and was completed in May 2019.
Read more...
---
10 things to consider when shopping for a VMS
August 2019, Genetec , CCTV, Surveillance & Remote Monitoring, Integrated Solutions
Today's video management systems (VMS) provide a wide range of tools and capabilities that help make security personnel more efficient by allowing them to focus on what really matters.
Read more...
---
How far are we really at with artificial intelligence?
August 2019, Axis Communications SA , Editor's Choice, CCTV, Surveillance & Remote Monitoring, IT infrastructure, Residential Estate (Industry)
Justin Ludik unpacks exactly how far AI has come and what it potentially can do for society and more importantly, surveillance.
Read more...
---
Enhancing security with AI
August 2019, Hikvision South Africa , CCTV, Surveillance & Remote Monitoring
Hikvision explains how residential estates can revolutionise their security strategies and outcomes with artificial intelligence.
Read more...
---
More than simply a camera
August 2019, Forbatt SA, Secutel Technologies , CCTV, Surveillance & Remote Monitoring, Residential Estate (Industry)
With the human element being the weakest link in all security solutions, Hi-Tech Security Solutions looks at the pros and cons of using body-worn cameras in estates.
Read more...
---