printer friendly version
Video synopsis versus video analysis
March 2013
CCTV, Surveillance & Remote Monitoring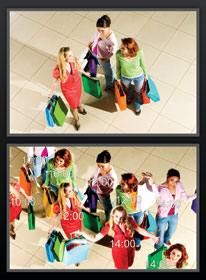 Surveillance has become an essential element of modern security solutions as it delivers the ability to monitor areas of operation, provide evidence in case of an incident, and often simply acts as a deterrent to those with malicious intent. However, leveraging value out of CCTV is often a challenging task, as sifting through hours and hours of footage is typically not feasible, and even if the manpower exists to do this, the human eye gets tired and is prone to missing incidents that appear on camera.
Video analysis tools can assist in this scenario, however, the type of analysis used is critical in ensuring the success of the solution. Video synopsis, a form of forensic video analysis, enables the viewer to summarise hours of footage into just a few minutes, highlighting incidents or suspicious behaviour and allowing the potential of CCTV footage to be fully utilised.
One of the major challenges facing any user of CCTV is the sheer volume of recorded events that occurs every day. Sifting through hours of mundane footage for seconds of useful video is an almost impossible task without specialised analysis tools. However, video analysis is simply a generic term to describe computerised processing and analysis of video streams. This does not necessarily mean that it will make the task of finding those critical seconds any easier. When looking for a video analysis solution, technology called video synopsis can prove far more useful and efficient.
Video synopsis (VS) is the simultaneous presentation of events that happened at different times. With the power of this forensic technology, users can rapidly review and index full-length footage and create synopsis videos that overlays multiple objects and activities that occurred at different times. To put it simply, VS creates a snapshot of events that summarises hours of footage. These snapshots can then be used for identifying suspicious behaviour and perpetrators of incidents, for behavioural analysis and more.
Video synopsis software allows users to index and view original event videos with a single click and combine multiple clips into a single summary review, turning hours of footage into synopses of just a few minutes. Events can be browsed through frame by frame, and videos can be exported to create evidence files.
It is also possible to apply areas of interest and areas of exclusion to either home in on a specific area or exclude areas of footage that are not relevant, reducing review time even further. Video synopsis works by detecting movement in the field of the video, and by combining these movements into a single video with time stamps for each individual event. The ability to home in on specific areas allows the viewer to, for example, focus exclusively on a door that was broken into or a shelf from where an item was stolen. The areas of exclusion can help to remove movement which is irrelevant, such as trees waving in the wind, to allow for more specific focus and less distraction.
By enabling hours of footage to be viewed in a matter of minutes, short circuiting the lengthy process of identifying key events, forensic video synopsis enables real value to be leveraged from hours of footage. One of the obvious applications of this is to identify criminals, and the deterrent that such a system provides can go a long way towards preventing theft and helping law enforcement agencies to identify and prosecute offenders. However, the power of video synopsis goes beyond crime prevention and has applications in a number of different areas.
For example, casinos can use video synopsis technology to monitor tables for suspicious behaviour and ensure that cheating can easily be detected and the perpetrators identified. In the retail environment, stores can use this technology to analyse and identify shopping behaviours and patterns, and identify which aisles and shelves are most frequented by customers. This can help to ensure optimal product placement for maximum revenue, and assist with improving store layout. Hospitals can utilise the technology to monitor patient care, identify incidents and improve service levels. In fact, any organisation can use the software to improve staff productivity, as once problem areas have been identified and trends have been picked up, this information can be used to modify behaviours in any scenario.
Forensic video synopsis technology increases the accuracy of video analysis and dramatically decreases the time required to browse footage, reducing the time and cost of manpower. It enables users to obtain better quality evidence faster, replacing the fast forward function with an intelligent solution that enables all video footage to be reviewed every day for better security. Using advanced video analysis tools such as video synopsis, any user can gain real value from hours of otherwise meaningless CCTV footage.
For more information contact Graphic Image Technologies, +27 (0)11 483 0333, markc@git.co.za, www.git.co.za
Credit(s)
Further reading:
Milestone partners prove their skills
August 2019, Milestone Systems , News, CCTV, Surveillance & Remote Monitoring, Training & Education
Within the span of one week in mid-May, the Milestone Learning & Performance group celebrated important benchmarks: 200 000 course registrations and tutorial views, and 10 000 certifications.
Read more...
---
ONVIF Hosts 20th Developers' Plugfest
August 2019 , News, CCTV, Surveillance & Remote Monitoring
ONVIF, the global standardisation initiative for IP-based physical security products, hosted its twentieth ONVIF Developers' Plugfest in early June in Tokyo.
Read more...
---
Licence plate recognition camera
August 2019 , Products, CCTV, Surveillance & Remote Monitoring
VIVOTEK has introduced a new licence plate recognition camera featuring built-in licence plate recognition software and edge-computing capability.
Read more...
---
Securing Savannah Hills Estate
August 2019, Rhyco Risk Projects , CCTV, Surveillance & Remote Monitoring, Perimeter Security, Alarms & Intruder Detection
Savannah Hills Estate in Midrand planned a security upgrade which was awarded to Rhyco Risk Projects. The project started in March 2019 and was completed in May 2019.
Read more...
---
10 things to consider when shopping for a VMS
August 2019, Genetec , CCTV, Surveillance & Remote Monitoring, Integrated Solutions
Today's video management systems (VMS) provide a wide range of tools and capabilities that help make security personnel more efficient by allowing them to focus on what really matters.
Read more...
---
How far are we really at with artificial intelligence?
August 2019, Axis Communications SA , Editor's Choice, CCTV, Surveillance & Remote Monitoring, IT infrastructure, Residential Estate (Industry)
Justin Ludik unpacks exactly how far AI has come and what it potentially can do for society and more importantly, surveillance.
Read more...
---
Enhancing security with AI
August 2019, Hikvision South Africa , CCTV, Surveillance & Remote Monitoring
Hikvision explains how residential estates can revolutionise their security strategies and outcomes with artificial intelligence.
Read more...
---
More than simply a camera
August 2019, Forbatt SA, Secutel Technologies , CCTV, Surveillance & Remote Monitoring, Residential Estate (Industry)
With the human element being the weakest link in all security solutions, Hi-Tech Security Solutions looks at the pros and cons of using body-worn cameras in estates.
Read more...
---
The importance of effective perimeter security
August 2019, Elf Rentals - Electronic Security Solutions, Stafix , Editor's Choice, CCTV, Surveillance & Remote Monitoring, Residential Estate (Industry)
Protecting the perimeter is critical for any residential estate; how does one go about making sure your perimeter is as secure as possible?
Read more...
---
Security playing speedcop
August 2019, Axis Communications SA, Hikvision South Africa , CCTV, Surveillance & Remote Monitoring, Residential Estate (Industry)
Estates now have a legal precedent to manage their traffic and fine people in the estate for violations of the rules; all they need do is find solutions that will support them.
Read more...
---