printer friendly version
The platform must fit the business
CCTV Handbook 2013
CCTV, Surveillance & Remote Monitoring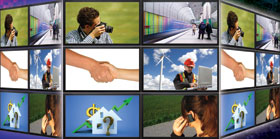 Today, we have expensive management systems that can do almost anything, but we also have a growing number of smaller, open management systems users can obtain for little or no cost. What do users want from their management systems? We asked one local and one international platform developer for their take on management platforms.
The first question we have to ask is what a management platform is. What should an end-user be on the lookout for when considering implementing a management platform?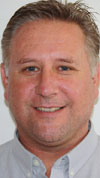 Kevin Buret
Kevin Buret from Sukema Integrated Solutions says, "My definition of a security management platform is not just a CCTV head-end system, but rather a software solution that adds value to these and other disparate platforms. It should bring together the people, process and procedures and disparate technologies, without the need to strip out existing equipment, and to provide the relevant stakeholders with real-time, operational information."
He adds that the stakeholders are not only security, and may include OHS, maintenance, surveillance and many others, as most often an incident will affect multiple stakeholders, including the CEO who is ultimately responsible. End-users should ensure that the management platform of choice is not specific to a particular brand of technology, but also not just an open source 'freebie' that has no business continuity and is not sustainable, which poses future risk for the business.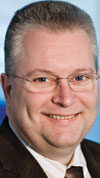 Peter Biltsted
Peter Biltsted, director, Middle East and Africa, Milestone Systems says every installation has to be evaluated from the needs of each customer, whether their video management needs are relatively simple or highly complex. How many locations need to be monitored, how many users will there be of the system and what are their skill levels, number and type of cameras desired, whether they would benefit from analytics, etc.? Do they need central management, local or both? "And do not just plan for today's requirements."
The most important thing to look for is an IP video management platform that is truly open to ensure the widest options for now and the future. This brings the best return on the investment, to be able to add cameras from any manufacturer, to integrate with other systems, to upgrade with new software versions, keeping on top of the latest innovations.
The next thing to look for is ease-of-use. The VMS should be easy to install, easy to configure and add cameras, easy to maintain and upgrade, easy to use by the daily operators. Choose a user interface (UI) that's customisable, with multiple languages if necessary, good online help and other documentation, and with intuitive, logical navigation to get the job done. Look for multiple clients to interface with the VMS: stationary at a PC, also remotely available from home or when travelling, mobile through smartphones and tablets. Web clients are more streamlined for faster access, for example. VMS wizards are a great tool for fast installation and hook-ups with the cameras on the network, helping to find the cameras automatically.
Free, as in trouble?
It seems the VMS industry is also under pressure from free software, just as the IT industry had to learn to deal with open source systems and applications. Some argue the free systems cannot match the features and functionality of paid for (or some would say 'professional' systems), others say it depends on what your requirements are.
Buret says, "Free, open systems seem attractive when considering often limited budgets in organisations; however, invariably these are quite the opposite in the longer term. These systems are mostly not sustainable, not supported, have no future roadmap, and will ultimately be replaced by systems that comply with industry standards."
One should ensure that any system is compliant with existing IT standards and protocols within the organisation; these paid-for platforms do not have to be expensive, as long as they meet the requirements and future requirements of the client. The paid for systems are sustainable, supported, customisable in a structured manner, and will most certainly have a roadmap for future features and expansion.
"Although they are not open source, they should be open to be able to work with and interface/integrate with other existing and disparate systems," Buret adds. "These systems are implemented by professionals, who should be configuring them according to the organisational policies and procedures, as well as the business operational requirements. Customisation can be conducted in order to best fit the client's requirements."
Biltsted adds that the free video management systems offered by some camera manufacturers only work with that company's cameras, so using them means you always have to use that brand of cameras. This locks you into their product road map limitations over time. For example, if a great new thermal or backlight-capable camera comes out in a year from another company and you need it for a critical security location, you cannot use it in your system.
"The paid-for VMS platforms are developed by companies who really focus on VMS, so the functionality of their offerings are more comprehensive. If you also choose an open VMS, you have all the options you could need both today and tomorrow. Be sure to look for after-sales support as well: a pure VMS manufacturer has dedicated support for customers and ensures that the latest technologies can be utilised, thereby optimising the solution."
Complexity not needed
Traditional security management systems are large, cumbersome and expensive. What is more, they require a significant investment in skills, not to mention money. Are they worth it? Very large installations may be able to get a reasonable return from this investment, but the majority of smaller installations would be lost with such complex systems.
"Traditional security management systems are fast working themselves out of the pricing bracket of many organisations," says Buret. "It is unnecessary to implement large, cumbersome and expensive systems that integrate every single component within the organisation; management systems should be focussing on providing effective and efficient operational systems to ensure that staff are only required to have minimal input, and can focus on dealing with the resultant outcome.
"Management should have real-time information at their fingertips to allow them to focus on managing, rather than hours spent compiling reactive reports. Mobile devices are becoming increasingly important as a source for capturing information in real-time; the management system is the rules engine and information disseminator providing stakeholders with decision-making knowledge. Integration can be accomplished on a database level due to most IP-based systems, and do not require expensive integration at a component level; integration should only be conducted if it is going to add value to an operational challenge, otherwise it is a complete waste of time and money."
Biltsted has a another approach, noting that there is a full range of VMS offerings available today and if you buy a company's lower end product to start out, you can upgrade to the higher versions with more capability as your needs grow. This gives the best total cost of ownership, especially if it's an open platform solution that allows integration with the widest choice in hardware and other software like access control, analytics, etc.
"A really good VMS can provide comprehensive features without every user needing to use them. For example, Milestone XProtect Smart Client is an interface that is adaptable to different skill levels, access rights, camera views, languages, etc. Each user can tailor the look and functionality to their own needs to optimise their daily tasks and performance. Those who have more complex needs can have them while those who don't, won't."
Failing to plan...
No matter where or how a company starts implementing a management platform, there is still a technical and skills gap that needs to be overcome, not to mention the giant task of ensuring what you implement is suited to your actual needs and not the vanilla installation your integrator wants to supply. Assuming a company has decided they need a professional management platform with all the bells and whistles, how does it go about planning and starting the installation to prevent it ending up as a complex, costly mess?
"Planning, planning and more planning," states Buret. "A well-planned system that is based on the required outcomes of the client is the starting point of any professional system. One cannot shoehorn and alter the business requirements into a free system so that the system works; the business requirements and processes need to determine the best-suited management system, which may not exist as an off the shelf product."
One needs to, by means of a business requirement study, identify the required operational outcomes, the stakeholders, the existing disparate systems and technology; then identify the gap between these and the management system/s being considered, work within the budget, phase the implementation, and allow for additional budget requirements in the next few financial years to scale the system.
"The most important factor with any system is not the system itself; it is the resistance to change form personnel, who need to buy into the process of utilising the system," he says. "This needs to be driven from the top management downwards, or any system is potentially doomed for failure before it starts."
A professional supplier of VMS will give the installer advice and recommendations on how to optimise the use of hardware to be installed with the software, what bandwidth capacity is needed, storage requirements, etc. Biltsted says that if these services are not offered, the reseller/end-user should look at what services are offered with the product and if it is enough for you.
"Another thing is a dedicated VMS manufacturer will use the latest programming tools and technologies. For example, in complex solutions utilisation of 64-bit OS technology should be considered for optimisation of the solution."
Making the right choice
Seeing that there are many options when it comes to management platforms, what should users be looking for when considering a management platform? Do you go for a system that can do everything and set it up to meet your needs, or do you start small, using a system that can grow with your needs?
Biltsted says evaluations about what is important can only be made by each customer, whose needs vary from type of organisation to size to geography and over time. "The determining factor in the Milestone VMS open platform is the broadest ability to choose: from the range of functionality in our portfolio of products that are regularly upgraded, to the diversity and number of hardware devices supported, and the wide set of proven third-party integrations possible.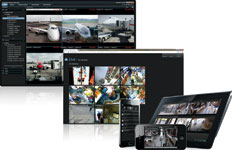 XProtect_ clients
"Partners and end-users testify to the ease of installing and working with XProtect: the wizards for fast camera connections, comprehensive management features, alerts and reporting. Our search and export tools are praised. Milestone has beneficial archiving capabilities such as pruning or grooming the video to different levels and storage types which saves on bandwidth, in addition to setting compression of the data as desired. Milestone Federated Architecture is a huge benefit to large, multi-site (even cross-national) implementations that want centralised control with local access. XProtect Smart Wall is the go-to choice for our customers with big command centres, too."
He adds that the global network of partners and customers in the Milestone ecosystem which all contribute inspiration and continued innovation is also important. "The Milestone open platform is not just about our software, it is our way of doing business. We are open in our collaboration with our partners and the customers, working together to make IP video surveillance the best that it can be."
Buret says Sukema's platform "is developed by ourselves in South Africa, and is supported and maintained by ourselves. Whether it is sold through a channel partner or directly from Sukema, we are always directly responsible for the BRS with the client, the implementation and training, as well as any customisation required by the client."
The Sukema platform consists of a core Microsoft compliant, Web enabled/browser-based platform that is accessible to authorised users from any location around the world. No software resides on a user's PC, therefore upgrades, support and maintenance is quick, easy and efficient. "Our systems cater for clients from a residential estate size, to medium hospital type size, to large corporate size, as well as enterprise versions for global mining size organisations. Clients can add onto the core in a modular fashion according to their increasing requirements and budget constraints. Features and functionalities in most modern day systems are very similar; this only forms about 20% of implementing a successful management system that meets the client's requirements."
IMS Research: What is PSIM software?
IMS Research believes that a PSIM software platform must meet the seven following criteria:
1. Connectivity and integration: A PSIM software platform must connect and manage multiple disparate security systems, examples include (but are not limited to) video surveillance, access control, intrusion, fire and life safety, perimeter protection, mass notification and building automation. The PSIM platform should be capable of integration with other business systems within a corporate IT-infrastructure such as ERP systems, data warehouses, provisioning systems, etc. The PSIM platform should be open, therefore hardware and vendor agnostic, and capable of connecting to any input sensors and external applications.
2. Real-time policy/configuration management: A PSIM software platform must be able to define and change policies and parameters related to various connected devices in the underlying subsystems (such as access control, video, etc.).
3. Correlation and verification: A PSIM software platform must be able to automatically connect and cross-reference multiple events from multiple disparate security systems in real-time and give the ability to flexibly set rules.
4. Visualisation: A PSIM software platform must be able to visualise the actual situation independently from active events. In case of an event, the PSIM platform must be able to graphically display situational information in a manner that provides responders with a picture of the nature of the event, the location and the scope of the threat it presents. It must be able to integrate real world information as a geo-spatial representation.
5. A rules-based workflow for response: A PSIM software platform must be able to immediately offer a step-by-step action plan, based on pre-determined rules and policies, to respond, manage/counter the threat and control response operations. The rules based workflow should be sufficiently complex as to adapt to escalating situations.
6. Availability/resilience: A PSIM software platform must have capability for redundant functionality (eg, servers, communication gateways and databases) to support continuity of business and disaster recovery. This includes the ability to integrate backup systems to automate transfer of control room capabilities. It must be able to watch and monitor the functionality and integrity of the underlying subsystems and detect possible threats on the network.
7. Post-event reporting and analysis: A PSIM software platform must provide an audit log that allows for post-event forensic review detailing the event situation and the action taken. It must be capable of developing customised reports that allow for analysis of multiple events in order to optimise policies and response.
Source: http://imsresearch.com/news-events/press-template.php?pr_id=1779
Credit(s)
Further reading:
Cyber resilience is more than cybersecurity
Technews Publishing Cyber Security Integrated Solutions IT infrastructure
Hi-Tech Security Solutions held a round-table discussion focusing on cyber resilience and found that while the resilience discipline includes cybersecurity, it also goes much further.
Read more...
---
Avoiding human error at ports
LD Africa Transport (Industry) CCTV, Surveillance & Remote Monitoring Products Logistics (Industry)
LD Africa introduced a local port to the AxxonSoft Port Security System ,a solution that helps overcome the element of human error and eliminate paperwork.
Read more...
---
Compact, lightweight bullet cameras with support for analytics
Axis Communications SA Products CCTV, Surveillance & Remote Monitoring
Axis Communications announced two new outdoor-ready bullet-style cameras featuring deep-learning processing units for analytics based on deep learning on the edge.
Read more...
---
Numerous challenges for transport and logistics
Transport (Industry) CCTV, Surveillance & Remote Monitoring Security Services & Risk Management Logistics (Industry)
Operators are making significant investments in automation and digitalisation in order to address security concerns, improve loss prevention as well as efficiency, and reduce unit order costs.
Read more...
---
A key to urban transport challenges
Axis Communications SA Transport (Industry) CCTV, Surveillance & Remote Monitoring Integrated Solutions Logistics (Industry)
There are many enabling technologies that can impact transportation in South Africa, but a good place to start is by considering the applications for smart physical technology with the ability to collect and respond to data.
Read more...
---
From the editor's desk: Security and resilience
Technews Publishing News
It's often said that South Africans are a resilient bunch, and history has proven this correct. When it comes to security, both cyber and physical, resilience is key to an effective defensive plan. ...
Read more...
---
Hikvision aims for solutions
Technews Publishing Hikvision South Africa Editor's Choice CCTV, Surveillance & Remote Monitoring News Integrated Solutions Conferences & Events
Hikvision recently held a roadshow titled Industry X, where the company highlighted its latest products and solutions, supported by partners and distributors.
Read more...
---
ADI Expo returns to South Africa
Technews Publishing ADI Global Distribution News
September saw the return of the ADI Expo to South Africa. The Johannesburg event was held at the Focus Rooms and the Durban event, two days later, at the Southern Sun Elangeni & Maharani.
Read more...
---
Technoswitch Awards dinner for 2022
Technews Publishing News Fire & Safety
Technoswitch hosted its fifth awards dinner at Montecasino in September, where customers and suppliers celebrated a year of success.
Read more...
---
Reliable, low-maintenance video appliances
Technews Publishing Editor's Choice CCTV, Surveillance & Remote Monitoring News IT infrastructure Products
Symetrix, part of the Agera Group, has added the AES range of video recording servers, storage appliances and workstations to its portfolio.
Read more...
---