printer friendly version
PSIM: Why should I be interested?
March 2013
CCTV, Surveillance & Remote Monitoring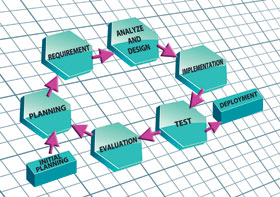 Physical Security Information Management (PSIM) software enables security departments to manage an enterprise's exposure to security risk. It is designed to aid decision-making and deployment planning within an organisation.
Within physical security operations, it has been widely accepted that critical information from numerous sources is left to system operators to interpret and act upon consistently and correctly. Most end-users have video surveillance, access control and building management systems. These systems are not integrated together and work independently with no communication with other systems in the ecosystem.
Security breaches and challenges
Following several large security breaches, such as 9/11 and 7/7, security professionals have recognised the need to bring together this information in a format that can be visualised and distributed. As a result, the security industry is now in transition; moving from disparate systems to integrated and interoperable systems.
Whilst system integration might not seem much of a challenge in the world of IT where standards have been around for decades, the physical security world has been much slower to adapt to change. This means a large number of organisations are using lots of systems in their control room which cannot work with each other.
How does PSIM help?
Firstly, PSIM provides an off-the-shelf platform to manage all of these systems, including both legacy systems and new technology, by connecting them together through a single interface. This is far more cost-effective than other forms of integration, such as bespoke turnkey solutions offered by some integrators.
Secondly, it uses workflow technology to provide operators with guidance and intelligence for situation management. This enforces all policies, increases effectiveness and provides evidence of compliance for auditing and risk mitigation. For example, it can perform intuitive prioritisation and escalation according to a range of predetermined criteria that might include chronology, location, priority and prevailing threat.
How does PSIM differ from other forms of integration?
Several studies have been carried out in this area by research companies including Frost and Sullivan and IMS, which have highlighted some of the features that distinguish a PSIM solution from other physical security and event management products. These key points define a PSIM product, and have been collated below:
* Open platform: It provides easy integration with a variety of systems from leading manufacturers. It is therefore essential that the PSIM vendor is not tied to any manufacturer of the underlying systems.
* Data collection: Device level information is collected from all connected systems. It should provide the ability to integrate events and alarms from these systems along with information such as time and geography, allowing it to automatically identify situations and then dynamically update them as they unfold.
* Data aggregation: The PSIM software should have the ability to evaluate the information that is gathered to identify and priorities real incidents and situations.
* Visualisation and collaboration: It should provide the ability to visualise a situation as it evolves and to share this intelligence with response teams, ensuring responses are fast and appropriate.
* Geospatial engine: Dynamically locating and creating relationships between devices, people and assets relationships is essential. For example, it may automatically identify the nearest cameras to a situation's address or locate the security person closest to a medical emergency. This should offer the ability to display situations, devices, people and alarms – and shows what is happening in real-time within a given situation or globally across all situations.
* Incident resolution: The PSIM system software should facilitate the presentation of logically displayed and clearly communicated actions. It should enforce standard operating procedures to an operator, along with the information, tools and contact information needed for resolution – all within a single user interface. It should provide a set of easy-to-use visual tools to generate policies that are automatically imported into the system for use in the identification and resolution of situations.
* Reporting: All activity should be monitored, including all operator actions, to aid compliance management, provide training scenarios and as an auditable record of activity subsequent to a security incident. It should gather all information (videos, alarms, audio), actions taken, and results into one folder for compliance and investigative analysis or post situation training.
* Modular platform: It should dynamically adapt to changes in devices, configurations, situations, policies, and reporting while the system is running and support a distributed architecture for high availability and disaster recovery.
Are all PSIM solutions the same?
There are several true PSIM vendors in the market place who have been deploying their PSIM solutions for more than five years now. These vendors are several versions into the development of their software, giving them vital experience that only comes from successfully deploying a number of large scale installations. This has enabled them to understand the challenges and create products that are mature enough to meet the wide number of applications seen in PSIM today.
Unfortunately, there are also a large number of companies who are now marketing their old products under the PSIM banner; which is creating confusion in the market place as these products do not have many of the features essential to a PSIM solution.
True PSIM solutions have become more sophisticated, emphasising added organisation value through hardened security and increased efficiency or reduced ongoing costs. The crucial factor being that the customer can decide what their priorities are and implement all or just a few modules of a PSIM according to their unique situation.
This flexibility is key when selecting a PSIM solution. Organisations should research the product and ensure the PSIM solution is future-proof and can adapt to the organisation's changing security needs. This will reduce the risk of purchasing a system that will need replacing if the organisation's circumstances change a few years down the line.
For more information contact E-thele, +27 (0)12 665 3158, manica@ethele.co.za, www.ethele.co.za
Further reading:
Securing Savannah Hills Estate
August 2019, Rhyco Risk Projects , CCTV, Surveillance & Remote Monitoring, Perimeter Security, Alarms & Intruder Detection
Savannah Hills Estate in Midrand planned a security upgrade which was awarded to Rhyco Risk Projects. The project started in March 2019 and was completed in May 2019.
Read more...
---
10 things to consider when shopping for a VMS
August 2019, Genetec , CCTV, Surveillance & Remote Monitoring, Integrated Solutions
Today's video management systems (VMS) provide a wide range of tools and capabilities that help make security personnel more efficient by allowing them to focus on what really matters.
Read more...
---
How far are we really at with artificial intelligence?
August 2019, Axis Communications SA , Editor's Choice, CCTV, Surveillance & Remote Monitoring, IT infrastructure, Residential Estate (Industry)
Justin Ludik unpacks exactly how far AI has come and what it potentially can do for society and more importantly, surveillance.
Read more...
---
Enhancing security with AI
August 2019, Hikvision South Africa , CCTV, Surveillance & Remote Monitoring
Hikvision explains how residential estates can revolutionise their security strategies and outcomes with artificial intelligence.
Read more...
---
More than simply a camera
August 2019, Forbatt SA, Secutel Technologies , CCTV, Surveillance & Remote Monitoring, Residential Estate (Industry)
With the human element being the weakest link in all security solutions, Hi-Tech Security Solutions looks at the pros and cons of using body-worn cameras in estates.
Read more...
---
The importance of effective perimeter security
August 2019, Elf Rentals - Electronic Security Solutions, Stafix , Editor's Choice, CCTV, Surveillance & Remote Monitoring, Residential Estate (Industry)
Protecting the perimeter is critical for any residential estate; how does one go about making sure your perimeter is as secure as possible?
Read more...
---
Security playing speedcop
August 2019, Axis Communications SA, Hikvision South Africa , CCTV, Surveillance & Remote Monitoring, Residential Estate (Industry)
Estates now have a legal precedent to manage their traffic and fine people in the estate for violations of the rules; all they need do is find solutions that will support them.
Read more...
---
CathexisVision video management software
August 2019, Cathexis Technologies , Products, CCTV, Surveillance & Remote Monitoring
The CathexisVision IP video management software (VMS) helps clients get the most out of their surveillance investment and reap rewards for their companies.
Read more...
---
Capture every detail with Smart PIR kits
August 2019, Longse Distribution , Home Security, CCTV, Surveillance & Remote Monitoring, Residential Estate (Industry)
Longse Technology offers DIY smart security kits that are easy to install and offer a Wi-Fi range that can reach up to 300 metres.
Read more...
---
Future-facing cameras
August 2019, Bosch Building Technologies , Products, CCTV, Surveillance & Remote Monitoring
All FLEXIDOME IP starlight 8000i cameras feature built-in Intelligent Video Analytics, making them intuitive, and elevates their importance far beyond security alone.
Read more...
---