printer friendly version
Hybrid: best of both worlds?
CCTV Handbook 2013
CCTV, Surveillance & Remote Monitoring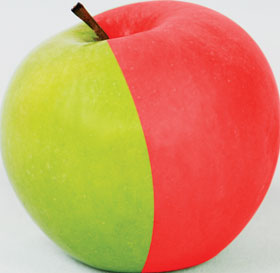 Hybrid solutions are touted as the ideal middle ground solution for users who either cannot or do not wish to replace their entire analogue system with IP. Common questions that come to the fore are whether they really do offer the best of both technology worlds, or do they simply offer median performance levels?
Gus Brecher, MD at Cathexis Africa says it is important to define a hybrid solution. "Only if both analogue and IP cameras on a site are being monitored from a common control room or management platform can one truly say that it is a hybrid solution. Currently, there are traditional DVRs which have the ability to accommodate IP cameras, and then there is the option to insert IP encoders to convert the analogue video stream to IP.
"There are some solutions that transmit HD video along co-axial cables, but I believe that this is not a long-term solution as it normally requires proprietary hardware which is not compatible with all open systems. This may present problems with future upgradeability of systems. Seamless, simultaneous operation of both analogue and IP video streams should be the goal of any installation."
"Hybrid systems are essentially analogue and IP solutions. It is important that one be able to use them together on a platform to ensure maximised operability," says Ingo Mutinelli, national sales manager for Elvey Security Technologies.
Gordon Moore, ADI product manager CCTV/Access, adds that there are three ways of achieving a hybrid solution:
* Hybrid DVRs: these are purpose-built recorders that will have a combination of composite video inputs for the analogue cameras and an Ethernet port for the IP cameras. These solutions are common in smaller installations ranging from 16 to 32 inputs.
* CMSs: central management software designed to be able to connect to both DVRs and NVRs. This, in most cases, would be software developed by the manufacturer to allow end-users to view cameras from their older DVR and their newer NVRs, on one common platform.
* Encoders: this is probably the most common solution in larger ­projects where there have already been large investments with analogue cameras in the infrastructure. In this case, one would make use of IP encoders to convert the analogue images to IP so that they can be incorporated into a full IP solution.
Let's go
"One needs to consider the implementation costs versus the future relevance of the solution when considering a hybrid solution. A middle road is to offer an upgrade with some IP technology, but simultaneously retain existing analogue cameras. Ultimately, it is necessary to perform a needs analysis to guarantee not only the ability to upgrade a system, but also to determine whether the system can be supported and integrated 10 years down the line," notes Brecher.
"There are two basic considerations when converting to hybrid solutions. Firstly, what are the storage requirements? Secondly, which analogue cameras would you need to convert into IP and how will this signal scale from point A to point B," says Mutinelli. "One should also consider the limitations such as what kind of infrastructure is available in terms of the network capacity. This will be affected by what resolution is required and how many frames per second are recorded."
Is hybrid the solution?
In the beginning, when the industry started with IP, there was a requirement for hybrid solutions because IP had not matured. There were many instances where analogue was required for specific areas or functionality, such as high-speed domes, thermal cameras and areas where large zoom lenses were required. This has changed. IP image quality has now improved significantly and there is an IP solution for every possible scenario. "So, the only consideration for a hybrid solution now would be instances where there has been significant investment in analogue and there are budgetary constraints that restrict one from instituting a full upgrade," says Moore.
When implementing a hybrid solution one needs to understand that you will not get the same image quality as a full IP solution. If the image quality of the analogue camera has deteriorated, converting it to IP with an encoder will make the image worse because of the way the compression engine works. A noisy image is always difficult to compress, he adds.
"If you are happy with your analogue camera-to-video quality, then it would be foolish to change to IP. However, if you need higher image resolution, then you need to consider IP. With hybrid, you can simultaneously embrace the latest technology, while retaining your existing investment. It is critical, however, to have a centralised management system," says Brecher.
As the technology improves, IP becomes more affordable. However, until bandwidth issues have been resolved, it is often a good idea to stick with analogue systems. IP is ideal where the user is operating in a remote or very large location, according to Mutinelli.
"Hybrid solutions allow for cost-effective upgrade paths, where one can migrate across to IP over a period without having to start from scratch. Therefore, if cost is an issue then hybrid solutions do provide the best of both worlds but, at the end of the day, nothing beats a full IP solution," Moore concludes.
Credit(s)
Further reading:
Reinventing network camera security
Issue 1 2020, Axis Communications SA , CCTV, Surveillance & Remote Monitoring
Now in its seventh generation and celebrating its 20th anniversary, the Axis ARTPEC chip was launched in 1999 designed to optimise network video.
Read more...
---
Cloud-based fleet and driver management
Issue 1 2020, Graphic Image Technologies , CCTV, Surveillance & Remote Monitoring
Graphic Image Technologies (GIT) has announced the availability of a cloud-based dashcam designed to improve on-the-road behaviour and assist in improving fleet management.
Read more...
---
The instruments for investigation
Issue 1 2020, Technews Publishing , Security Services & Risk Management
Regardless of the reason for investigation, the investigation is only as good as the investigators.
Read more...
---
Do we really want simplicity?
Issue 1 2020, Technews Publishing , News
Everything today has to be simple, easy and fast. Even access to your bank account has to fit these adjectives and banks spend significant time and money trying to ensure their web and mobile interfaces ...
Read more...
---
Security events you can't miss in 2020
Issue 1 2020, Technews Publishing , News
Hi-Tech Security Solutions will host a number of focused events in 2020 to highlight the latest in security technology and the operational benefits they deliver.
Read more...
---
Leaders in risk and security: You have to know it to manage it
Issue 1 2020, Technews Publishing , Security Services & Risk Management
Hi-Tech Security Solutions profiles Nash Lutchman, Senior Vice President and Head of Protection Services at Sibanye-Stillwater.
Read more...
---
Trends 2020
Issue 1 2020, Technews Publishing , Editor's Choice
Hi-Tech Security Solutions asked a few people from diverse companies to join us in a round-table discussion about what they expect to see happening in their environments in the coming year.
Read more...
---
The move to services and RMR
Issue 1 2020, Merchant West, G4S South Africa, Technews Publishing , Integrated Solutions
Project work used to be the staple diet for system integrators, but that was before the services model changed the way businesses buy and use their security systems.
Read more...
---
Cathexis specialises in integration
Issue 1 2020, Cathexis Technologies , CCTV, Surveillance & Remote Monitoring
The integration of multiple systems is intrinsic and essential to the goal of creating an effective and efficient operational environment.
Read more...
---
Slow and steady wins the access race
Issue 1 2020, ZKTeco, Technews Publishing , Editor's Choice, Commercial (Industry)
The commercial sector is slow in migrating to new access control technologies, with the majority of companies remaining with card and fingerprint solutions.
Read more...
---