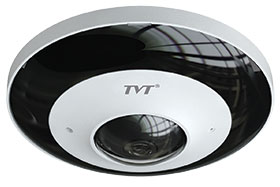 Do more with less
April 2018, CCTV, Surveillance & Remote Monitoring, Products
TVT has launched its latest panoramic surveillance solution, the 6 MP network fisheye camera, TD-9568E2. This fisheye camera allows users to monitor all the action in an area through its 1/2.9-inch CMOS sensor (360-degree monitoring for ceiling mounted cameras and 180-degree monitoring for wall mounted), and its automatic image correction algorithms ensure all video is clear and viewed in natural colours. It supports a maximum resolution of 2160 × 2160. The camera is waterproof and comes equipped with IR lighting to ensure clear vision after dark. The IR lighting offers about 15 m of viewing assistance in total darkness. More aid to obtaining clear images no matter what the conditions are the inclusion of 3D DNR, digital WDR and BLC ROI coding. These features automatically deal with different lighting and glare conditions to provide the optimal image 24x7.
The system also supports two-way audio, which allows operators to manage a situation verbally while having a visual overview of the location.
To make installation and ongoing maintenance easier, the fisheye also supports Power-over-Ethernet (PoE) and can be monitored via a control room or on mobile devices, depending on the user's requirements and location. The system supports simultaneous monitoring for up to 10 users and up to three streams.
An SD card slot on the camera makes it possible to store footage on the edge (up to 128 GB) if the network connection is unavailable or to save bandwidth. For additional security, the TD-9568E2 has been rated IP66, which means it has been designed to prevent ingress of dust as well as water.
Multiple streams
The observer is also able to make the decision as to what viewing capabilities he/she requires by selecting the streaming options required. This allows operators to focus in on specific areas they wish to monitor as well as being able to make use of TVT's virtual PTZ option to follow persons of interest as they move through the area under observation.
When using TVT's NVR to record images, the full fisheye image is recorded as a 360-degree view over a single channel. When users wish to play back the footage, or view it on a screen, they can view the fisheye image or different options, including a panoramic view, certain areas as independent windows on the screen, or even use the virtual PTZ function to follow someone as they move through the scene. All these viewing options are also available via the app, which can be installed on various mobile devices.
An additional benefit of using the fisheye camera with the TVT NVR is that the system is designed for easy setup and configuration. TVT offers users a simple 'one-key installation' option, which will allow them to have the camera up and running quickly, without the hassles of configuring the device or finding an IP address and so forth.
Intelligent analytics
In addition, the camera supports a number of video analytics options to assist in monitoring areas automatically. These include motion detection and region of interest demarcation to alert the operator in the control room or a user via their mobile device when someone enters a specific region or when motion is detected.
The fisheye camera also supports privacy masking functionality. This allows users to mark certain regions as private, which will blackout that region to avoid intruding on people's privacy.
The camera can be used in multiple scenarios, including retail environments where it can be used to fulfil the role of many traditional cameras, covering a broad area while also saving on costs. It is available in South Africa from Forbatt.
For more information, contact Forbatt SA, +27 (0)11 469 3598, sales@forbatt.co, www.forbatt.co