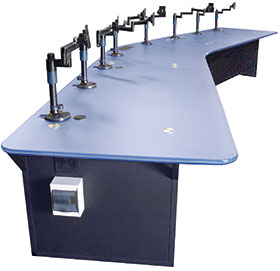 Control console from Mimic
April 2018, Security Services & Risk Management, Products
Every security camera needs a surveillance checkpoint. A designated controlled area or control room is where surveillance and monitoring of security-cameras takes place. This requires custom consoles for housing monitoring screens, servers and the like, for data storage and retrieval.
Mimic manufactures control consoles and desks for security control rooms. "Control consoles provide a surveillance checkpoint for operators to work from, be it one desk for one operator or a row of console desks for many operators," says Edwin Wakefield, MD of Mimic Components. "There is no point to installing a security camera which is left unmonitored. Control consoles are fundamental to any security environment, be it a residential security room to larger commercial control rooms from which real-time surveillance and access to data should be available."
ALUTECH is an aluminium extrusion system designed for a wide range of products. The range includes consoles, desks, wall-mount enclosures, floor-standing enclosures, cabinets, and is 19-inch rack compatible. A feature of ALUTECH is the modular application, allowing for assembly and dis-assembly, making future extensions or take-offs possible. This practical feature is conducive for deliveries, shipping and business relocations.
With ALUTECH's robust aluminium frames designed to withstand 24/7 use and round the clock monitoring, leaves little impact on console wear and tear making ALUTECH a viable long-term investment.
For more information contact Edwin Wakefield, Mimic Components, +27 (0)11 689 5700, www.mimic.co.za/product/mimic-control-desks