printer friendly version
Paxton free installer training
April 2018
Training & Education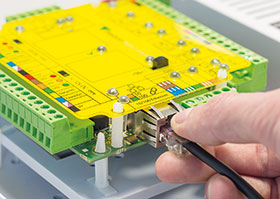 Sign up for a free, one-day training session to help you get to know Paxton's networked access control system, Net2. Training includes installation techniques and fault finding as well as useful information regarding the administration and use of the systems.
Training is held in partnership with Paxton's exclusive distributor, the Regal Group. Sessions are hosted throughout the year by Regal Security and Reditron at their bases across the country.
What a workshop includes:
• Practical demonstrations of wired/wireless door controllers, battery operated solutions, networked door entry and access control systems.
• Advice on how to quote, install and operate Paxton products.
• An overview of system integration with CCTV, biometric, fire and intruder alarms.
• Information on Paxton's support, including its 5-year swap-out warranty on all products.
For more information visit http://paxton.info/3163.
Credit(s)
Further reading:
Manage multiple sites with Paxton10
Issue 3 2021, Paxton , Access Control & Identity Management
Thomas Faith, the Paxton10 product manager, discusses how installers and end-users can now benefit from Multi-site management functionality release in a recent update from Paxton.
Read more...
---
New Net2 tutorial series available
Issue 2 2021, Paxton , News
Paxton has produced a new series of Net2 tutorials to support installers with the latest features in its access control software. The short informative videos provide guidance on how to make buildings COVID-secure with Net2.
Read more...
---
Paxton hires top talent in South Africa
Issue 1 2021, Paxton , News, Access Control & Identity Management
The international access control and video surveillance manufacturer, Paxton, announced it will continue to invest in new talent to accelerate expansion into the South African market.
Read more...
---
Multi-site made simple with Paxton10
Issue 2 2021, Paxton , Perimeter Security, Alarms & Intruder Detection, Products
Paxton's combined video management and access control platform, Paxton10, has received an update allowing administrators to manage multiple sites, spanning cities, countries and even continents.
Read more...
---
New Paxton tutorial series
Access & Identity Management Handbook 2021, Paxton , Access Control & Identity Management
Paxton has produced five tutorial videos which showcase new features and the potential to reduce contamination among users on site.
Read more...
---
Increasing access to cybersecurity knowledge
Issue 9 2020 , Training & Education
In response to widening cybersecurity skills gap and strong demand, Fortinet continues offering self-paced network security training at no cost, for the foreseeable future.
Read more...
---
Can you monitor employees without losing their trust?
Issue 9 2020 , Security Services & Risk Management, Training & Education
Monitoring employees who are working remotely can be a tricky task if you want to ensure productivity and commitment without destroying trust and morale.
Read more...
---
Dealing with human risk in cybersecurity
Issue 9 2020, iFacts , Training & Education
The human element in cyber risk is often ignored while systems are given priority over consistent education and training.
Read more...
---
Stafix opens new training centre in Johannesburg
Issue 9 2020, Stafix , Training & Education
Stafix Electric Fence and Security Centres has announced that its new training centre is now open for business.
Read more...
---
CCTV surveillance skills and body language training
Issue 9 2020, Leaderware , News, Training & Education
Omega Training Academy in conjunction with Dr Craig Donald are holding a CCTV Surveillance Skills and Body Language training course for company sponsored delegates.
Read more...
---