printer friendly version
Success for Securexpo East Africa 2018
April 2018 News, Conferences & Events, Training & Education
The Nairobi-based exhibition, Securexpo East Africa, has reported another successful year with a 28% increase in attendees from 2015 over the three days (31 January – 2 February 2018).
Visitors came from all over Africa with 23 countries represented. Kenya made up the majority of the show's audience, with other notable countries present being; Rwanda, Tanzania, Uganda, Somalia and the DRC.
With over 80 brands on display, visitors saw technical demonstrations and live equipment from companies such as Ambient System, Axxon Soft, Bristol Fire, Centurion Systems, Connectel Inc, Dahua, Hikvision, Hytera Communications, Idemia, Matrix and Smartworld. The results from the exhibition appear to be extremely good with over 50% of the exhibition signing up for the next event.
Investment was a prominent theme at this year's show, with 46% of visitors attending with the intention of purchasing new equipment or establishing new market suppliers. The collective audience budget reflected this at over US$350 million. 75% of attendees were decision-makers or involved in the decision-making process, and over 57% were senior management or business owners.
"The results from the show this year are extremely positive. Despite the Kenyan market having gone through a turbulent six months politically, Securexpo grew again this year welcoming new companies to Kenya. This certainly demonstrates that the local industry is keen to pick up where it left off. The feedback has been superb and we are incredibly excited about next year," says Alexander Angus, regional director at Securexpo East Africa.
Taking place alongside the wider exhibition, the Securexpo Conference saw 18 industry speakers take to the stage to provide exclusive market insights, trend analysis and technology observations. Topics at this year's conference covered commercial security, fire and safety. Focused cybersecurity sessions proved particularly popular, confirming the region's increased demand for protection against rising cybercrime rates.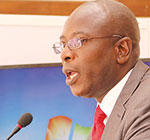 Erick Okeyo.
The keynote presentation at this year's conference was given by Erick Okeyo, the national chairman of Kenya Security Industry Association & Private Security Regulatory. Other speakers included senior representatives from IOSHEM Africa, GardaWorld International Protective Services, MCM Solutions, Halliday Finch, CyberPro Africa and Morison Engineering.
Securexpo East Africa will next take place from 24 – 26 September 2019.
Further reading:
TAPA: The role of an effective treasury function in business risk management
June 2019, Technews Publishing , News
Neil Le Roux, the Founder of Diligent Advisors will speak at the TAPA SA (Transported Asset Protection Association) annual conference on 26 July 2019.
Read more...
---
iLegal 2019: Enhancing and empowering your control rooms
July 2019, Technews Publishing , News, Conferences & Events
iLegal 2019 will be held on 12 September 2019 at The Rosebank Crowne Plaza in Johannesburg. iLegal is the surveillance industry's premier one-day conference hosted jointly by Hi-Tech Security Solutions and Dr Craig Donald.
Read more...
---
Residential Estate Security Conference 2019: Managing for efficiency
July 2019, Technews Publishing , News, Conferences & Events
The Residential Estate Security Conference 2019 will be held on 20 August 2019, once again at the Indaba Hotel in Fourways, Johannesburg.
Read more...
---
Spending to save
August 2019, Technews Publishing , News
As residential estates and complexes grow like weeds across South Africa, often promoting themselves as more secure than a stand-alone house, many are finding that close proximity to a neighbour or a ...
Read more...
---
From the editor's desk: The difference between potential and skills
August 2019, Technews Publishing , News
This issue of Hi-Tech Security Solutions includes our annual Local Manufacturing feature and it's great to know that local security manufacturers are still going strong, even if the general manufacturing ...
Read more...
---
A customised solution for backup power
August 2019, Specialised Battery Systems , News, Integrated Solutions
Specialised Battery Systems designed and implemented a bespoke solution for Stallion Security Electronics to deploy at almost any site.
Read more...
---
Patient critical – healthcare's cybersecurity pulse
August 2019, Wolfpack Information Risk , News, Cyber Security, Healthcare (Industry)
The healthcare industry has become one of the leading cybersecurity attack vectors worldwide for several reasons.
Read more...
---
iLegal 2019: Keeping security one step ahead
July 2019, Technews Publishing , News
The iLegal 2019 conference will focus on Augmented Surveillance, including the physical and logical technologies, people and processes required to enhance security and business decisions.
Read more...
---
A one-size-fits-all approach won't secure the IoT
August 2019 , News, Cyber Security
Securing the Internet of Things (IoT) is something which cannot be done with a one-size-fits-all approach, and every kind of connected object must be assessed individually.
Read more...
---
Came acquires Turkish company Özak
August 2019, CAME BPT South Africa , News, Access Control & Identity Management
Came broadens its market horizons and signals growth and consolidation in the Middle East.
Read more...
---