printer friendly version
IP surveillance and storage
CCTV Handbook 2013
CCTV, Surveillance & Remote Monitoring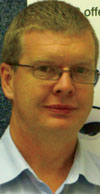 Anyone with experience in high-resolution IP surveillance will agree that one of the most difficult (and often most expensive) components of the solution to manage is storage. In some cases the storage can be more expensive than all the other components.
With the way the cameras are dropping in price and giving higher resolutions, this is only going to become more of a challenge. Another problem is trying to accurately predict storage requirements when using H.264 since it then becomes not only how often there is motion, but how much motion there is. The other challenge is that, due to the need to write away multiple streams of high resolution video, good disk access speeds are required.
Information technology has given us numerous ways to provide the large amounts of storage required, with external arrays which allow us to add large numbers of drives, fibre channel and serial attached SCSI (SAS) which help with the access speeds, mirror and RAID techniques which help with data redundancy (as well as performance) and even differential backup techniques to make the creation of offsite backups viable. This is all excellent technology, with some of the IT manufacturers even creating products to address the specific needs of surveillance (eg, Promise storage arrays, Seagate surveillance drives).
The problem though, is the cost. Although most significant sized projects will more than likely require the leap from simple PC hard drives to enterprise storage systems, we still need to look at how we can minimise the storage requirement. Here are some techniques that can assist you with this.
Resolution for resolutions sake
Do not think that higher resolution is necessarily better. The human eye struggles to discern any difference between 1 MP and 5 MP. The only time that high resolution is an advantage is if there is a need to use digital zoom capabilities. Even if the camera has high resolution capabilities (but may have been selected for other reasons such as WDR), do not be afraid to drop the resolution in the configuration of the camera. It will not only help for storage, but can also reduce load on the network.
The fast frame rate fallacy
When watching a movie or sport on TV, we want it to appear smooth and lifelike and with the exception of a few highly detail-oriented individuals we get our wish here. The standard for most television or movies we watch is around 24fps. In fact with some animated movies, they show each picture twice creating an effective 12fps. This is however only relevant as a point of reference since the only similarity between video surveillance and television is the moving picture on the screen. The fundamental purpose of television is entertainment while the fundamental purpose of video surveillance is security (mostly – even though sometimes the footage can be quite entertaining). We need to ask ourselves if high frame rates are necessary. Sometimes just a single frame per second may be adequate (for example when looking at a wide area for general activity), and sometimes high frame rates are needed (for example licence plate recognition on moving traffic). It can also be useful to have a video management system that provides the flexibility to record at various frame rates. For example, you may choose to have a few days' short-term storage at high frame rates and then long-term storage at low frame rates.
Intelligent recording
Possibly the most underutilised technique to save on storage space is making use of intelligent recording. Even the most basic analogue systems allow for recording on motion, and even recording specifically when there is motion in a particular area of the screen, and this has been used for many years to reduce storage requirements (and help when it comes to searching for footage), however, intelligent video management software allows for the triggering of recording (as well as alerts) using more intelligent detectors. As well as being able to configure multiple motion based recording zones, you can look at detectors such as line crossing (in a specific direction maybe), loitering (we do not care if someone walks past but if they hang around for more than a few minutes we want to know), an object disappearing and more. Integration with access control or intrusion alarm systems may also be employed to assist with this. Sometimes, the cost saving (in terms of storage) can be higher than the price of the video management software, not to mention the value of time saved when retrieving footage.
So we all know that storage can get expensive, and high resolution video footage can be a huge consumer of this. The key thing is to remember what the solution was designed for and to only record what you need, in the detail you need and when you need it. Remember that a 'jerky' image due to low frame rate may not be cosmetically nice, but may be practically perfectly good for the job. A video management system can provide you with the flexibility and intelligence to ensure you achieve your goals with the ideal balance between the volume/detail of stored images and the storage space required.
For more information contact Inhep Digital Security, +27 (0)31 705 1373,  [email protected]
Credit(s)
Further reading:
Mount Nelson opts for cloud surveillance
CCTV, Surveillance & Remote Monitoring Entertainment and Hospitality (Industry)
IOT Revolution Technologies, in partnership with MeyCom, will be implementing over 250 cloud driven Verkada cameras at the Belmond Mount Nelson Hotel.
Read more...
---
Avoiding human error at ports
LD Africa Transport (Industry) CCTV, Surveillance & Remote Monitoring Products Logistics (Industry)
LD Africa introduced a local port to the AxxonSoft Port Security System ,a solution that helps overcome the element of human error and eliminate paperwork.
Read more...
---
Compact, lightweight bullet cameras with support for analytics
Axis Communications SA Products CCTV, Surveillance & Remote Monitoring
Axis Communications announced two new outdoor-ready bullet-style cameras featuring deep-learning processing units for analytics based on deep learning on the edge.
Read more...
---
Numerous challenges for transport and logistics
Transport (Industry) CCTV, Surveillance & Remote Monitoring Security Services & Risk Management Logistics (Industry)
Operators are making significant investments in automation and digitalisation in order to address security concerns, improve loss prevention as well as efficiency, and reduce unit order costs.
Read more...
---
A key to urban transport challenges
Axis Communications SA Transport (Industry) CCTV, Surveillance & Remote Monitoring Integrated Solutions Logistics (Industry)
There are many enabling technologies that can impact transportation in South Africa, but a good place to start is by considering the applications for smart physical technology with the ability to collect and respond to data.
Read more...
---
Hikvision aims for solutions
Technews Publishing Hikvision South Africa Editor's Choice CCTV, Surveillance & Remote Monitoring News Integrated Solutions Conferences & Events
Hikvision recently held a roadshow titled Industry X, where the company highlighted its latest products and solutions, supported by partners and distributors.
Read more...
---
Reliable, low-maintenance video appliances
Technews Publishing Editor's Choice CCTV, Surveillance & Remote Monitoring News IT infrastructure Products
Symetrix, part of the Agera Group, has added the AES range of video recording servers, storage appliances and workstations to its portfolio.
Read more...
---
A new full-colour era
Dahua Technology South Africa CCTV, Surveillance & Remote Monitoring
Traditionally, there have been two options for using surveillance cameras in the dark: flooding the scene with visible light, or alternatively using infrared (IR) illumination.
Read more...
---
AIoT delivers dynamic digital platforms
Hikvision South Africa CCTV, Surveillance & Remote Monitoring
Many stadiums or venues are seeking new, smart solutions that can help venue operators to stay on top of real-time situations dynamically on digitally driven platforms, and to achieve more efficient and sustainable venue management.
Read more...
---
Upgraded security and AI monitoring at upmarket estate
Watcher Surveillance Solutions Editor's Choice CCTV, Surveillance & Remote Monitoring Integrated Solutions Residential Estate (Industry)
Estate upgrades and enhances its security through a partnership between surveillance specialist Watcher and the incumbent guarding company.
Read more...
---