printer friendly version
Surveillance in entertainment spaces
April 2018 Entertainment and Hospitality (Industry), CCTV, Surveillance & Remote Monitoring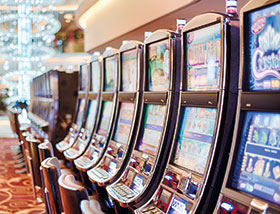 People seek out entertainment to relax and forget their worries, but unfortunately, major venues present a variety of security risks that make a lot of would-be visitors nervous about seeing a sports match, attending a concert or trying their chance at a casino. The large number of people, the alcohol and the excitement (or in the case of sports or gambling, deep disappointment) can endanger the safety of patrons and employees.
Fortunately, surveillance technology keeps getting better. Pelco's multi-sensor panoramic cameras are at the forefront of changes that offer major venues a cost-effective way to identify and intervene to stop dangerous behaviour far more quickly than ever before.
Security solutions that work for low-key sites often don't serve the needs of a major entertainment venue, such as a casino or a stadium. Those places present a number of unique challenges that only top-notch multi-sensor video cameras address.
The biggest challenge is the sheer number of people who attend a major sporting event, or who are cruising the floor of a major casino. These types of environments have traditionally lent themselves to crimes of opportunity, such as pick-pocketing, because offenders can so quickly disappear into the crowd and count on grainy, inconclusive surveillance footage that fails to identify a culprit.
Pelco's multi-sensor cameras, however, provide high-definition images that let security personnel see exactly what's going on, with the same precision that they'd enjoy if they were standing next to the patrons on the ground. Just as important, when bad behaviour is observed, staff can zoom in on the offender's face and get a high-definition image that it can not only use to investigate the event in the near-term but that it can have on file for future reference.
Another inherent challenge is the size of the venues themselves. Pelco's panoramic cameras cover large swaths of space – from 180 to 360 degree views – allowing those watching the footage to view much more than would be offered by a conventional fixed camera. Seamless, panoramic views ensure operators can see the entire scene, with no gap in coverage.
Pelco's cameras are also equipped to deal with the considerable variation in light that event spaces are subject to, from the dim lights of a casino bar or the entrance of a football stadium after sunset. The cameras' wide dynamic range – powered by SureVision technology – ensures crisp images no matter what the light conditions, from very dark to very bright.
What sets Pelco's cameras apart from conventional technology, however, is its use of analytics to identify situations that would elude the naked eye. Analytics can instantly spot and alert staff to undesirable behaviours, such as an unattended bag or a person moving the wrong way through a door. Through integration, analytics capabilities are enhanced to immediately notify staff of the presence of a guest who has posed problems in the past, a feature of particular relevance in the gaming industry.
Video security systems are, of course, not just there to respond to problems in real time, but to gather evidence that can be drawn upon later. Looking back through footage is key to responding to reported issues involving guests as well as to assess the performance of employees. One client, the T-Mobile Arena in Las Vegas, keeps up to three months of prior footage on hand with Pelco's VMS storage. Authorised personnel can scroll through footage at breakneck speeds to find what they need, when they need it.
There's no way to ensure that dangerous behaviour never takes place. But it's the duty of those who oversee major venues to make sure that bad behaviour does the least damage possible to their patrons. It's not just the right thing to do, but it's good for business.
For more information contact Yvette Venter, Pelco by Schneider Electric, +27 (0)11 254 6400, yvette.venter@schneider-electric.com
Credit(s)
Further reading:
Why rehearsals and drills for crises and evacuation are so important
August 2019, Leaderware , CCTV, Surveillance & Remote Monitoring, Security Services & Risk Management
The rehearsal of concept (ROC) drill has been used extensively in the military, but is just as important when facing risks in organisations and institutions to protect people on the ground.
Read more...
---
Milestone partners prove their skills
August 2019, Milestone Systems , News, CCTV, Surveillance & Remote Monitoring, Training & Education
Within the span of one week in mid-May, the Milestone Learning & Performance group celebrated important benchmarks: 200 000 course registrations and tutorial views, and 10 000 certifications.
Read more...
---
ONVIF Hosts 20th Developers' Plugfest
August 2019 , News, CCTV, Surveillance & Remote Monitoring
ONVIF, the global standardisation initiative for IP-based physical security products, hosted its twentieth ONVIF Developers' Plugfest in early June in Tokyo.
Read more...
---
Licence plate recognition camera
August 2019 , Products, CCTV, Surveillance & Remote Monitoring
VIVOTEK has introduced a new licence plate recognition camera featuring built-in licence plate recognition software and edge-computing capability.
Read more...
---
How far are we really at with artificial intelligence?
August 2019, Axis Communications SA , Editor's Choice, CCTV, Surveillance & Remote Monitoring, IT infrastructure, Residential Estate (Industry)
Justin Ludik unpacks exactly how far AI has come and what it potentially can do for society and more importantly, surveillance.
Read more...
---
The importance of effective perimeter security
August 2019, Elf Rentals - Electronic Security Solutions, Stafix , Editor's Choice, CCTV, Surveillance & Remote Monitoring, Residential Estate (Industry)
Protecting the perimeter is critical for any residential estate; how does one go about making sure your perimeter is as secure as possible?
Read more...
---
CathexisVision video management software
August 2019, Cathexis Technologies , Products, CCTV, Surveillance & Remote Monitoring
The CathexisVision IP video management software (VMS) helps clients get the most out of their surveillance investment and reap rewards for their companies.
Read more...
---
Capture every detail with Smart PIR kits
August 2019, Longse Distribution , Home Security, CCTV, Surveillance & Remote Monitoring, Residential Estate (Industry)
Longse Technology offers DIY smart security kits that are easy to install and offer a Wi-Fi range that can reach up to 300 metres.
Read more...
---
Future-facing cameras
August 2019, Bosch Building Technologies , Products, CCTV, Surveillance & Remote Monitoring
All FLEXIDOME IP starlight 8000i cameras feature built-in Intelligent Video Analytics, making them intuitive, and elevates their importance far beyond security alone.
Read more...
---
Integrated residential estate surveillance
August 2019, Forbatt SA , Integrated Solutions, CCTV, Surveillance & Remote Monitoring, Residential Estate (Industry)
Integrated solutions bring the best-of-breed out of each technology to give personnel all the tools they need for access control management and security.
Read more...
---