printer friendly version
Surveillance in entertainment spaces
April 2018 Entertainment and Hospitality (Industry), CCTV, Surveillance & Remote Monitoring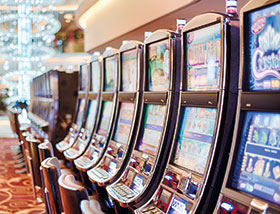 People seek out entertainment to relax and forget their worries, but unfortunately, major venues present a variety of security risks that make a lot of would-be visitors nervous about seeing a sports match, attending a concert or trying their chance at a casino. The large number of people, the alcohol and the excitement (or in the case of sports or gambling, deep disappointment) can endanger the safety of patrons and employees.
Fortunately, surveillance technology keeps getting better. Pelco's multi-sensor panoramic cameras are at the forefront of changes that offer major venues a cost-effective way to identify and intervene to stop dangerous behaviour far more quickly than ever before.
Security solutions that work for low-key sites often don't serve the needs of a major entertainment venue, such as a casino or a stadium. Those places present a number of unique challenges that only top-notch multi-sensor video cameras address.
The biggest challenge is the sheer number of people who attend a major sporting event, or who are cruising the floor of a major casino. These types of environments have traditionally lent themselves to crimes of opportunity, such as pick-pocketing, because offenders can so quickly disappear into the crowd and count on grainy, inconclusive surveillance footage that fails to identify a culprit.
Pelco's multi-sensor cameras, however, provide high-definition images that let security personnel see exactly what's going on, with the same precision that they'd enjoy if they were standing next to the patrons on the ground. Just as important, when bad behaviour is observed, staff can zoom in on the offender's face and get a high-definition image that it can not only use to investigate the event in the near-term but that it can have on file for future reference.
Another inherent challenge is the size of the venues themselves. Pelco's panoramic cameras cover large swaths of space – from 180 to 360 degree views – allowing those watching the footage to view much more than would be offered by a conventional fixed camera. Seamless, panoramic views ensure operators can see the entire scene, with no gap in coverage.
Pelco's cameras are also equipped to deal with the considerable variation in light that event spaces are subject to, from the dim lights of a casino bar or the entrance of a football stadium after sunset. The cameras' wide dynamic range – powered by SureVision technology – ensures crisp images no matter what the light conditions, from very dark to very bright.
What sets Pelco's cameras apart from conventional technology, however, is its use of analytics to identify situations that would elude the naked eye. Analytics can instantly spot and alert staff to undesirable behaviours, such as an unattended bag or a person moving the wrong way through a door. Through integration, analytics capabilities are enhanced to immediately notify staff of the presence of a guest who has posed problems in the past, a feature of particular relevance in the gaming industry.
Video security systems are, of course, not just there to respond to problems in real time, but to gather evidence that can be drawn upon later. Looking back through footage is key to responding to reported issues involving guests as well as to assess the performance of employees. One client, the T-Mobile Arena in Las Vegas, keeps up to three months of prior footage on hand with Pelco's VMS storage. Authorised personnel can scroll through footage at breakneck speeds to find what they need, when they need it.
There's no way to ensure that dangerous behaviour never takes place. But it's the duty of those who oversee major venues to make sure that bad behaviour does the least damage possible to their patrons. It's not just the right thing to do, but it's good for business.
For more information contact Yvette Venter, Pelco by Schneider Electric, +27 (0)11 254 6400, yvette.venter@schneider-electric.com
Credit(s)
Further reading:
AI technology to empower vertical markets
Dahua Technology South Africa Mining (Industry) CCTV, Surveillance & Remote Monitoring Products
Dahua WizMind is a full portfolio of solutions comprising project-oriented products that use deep learning algorithms to provide more business value to its global customers and deliver reliable and comprehensive AI solutions for vertical markets.
Read more...
---
Elvey partners with HALO
Elvey Security Technologies News CCTV, Surveillance & Remote Monitoring
Elvey Group has partnered with HALO Europe to provide Africa's first body-worn solution with zero upfront costs. This includes an IP68-certified body camera and a 4G-connected device.
Read more...
---
Invisible connection and tangible protection via cloud
Dahua Technology South Africa Perimeter Security, Alarms & Intruder Detection CCTV, Surveillance & Remote Monitoring Products
Dahua Technology has launched its AirShield security solution that uses advanced, stable and reliable RF communication technology and cloud services, integrating alarm hubs, various detectors and accessories, with several software apps.
Read more...
---
The importance of the operator's frame of reference
Leaderware Editor's Choice CCTV, Surveillance & Remote Monitoring Security Services & Risk Management Mining (Industry)
The better the operator's frame of reference and situational awareness, and the more informed they are in dealing with CCTV surveillance in the mining industry, the more successful they are likely to be in surveillance.
Read more...
---
Enhancing surveillance on mines
Avigilon Technews Publishing Axis Communications SA Forbatt SA Hikvision South Africa Bosch Building Technologies Editor's Choice CCTV, Surveillance & Remote Monitoring Integrated Solutions Mining (Industry)
Smart Security approached a number of surveillance vendors to find out what the latest in surveillance technology is that can make a difference to security operations in mines, as well as general operations.
Read more...
---
Surveillance to improve worker safety
Axis Communications SA Mining (Industry) CCTV, Surveillance & Remote Monitoring Integrated Solutions
With substantial deposits of mineral resources, mining is critical for South Africa's economic growth and prosperity; however, mining can be dangerous, especially for the people working on the ground and in the shafts.
Read more...
---
Centralised VMS for multiple sites
Mining (Industry) CCTV, Surveillance & Remote Monitoring
Dispersed mining operation relies on AxxonSoft for centralised video management as well as device health monitoring and the reliable distribution of analytics to various camera brands.
Read more...
---
Transition to cloud for video surveillance accelerates
News CCTV, Surveillance & Remote Monitoring
Video surveillance systems are transitioning to greater use of cloud solutions according to a new report from Novaira Insights titled Cloud Trends in Video Surveillance – 2023 edition, which says the trend is accelerating.
Read more...
---
The importance of CCTV for internal perimeter protection
Leaderware Editor's Choice CCTV, Surveillance & Remote Monitoring Perimeter Security, Alarms & Intruder Detection
Constant violations of procedures governing access, unusual handling of goods, empty boxes or containers of product lying around or hidden behind other goods, unauthorised use of exit areas, and movement to unexpected perimeter areas can be a major issue.
Read more...
---
Keeping students, staff and communities safe
Vumacam News CCTV, Surveillance & Remote Monitoring Security Services & Risk Management
South African schools are facing increasing security challenges, making effective surveillance systems more important than ever. To address this issue, Vumacam is offering advanced security solutions with security partners, aimed at keeping students, staff, and the community safe.
Read more...
---