printer friendly version
When you want to see everything
CCTV Handbook 2013
CCTV, Surveillance & Remote Monitoring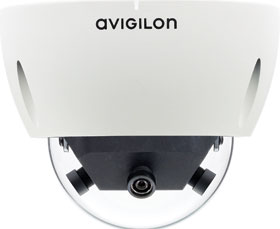 What is happening in the world of fisheye/panorama cameras? What functionality do they have and do they have today's ever-popular low light capabilities?
FullSight
According to Dean Sichelschmidt, technical director at Natech Universal Technology, the company's FullSight range offers panoramic cameras in the 360-degree and 180-degree categories. Both the Sentry360 and Sentry180 FullSight cameras are supplied with free SentryCore VMS software. This software is fully featured with remote viewing, 180/360 de-warping, camera mapping and placement, advanced storage optimisation. In addition, the company also markets Video-Insight and Arteco-Logic software for panorama cameras.
Both FullSight camera types utilise a single multi-megapixel sensor, combined with high-resolution optics. All models in the range come with day/night IR capabilities. On-board storage enables full redundancy should the NVR lose power supply.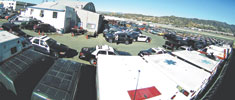 Resolutions of 1.3 to 10 MP are available in the FullSight 360 series cameras. These cameras provide a 360-degree vantage point with no blind spots and no moving parts. The immersive imaging technology allows you to see, record and playback the full 360-degree field-of-view, ensuring that activity is recorded anywhere in the scene at all times.
The FullSight 180 versions offer a 180-degree view from a surface-mountable dome for both indoor and outdoor usage. The camera has a resolution of 2 to 8 MP, but performs optimally where resolutions of less than 3 MP are required.
Both cameras are supplied with VMD and full video content analysis with Arteco-Logic. They have low light (0.2 lux) functionality and work well with infrared illuminators.
The following companies have integrated with Sentry360: Milestone, NICE, Teleste, Video-Insight, Arteco, Genetec, Axxonsoft, Viasys, Infinova, Alnet and a further 20 VMS partners.
"The best applications for these cameras include larger areas where users require coverage with fewer cameras. This would typically be at stadia, storage facilities and petrol stations," said Sichelschmidt.
Dynacolor
Pasco Lattuca, a director of Security Warehouse, said that the Dynacolor fisheye cameras come with free bundled software that can record and view camera data. "The camera is also integrated with our Digi-iT open platform NVR software, providing more views and per-channel recording."
The Dynacolor camera provides both 180-degree and 360-degree viewing using the Dynacolor NVR software. "However, utilising the Digi-iT NVR software allows for 360-degree de-warped view. In total, there are seven possible views: normal 360-degree fisheye; 360-degree de-warped; 2 x 180-degree de-warped in one channel; and 4 x 90-degree views, each on its own channel. All the de-warped views support e-PTZ, enabling the user to customise all the fields of view for the different channels," Lattuca explained.
The Digi-iT NVR software records all the possible channels on motion, event, continuous or a combination of these. The camera can be mounted on a wall or ceiling and has a built-in microphone and speaker. The software also offers digital zoom in the live view and playback using the full power of megapixel cameras.
"The Dynacolor is a true day/night camera featuring ICR (infrared cut) function and a built-in IR illuminator with a Smart IR function to provide an excellent low light image. The advanced 3D noise reduction function also assists in providing a clear image at night and eliminates the noise (snowiness) caused by motion recording," said Lattuca.
The Dynacolor is a 5 MP camera with quad stream capability. At full 5 MP resolution the camera provides 10 frames per second and at full 1080 HD real-time it provides 25 frames per second. The camera can also run on 3 MP, full 1080p HD, 720p HD, D1, VGA and CIF.
The camera's powerful light management settings, including WDR, make it suitable for shop fronts, reception areas and over aisles in retail stores.
Avigilon
Avigilon panoramic cameras use the Avigilon Control Center (ACC) with High Definition Stream Management (HDSM), to effectively capture, manage and store HD multi-megapixel surveillance video data, while efficiently managing bandwidth and storage. "ACC records and manages audio and video from Avigilon's broad range of multi-megapixel IP cameras (from 1 to 29 megapixels) and other leading manufacturers' equipment," said Ryno van der Vyver, regional sales manager southern Africa.
"Our JPEG 2000 HD panoramic dome cameras feature four 2 MP sensors which provide 180-degreeor 360-degree coverage in high definition from a single camera. The software comes with several advanced features including alarm monitoring, integrated graphic mapping, motion detection, bookmark and export functionality, POS transaction engines, system status and security management. ACC is also ONVIF com­pliant and we support numerous integrations with third-party providers," added Van der Vyver.
The JPEG 2000 HD panoramic dome cameras feature four 2-MP sensors for a total resolution of 8 MP.
"The JPEG 2000 HD panoramic dome camera is ideal for monitoring indoor and outdoor environments for sectors such as education, banking, retail, accommodation and hospitality or for any location where installation points are limited," he said.
Credit(s)
Further reading:
Cyber resilience is more than cybersecurity
Technews Publishing Cyber Security Integrated Solutions IT infrastructure
Hi-Tech Security Solutions held a round-table discussion focusing on cyber resilience and found that while the resilience discipline includes cybersecurity, it also goes much further.
Read more...
---
Avoiding human error at ports
LD Africa Transport (Industry) CCTV, Surveillance & Remote Monitoring Products Logistics (Industry)
LD Africa introduced a local port to the AxxonSoft Port Security System ,a solution that helps overcome the element of human error and eliminate paperwork.
Read more...
---
Compact, lightweight bullet cameras with support for analytics
Axis Communications SA Products CCTV, Surveillance & Remote Monitoring
Axis Communications announced two new outdoor-ready bullet-style cameras featuring deep-learning processing units for analytics based on deep learning on the edge.
Read more...
---
Numerous challenges for transport and logistics
Transport (Industry) CCTV, Surveillance & Remote Monitoring Security Services & Risk Management Logistics (Industry)
Operators are making significant investments in automation and digitalisation in order to address security concerns, improve loss prevention as well as efficiency, and reduce unit order costs.
Read more...
---
A key to urban transport challenges
Axis Communications SA Transport (Industry) CCTV, Surveillance & Remote Monitoring Integrated Solutions Logistics (Industry)
There are many enabling technologies that can impact transportation in South Africa, but a good place to start is by considering the applications for smart physical technology with the ability to collect and respond to data.
Read more...
---
From the editor's desk: Security and resilience
Technews Publishing News
It's often said that South Africans are a resilient bunch, and history has proven this correct. When it comes to security, both cyber and physical, resilience is key to an effective defensive plan. ...
Read more...
---
Hikvision aims for solutions
Technews Publishing Hikvision South Africa Editor's Choice CCTV, Surveillance & Remote Monitoring News Integrated Solutions Conferences & Events
Hikvision recently held a roadshow titled Industry X, where the company highlighted its latest products and solutions, supported by partners and distributors.
Read more...
---
ADI Expo returns to South Africa
Technews Publishing ADI Global Distribution News
September saw the return of the ADI Expo to South Africa. The Johannesburg event was held at the Focus Rooms and the Durban event, two days later, at the Southern Sun Elangeni & Maharani.
Read more...
---
Technoswitch Awards dinner for 2022
Technews Publishing News Fire & Safety
Technoswitch hosted its fifth awards dinner at Montecasino in September, where customers and suppliers celebrated a year of success.
Read more...
---
Reliable, low-maintenance video appliances
Technews Publishing Editor's Choice CCTV, Surveillance & Remote Monitoring News IT infrastructure Products
Symetrix, part of the Agera Group, has added the AES range of video recording servers, storage appliances and workstations to its portfolio.
Read more...
---