printer friendly version
Process and technology combined
CCTV Handbook 2013 CCTV, Surveillance & Remote Monitoring, Mining (Industry)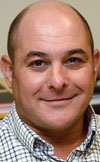 Philip Smerkovitz
The short answer to the question is, simply, yes. Remote CCTV monitoring is currently one of the fastest-growing sectors in the security industry. Closed circuit television (CCTV) systems have become another effective weapon in South Africa's anti-crime arsenal. It has often been said that technology will be South Africa's saving grace in the war against crime and CCTV is an example of one of those anti-crime technologies that work exceptionally well.
It is important to point out at an early stage that there are two distinct aspects to CCTV remote monitoring – alarm monitoring or video alarm verification and video management. The former is concerned with protecting the client's people and assets, while the latter is essentially a management and control function. Both halves of the equation work in symphony to ensure a complete remote monitoring solution. It is commonplace that for the security or alarm handling aspect, the customer would subscribe to services of a remote video response centre (RVRC), whilst the client would often engage in their own management monitoring. An effective remote monitoring solution should allow for both security and management function to take place concurrently without affecting each other.
Remote management monitoring works as a service because it has the obvious advantage of allowing the client to virtually be in multiple locations at one time. In addition, one management operator can monitor several cameras at one time, instead of physically watching one individual. This is especially relevant to certain industries that are feeling the pinch of rising costs coupled with declining productivity.
The mining industry, in particular, comes to mind. You have a massive dispersed workforce to manage and high-value assets to protect. The twin halves of the remote monitoring equation – video management and alarm verification – are perfectly designed for this industry and many others. These include mobile telecommunications where remote base stations require protection and banking where ATMs have become prized targets among criminals who are longer able to crack bank safes or reliably prey on cash-in-transit vehicles.
While CCTV remote monitoring is an effective security solution, it is only as good as its installer and equipment used. TeleEye can quote numerous examples of CCTV installations not properly taking into account critical factors such as backup power, lightning and surge protection and most importantly the available bandwidth at a client site. While there is a shortage of bandwidth in South Africa's outlying areas that would benefit most from remote CCTV monitoring, TeleEye has managed to develop a compression protocol called SMAC-M that provides higher quality images and faster frame rates than products using the H.264 protocol.
In the country's cities, more bandwidth is becoming available which means now is the time to consider HD CCTV remote monitoring instead of SD CCTV, which has the disadvantage of lower image quality. This makes more advanced high definition remote monitoring applications highly challenging. That being said, where there are bandwidth limitations in rural areas, TeleEye clients can remain on SD as we offer highly-efficient remote monitoring solutions no matter what the bandwidth available in the client's area. It is also interesting to note that even our HD CCTV solutions use 50% less bandwidth than systems utilising the H.264 protocol.
One of the most important points that prospective CCTV clients need to know is that many video alarm verification and video management systems are cut and pasted together by installers using different standards and manufacturers. An example of this would be a company providing a separate alarm panel, DVR and IP encoders and/or cameras to form a remote monitoring solution. On the other hand a TeleEye remote monitoring video recording server provides a BS:8418 (British Standard) compliant alarm management system, high end video recording functionality and a TCP/IP video server from a single device. TeleEye's sureGUARD video alarm verification software then provides a complete integrated control room solution providing the necessary features such as remote recordings, event distribution to operators, sophisticated event management and operator and site logging.
We are able to offer both CCTV alarm and management abilities via true multi-stream technology, SMAC-M, where bandwidth and user functions are separated from each other on different data streams and video channels. This means they don't affect each other yet one unified system has been deployed. This means total cost of ownership is lower, increasing reliability and efficiency.
In conclusion, it is important to state that site installation is absolutely critical in terms of security monitoring. In this regard, TeleEye adheres to the UK CCTV standard known as BS8418. This standard specifies a Code of Practice outlining how TeleEye as a manufacturer, should develop critical features in compliance with this standard, how the site should be installed and how the control room should operate. This ensures that local expertise operates according to global best practice with all the associated benefits for clients.
Credit(s)
Further reading:
A comprehensive video solution for retail
LD Africa Retail (Industry) CCTV, Surveillance & Remote Monitoring Products
Retail Intellect is a comprehensive, flexible solution for retailers that matches technologies to ensure point-of-sale safety and security with video analytics.
Read more...
---
Understanding customers better using AI
Secutel Technologies Retail (Industry) CCTV, Surveillance & Remote Monitoring Products
With in-store analytics of consumer behaviour, retailers can improve store performance and boost the productivity of their business.
Read more...
---
Benefits beyond just security
CCTV, Surveillance & Remote Monitoring
Store cameras are boosting customer experience and sales, as well as preventing losses, finds market research e-book from IDIS.
Read more...
---
Hikvision unveils first 'True 8K' NVRs
Hikvision South Africa CCTV, Surveillance & Remote Monitoring Products
The new M-Series NVRs can be used with a host of Hikvision cameras, and are ideal for environments where a wide field of view and extremely high image resolution are needed.
Read more...
---
AI in video analytics
CCTV, Surveillance & Remote Monitoring Integrated Solutions
AI (artificial intelligence), has been developed and debated ever since the first computers were invented, and while the most revolutionary incarnations are not yet here, AI-based technologies are widely used today.
Read more...
---
Milestone flies a Kite for small businesses
Milestone Systems CCTV, Surveillance & Remote Monitoring
Milestone Systems introduces Milestone Kite for small to medium-sized businesses and organisations, supporting 6000+ camera models from 100+ manufacturers.
Read more...
---
Railway AI-enabled video analytics
Rugged Interconnect Technologies CCTV, Surveillance & Remote Monitoring
The Rugged Computing Group has announced the AVA-RAGX, a fanless AIoT video analytics platform for railway applications, paired with Nvidia's Jetson AGX Xavier platform.
Read more...
---
No supply chain delays from Germany
Dallmeier Electronic Southern Africa News CCTV, Surveillance & Remote Monitoring Products
Dallmeier announces that its complete Domera single-sensor camera family is available without delivery problems for installers and channel partners.
Read more...
---
Hikvision releases eDVR Series with eSSD technology
Hikvision South Africa CCTV, Surveillance & Remote Monitoring Products
Hikvision recently added the eDVR Series to its expanding portfolio of security solutions for SMBs, offering compact, durable, easy-to-use and energy-efficient solutions.
Read more...
---
Axis announces W101 body-worn camera
Products CCTV, Surveillance & Remote Monitoring
Axis Communications has designed a body-worn camera, the Axis W101, that has an operating time of up to 17 hours with over 12 hours at 1080p.
Read more...
---