printer friendly version
Keeping tabs from a distance
CCTV Handbook 2013
CCTV, Surveillance & Remote Monitoring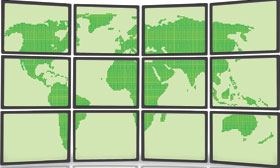 How do you decide when a remote surveillance service is the solution for your application? Is there scope for cloud-based solutions for remote surveillance in Africa?
Some may see CCTV as a grudge purchase, but the extractable operational benefits of remote surveillance are manifold, according to Mark Chertkow, MD of Graphic Imaging Technologies (GIT). "By moving monitoring of surveillance offsite, one can gain a completely objective overview of onsite activities from anywhere at any time. Any possible tampering with footage is eliminated."
Policies and procedures are only as good as the employees implementing them. By adopting remote offsite surveillance, companies are able to save thousands of rands. However, in addition to the monetary benefits derived from instituting remote offsite surveillance, the practice also allows the company to employ a covert health and safety watchdog. Unsafe operating practices and behaviours that infringe the health regulations of an organisation are quickly identified by an independent operator and tagged for immediate resolution.
"Often companies only realise after an incident has occurred that physical guarding or technology on their own are simply not a sufficient security tool," said Roy Wyman, MD of Remote Offsite Monitoring (ROM).
"The vast choice of remote surveillance companies is starting to become a real issue, with low-cost emerging companies dominating the market. Unfortunately, unless these companies do a full needs analysis of customer needs, the likelihood of the service providing a return on investment are highly unlikely," said Jacques du Toit, CEO of Vox Telecom.
"It is critical to match the customer's requirements with the correct system. A bona fide remote offsite surveillance operator will spend time with the client discussing and establishing specific risk areas. Decisions on whether the client requires hi-res cameras, or a number plate identification system, or even cameras with night vision will be made once their advantages and applicability to the environment are determined."
Remote surveillance removes collusion and intimidation once one eliminates the human element from the onsite security equation. This also releases capital that can be invested in installing surveillance cameras, which are capable of providing eight times more visibility due to their constant coverage of areas.
Around 95% of alarms received by armed reaction companies are actually false alarms. Remote surveillance will confirm the extent of a security breach and provide the armed reaction company with accurate information on the number of intruders and their positions within the premises. Finally, offsite footage and incident reports provide customers with a chain of evidence for prosecutory purposes."
Floating on a cloud
Given the mixed response to the advantages of cloud or hosted surveillance internationally, do local companies believe that this is a viable option for Africa?
"On the current model, one pays for bandwidth, so by pushing footage onto the cloud, one increases the operational costs," said Chertkow. "However, one could feed only event-driven footage onto the cloud and download it offsite."
"The management of companies tends to be wary about having critical business data and footage hosted remotely. There is an overriding fear of systems being hacked. We suggest that companies install a separate firewall for business-critical data that only the client can access," said Du Toit.
"There is definitely a place for hosting on the cloud. The international market is not faced with the same high levels of crime and collusion that Africa does. By moving footage offsite into the cyber realm, one is able to sidestep collusion. The biggest stumbling block at present is the lack of knowledge around the benefits of cloud/hosted solutions and remote monitoring," said Wyman.
"The bottom line is that customers need to be educated on these benefits in an objective manner. There will be instances where remote offsite monitoring is not the solution. Only by talking to an experienced and reputable company will this be determined. Customers are advised to ask prospective remote offsite monitoring companies to provide them with references. Visit working sites and establish whether the company you are entrusting the security of your assets to is able to provide you with the system and service you really need," Wyman concluded.
Credit(s)
Further reading:
Cyber resilience is more than cybersecurity
Technews Publishing Cyber Security Integrated Solutions IT infrastructure
Hi-Tech Security Solutions held a round-table discussion focusing on cyber resilience and found that while the resilience discipline includes cybersecurity, it also goes much further.
Read more...
---
Avoiding human error at ports
LD Africa Transport (Industry) CCTV, Surveillance & Remote Monitoring Products Logistics (Industry)
LD Africa introduced a local port to the AxxonSoft Port Security System ,a solution that helps overcome the element of human error and eliminate paperwork.
Read more...
---
Compact, lightweight bullet cameras with support for analytics
Axis Communications SA Products CCTV, Surveillance & Remote Monitoring
Axis Communications announced two new outdoor-ready bullet-style cameras featuring deep-learning processing units for analytics based on deep learning on the edge.
Read more...
---
Numerous challenges for transport and logistics
Transport (Industry) CCTV, Surveillance & Remote Monitoring Security Services & Risk Management Logistics (Industry)
Operators are making significant investments in automation and digitalisation in order to address security concerns, improve loss prevention as well as efficiency, and reduce unit order costs.
Read more...
---
A key to urban transport challenges
Axis Communications SA Transport (Industry) CCTV, Surveillance & Remote Monitoring Integrated Solutions Logistics (Industry)
There are many enabling technologies that can impact transportation in South Africa, but a good place to start is by considering the applications for smart physical technology with the ability to collect and respond to data.
Read more...
---
From the editor's desk: Security and resilience
Technews Publishing News
It's often said that South Africans are a resilient bunch, and history has proven this correct. When it comes to security, both cyber and physical, resilience is key to an effective defensive plan. ...
Read more...
---
Hikvision aims for solutions
Technews Publishing Hikvision South Africa Editor's Choice CCTV, Surveillance & Remote Monitoring News Integrated Solutions Conferences & Events
Hikvision recently held a roadshow titled Industry X, where the company highlighted its latest products and solutions, supported by partners and distributors.
Read more...
---
ADI Expo returns to South Africa
Technews Publishing ADI Global Distribution News
September saw the return of the ADI Expo to South Africa. The Johannesburg event was held at the Focus Rooms and the Durban event, two days later, at the Southern Sun Elangeni & Maharani.
Read more...
---
Technoswitch Awards dinner for 2022
Technews Publishing News Fire & Safety
Technoswitch hosted its fifth awards dinner at Montecasino in September, where customers and suppliers celebrated a year of success.
Read more...
---
Reliable, low-maintenance video appliances
Technews Publishing Editor's Choice CCTV, Surveillance & Remote Monitoring News IT infrastructure Products
Symetrix, part of the Agera Group, has added the AES range of video recording servers, storage appliances and workstations to its portfolio.
Read more...
---