printer friendly version
Coming out of the dark
CCTV Handbook 2013
CCTV, Surveillance & Remote Monitoring
There is no doubt that the need for low light cameras is important, but do they actually produce the goods at the end of the day?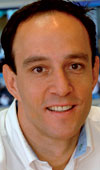 Roy Alves
"In addition to the common camera offering low light technologies, which include day/night with infrared and thermal imaging, Lightfinder technology offers the perfect solution for indoor and outdoor surveillance. This is especially useful where users require colour information in the video to enhance recognition and identification of objects. In contrast to conventional day and night cameras that switch to black and white in darkness, cameras incorporating the Lightfinder technology can maintain colour in very dark conditions," said Roy Alves, business development manager – MEA at Axis Communications.
"Low light cameras need to provide a high level of detail, in fact more than what the human eye is capable of capturing. This is especially important when the colour of a suspect's clothing or accessories could lead to apprehension and arrest. Cameras with Lightfinder technology have all the advantages of other network cameras such as progressive scan, and can easily be integrated with numerous application software solutions," he added.
"Sony's View-DR utilises wide dynamic range technology to compensate for strong backlight. View-DR is a combination of Sony's full capture Wide-D technology, the high-speed Exmor CMOS sensor, and Visibility Enhancer (VE). The Exmor CMOS sensor captures images at four times the speed of previous DynaView and some other Wide-D technologies in the industry. Sony's View-DR delivers a much clearer picture," said Edward Nyingeni, product manager, Video Security (IP and Analogue), Broadcast & Professional Division at Sony.
"This new technology compensates for strong backlight and performs in an identical manner to the human eye in terms of being able to simultaneously see dark and bright scenes," added Nyingeni.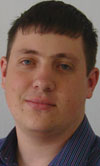 Alex Bantjes
"There is a broad range of low light cameras available on the market. For indoor use, most people prefer a low lux rating, while the opposite is true of outdoor applications, where built-in illuminators are preferred," said Alex Bantjes, product manager, IP surveillance at Miro Distribution.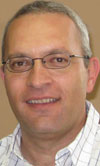 Charles Volschenk, Geutebrück Southern Africa
"There are some good low light cameras on the market, but they still share some basic limitations. Independent lighting (white or infrared) is essential to supplement the cameras in the provision of a clear and bright image under low light conditions" said Charles Volschenk, MD of Geutebrück South Africa.
Question of reliability
Reliability depends on the implementation of the camera, according to Bantjes. "The system integrator determines the quality and end results. He needs to ensure that the selected cameras can reduce false alarms and be integrated into existing systems. Thermal cameras have definite advantages because they do not rely on visible light for imaging."
Volschenk said that most low light cameras are reliable, but their customisation to the application needs to be considered for optimum results. "Users need to remember that the low light capabilities typically decrease with megapixel cameras. Unfortunately cameras with specialised sensors used to enhance their low light abilities (EMCCD for example), are still quite costly. Some cameras have their own built-in LEDs but this has a limited range and images are rarely usable for identification past 15 metres. External light sources work very well in conjunction with a low light camera and infrared can be used when the lighting needs to be unobtrusive. Thermal cameras function well in low light but are unfortunately not of much use as an identification tool.
"What the camera cannot see, cannot be recorded and therefore it cannot be used for later analysis or evidence. It is therefore critical to ensure a scene in which camera images can be recorded, viewed and be subjected to later analysis, especially in low light or at night," Volschenk continued.
Alves concurred with this view adding that not only can the footage be used as forensic evidence, but that low light cameras are playing a bigger role in proactive surveillance
Bantjes said that low light cameras are typically used for intrusion detection and perimeter security. "Thermal cameras are useful in situations where smoke or fog is a problem as they allow the operator to see the outlines of people in visibility conditions that would not be suitable for other low light technologies."
What about WDR?
"Wide dynamic range is now almost standard issue. However, not all WDR cameras are equal, so users need to request an on-site test before making any final decisions. Do not simply accept technical datasheet stipulated lux levels or WDR claims. WDR is advantageous in terms of its ability to view a scene clearly, irrespective of variances in brightness within the scene," said Volschenk.
"WDR technology will continue to improve as the goalposts constantly move. Prices will also start to reduce so that it becomes more of a commodity, with the playing field between suppliers being levelled," added Alves.
Bantjes acknowledged this and added that as the technology becomes more mainstream, we will likely see more accurate representation of colour and shading, with greater compensation and gain control.
"In-camera lighting capabilities are advancing but these will probably never be sufficient in extreme low light situations. I believe that thermal cameras will not only become more affordable, but that their image quality will improve" said Volschenk.
Alves said that imaging in low light cameras will improve to a stage where it is superior to the human eye and there will be very little image noise. "The storage requirements and the bandwidth required will reduce for high-quality images. One will be able to store images on the camera so that if a DVR is used and goes offline for any reason, one will be able to revert to the stored image in the camera. On-site analytics will also improve so the need to stream data will be reduced."
"There will be a move away from pure low lux ratings to built-in IR LEDs. CMOS chips will get bigger to compensate for lower light and ¾ or ½ inch sensors will allow the higher megapixel cameras to be competitive, although at an increased price," Bantjes concluded.
Credit(s)
Further reading:
Cyber resilience is more than cybersecurity
Technews Publishing Editor's Choice Cyber Security Integrated Solutions IT infrastructure
Hi-Tech Security Solutions held a round-table discussion focusing on cyber resilience and found that while the resilience discipline includes cybersecurity, it also goes much further.
Read more...
---
Hikvision unveils first 'True 8K' NVRs
Hikvision South Africa CCTV, Surveillance & Remote Monitoring Products
The new M-Series NVRs can be used with a host of Hikvision cameras, and are ideal for environments where a wide field of view and extremely high image resolution are needed.
Read more...
---
AI in video analytics
CCTV, Surveillance & Remote Monitoring Integrated Solutions
AI (artificial intelligence), has been developed and debated ever since the first computers were invented, and while the most revolutionary incarnations are not yet here, AI-based technologies are widely used today.
Read more...
---
Milestone flies a Kite for small businesses
Milestone Systems CCTV, Surveillance & Remote Monitoring
Milestone Systems introduces Milestone Kite for small to medium-sized businesses and organisations, supporting 6000+ camera models from 100+ manufacturers.
Read more...
---
Railway AI-enabled video analytics
Rugged Interconnect Technologies CCTV, Surveillance & Remote Monitoring
The Rugged Computing Group has announced the AVA-RAGX, a fanless AIoT video analytics platform for railway applications, paired with Nvidia's Jetson AGX Xavier platform.
Read more...
---
No supply chain delays from Germany
Dallmeier Electronic Southern Africa News CCTV, Surveillance & Remote Monitoring Products
Dallmeier announces that its complete Domera single-sensor camera family is available without delivery problems for installers and channel partners.
Read more...
---
Hikvision releases eDVR Series with eSSD technology
Hikvision South Africa CCTV, Surveillance & Remote Monitoring Products
Hikvision recently added the eDVR Series to its expanding portfolio of security solutions for SMBs, offering compact, durable, easy-to-use and energy-efficient solutions.
Read more...
---
Axis announces W101 body-worn camera
Products CCTV, Surveillance & Remote Monitoring
Axis Communications has designed a body-worn camera, the Axis W101, that has an operating time of up to 17 hours with over 12 hours at 1080p.
Read more...
---
A new dawn in sustainable storage optimisation
Technews Publishing Asset Management, EAS, RFID Security Services & Risk Management Products
Industry is experiencing a move from VRLA (valve regulated lead–acid) batteries, which have been used in data centres for decades, to lithium-ion battery technology.
Read more...
---
Adding value to SMB applications
Hikvision South Africa CCTV, Surveillance & Remote Monitoring Products
Hikvision designed its PT cameras to provide affordable choices for SMBs, and to pave the way to easy installation and reliable security with flexibility and convenience.
Read more...
---