printer friendly version
Understand the solution
CCTV Handbook 2013
CCTV, Surveillance & Remote Monitoring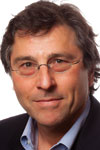 Joel White
Integrators and installers of video surveillance systems face tasks that are common across both analogue and IP video camera systems. Camera installation, wiring, setup and configuration must be completed for each deployed device in order for the system to recognise and connect to the camera's video stream.
The growing deployment of IP video systems has added new layers of complexity that the installer must master to be successful. Installers not only have to physically mount, setup and connect the cameras to the recorder, but must also understand the configuration and load balancing of IP networks.
To aid integrators in these new challenges, the best camera manufacturers look beyond simply delivering high quality video capture functionalities. These vendors are also devoted to employing significant resources on product design, software, and accessories to make the entire installation and commissioning process faster and more efficient. Integrators who use these manufacturers' cameras realise the benefit through higher profitability and a competitive edge in time saved and fewer accessories to purchase.
The best camera manufacturers listen to the voice of customer and the integrators' perspective to improve on physical installation, power considerations, and configuration of the cameras on the IP network.
Physical installation
Cameras that incorporate multiple installation options into the design of the core product save time and money by enabling faster and easier installation and by reducing or often eliminating the need to purchase mounting accessories or adaptors. A well-designed indoor mini-dome will allow for surface mounting by simply screwing the back plate onto the surface. A smarter design has the hole pattern in the back plate positioned to match common electrical gang boxes so the camera can be screwed directly onto the wiring box. With its back plate removed, the same camera can be flush mounted to a surface using integrated swing out clamps to secure it on locations such as a drop ceiling. In cases where building codes require plenum-rated flush mount installations, a camera can include the adaptor necessary to connect into the wiring conduit to meet the code requirements.
Power supply
All cameras need electrical power and connectivity to the recording system. For IP cameras both these needs can be fulfilled using a PoE (Power over Ethernet) network where only a single RJ-45 cable connection to the camera is necessary. PoE power has two standards – PoE (802.3af) and PoE+ (802.3at). PoE+ delivers higher power and is often used with outdoor cameras that are warmed by heaters as well as most newer indoor HD PTZ cameras that require additional power to run the pan and tilt motors. In certain cases, PoE+ is inadequate and an AC power supply must be used to achieve the lowest operating temperature rating of the camera. It is important to note that the power supply used will directly affect the low temperature ratings of heated outdoor cameras, so the installation environment and camera power/temperature ratings should be carefully considered before deciding on the power supply.
Managing network connectivity
Configuring each IP camera on the network is much different to configuring analogue cameras, as multiple IP cameras are capable of running on the same physical network wire. For example, 50 cameras connected to a single network means the video streams from all the cameras are moving on the same wires simultaneously. In order for the network to distinguish one camera's video stream data from another, each camera is assigned a unique IP address. Ideally each camera should be named with a common identifier so that it is easy to understand the camera type and location of the camera within the system.
When manufactured, all cameras are given the same default IP address and a unique MAC address. Imagine you are installing 50 cameras, each of which must be named and assigned a unique IP address. The task can be accomplished by opening each camera's Web user interface and assigning a new IP address. A more efficient way is to use the smart configuration software provided by the manufacturer to manage configuration of multiple cameras automatically. Configuration software will scan and find the connected cameras on the network, batch assign IP addresses, allow for individual camera naming and, if necessary, batch update camera firmware. Well-designed camera configuration software is an indispensable installation and configuration tool.
Cameras that focus on 'installability' will pay dividends in the long run. Time is money so consider using cameras that incorporate features and technology that allow for easier installation and configuration. When comparing camera features, look beyond the high-level specs to understand the whole camera solution. A well thought-out and designed camera can reduce the man-hours necessary for installation, potentially making your operation more cost competitive and profitable.
For more information contact Tyco Security Products, +27 (0)82 566 5274, [email protected], www.tycosecurityproducts.com
Credit(s)
Further reading:
Passion, drive and hard work
Technews Publishing Editor's Choice CCTV, Surveillance & Remote Monitoring Security Services & Risk Management
Colleen Glaeser is a leader in the security market, having made her mark in the male-dominated security industry through determination and hard work, along with a vision of making the world a safer place.
Read more...
---
New full-colour Smart Dual Illuminators camera series
Dahua Technology South Africa Products CCTV, Surveillance & Remote Monitoring
Using deep learning to accurately detect targets, the cameras can intelligently switch between the IR mode when there is no target, and full-colour mode when a target is detected.
Read more...
---
2022 trends in video surveillance
Eagle Eye Networks Editor's Choice CCTV, Surveillance & Remote Monitoring Integrated Solutions
Eagle Eye Networks predicts what will impact the video surveillance industry in the coming year and how to seize opportunities and forge a path to success, even amid ongoing uncertainties.
Read more...
---
Dahua launches thermal monocular camera series
Dahua Technology South Africa CCTV, Surveillance & Remote Monitoring
Dahua has launched its Thermal Monocular Camera Series, the M Series, for outdoor scenarios, sporting a 12 µm Vox sensor that offers a maximum resolution of 640 x 512.
Read more...
---
Solar-powered cameras keep construction site safe
Hikvision South Africa CCTV, Surveillance & Remote Monitoring
In the midst of a rise in building material thefts, construction company DECHO used Hikvision's solar-powered wireless cameras to guard the construction site for its much-anticipated Coast Garden project.
Read more...
---
The impact of AI-enhanced video analytics on control room personnel
Leaderware Editor's Choice CCTV, Surveillance & Remote Monitoring
What impact do AI-capable detection systems have on control room staff, and do they mean a change in the demands on operators and the type of people you have in the control room?
Read more...
---
Integrated technology ecosystem for safe hospitals
Avigilon CCTV, Surveillance & Remote Monitoring
SSM Health chooses Motorola Solutions Safe Hospitals' integrated technology ecosystem, an end-to-end security ecosystem that unifies voice, video, data and analytics on one single platform.
Read more...
---
Smartphone capabilities and CCTV
Forbatt SA CCTV, Surveillance & Remote Monitoring
TVT's mobile app puts useful information in the hands of users in an easy to understand and operate format, ensuring users stay abreast of what is happening in their environment.
Read more...
---
To be or not to be, is that the objective?
Iris AI Editor's Choice CCTV, Surveillance & Remote Monitoring News
Gerhard Furter joins a discussion on the nature of sentience in artificial intelligence. Do we actually know what sentience is, or are we overestimating our human capabilities?
Read more...
---
Securing the diamond industry
Milestone Systems CCTV, Surveillance & Remote Monitoring
Milestone's open platform XProtect manages 20 acres and over 3500 cameras while integrating additional applications for more effective security, even via mobile devices.
Read more...
---