printer friendly version
Is a face a face or a fake?
March 2018 Editor's Choice, Access Control & Identity Management, Integrated Solutions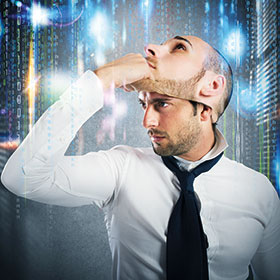 Apple recently released its most ambitious product, the iPhone X, in celebration of the 10th anniversary of the release of the first iPhone. The iPhone X especially stands out with its introduction of Face ID, a face recognition technology to replace the fingerprint recognition (Touch ID).
According to Apple, Face ID will recognise a user's face incorrectly only once in 1 million times, an immense improvement over the once in 50 000 times probability of Touch ID.
However, authentication through face recognition is actually as prone to spoofing as fingerprint-based methods. The press was quick to point out after Face ID was announced that it would be easy to recreate through 3D rendering the faces of well-known politicians or actors that are often exposed in photos or videos as there is a great amount of data available on them. 3D printers, which are used to build face structures, are also no longer hard to find. They can be commonly found in online shopping malls.
To prove such spoofing is possible, Bkav, a security company based in Vietnam succeeded in spoofing Face ID with a face mask it created. The mask's face structure was created using a plastic mask and silicon, and an additional application of paper and makeup was enough to bypass authentication.
Then what about Suprema's FaceStation 2, which also authenticates users with face recognition? Is its security also vulnerable to similar methods?
Advanced face recognition technology
FaceStation 2's face recognition method functions differently from the iPhone X's. The mask Bkav used to spoof Face ID has eyes, a nose, and a mouth constructed to resemble an actual person's, but the remaining parts of the face are made of plastic. Through this information, it can be inferred that Face ID uses 3D modelling data and True Depth technology in its authentication process.
FaceStation 2, on the other hand, not only uses 140 near-infrared (NIR) LEDs to extract 3D modelling data, but also uses an algorithm to produce various numerical values from the infrared light reflected off the face. These values include those related to skin tone and skin texture values, which are helpful in distinguishing between similar faces. This special hardware and algorithm render the mask built by Bkav useless when tested against FaceStation 2's authentication system.
FaceStation 2 also uses a matching score when executing face recognition. The matching score is a calculation of the match between a pre-registered face template and the actual face to be authenticated. The score helps guard FaceStation 2 against spoofing, as a low value is produced if the mask used in spoofing does not use a 3D model that exactly matches the actual face.
FaceStation 2 was recognised for its technological advancement at the 2017 Detektor International Awards, and was awarded the Best Product Award in the ID & Access category.
FaceStation 2 combines Suprema's most advanced algorithm and hardware to provide a new contactless authentication experience, with a greater variety of features and increased performance.
Credit(s)
Further reading:
Constructive CCTV contributions to research
September 2019, Leaderware , Editor's Choice, CCTV, Surveillance & Remote Monitoring
Study leads to understanding that we need more recognition and reward for constructive participation in society.
Read more...
---
Managing staff effectively
September 2019, dormakaba South Africa, iPulse Systems , Integrated Solutions, Access Control & Identity Management
Workforce management solutions allow organisations to track the relationship between productivity and the cost of employment, incorporating issues such as health and safety, T&A, rostering and more.
Read more...
---
Ensuring a seamless ultra-wideband ecosystem
September 2019 , Editor's Choice, IT infrastructure
FiRa consortium ensures an interoperable ultra-wideband technology ecosystem across chipset, device and service infrastructure through standards and certifications.
Read more...
---
Hennie Lategan joins Centurion as head of exports
September 2019, Centurion Systems , News, Access Control & Identity Management
Centurion Systems has announced the appointment of Hennie Lategan as the head of the company's exports department.
Read more...
---
The hunt for the Carbanak group
September 2019 , Editor's Choice, Cyber Security, News
Tomorrow Unlocked has released a free four-part documentary that tells the story of the notorious Carbanak APT group and its $1 billion bank heist.
Read more...
---
Genetec to integrate CylancePROTECT
September 2019, Genetec , Editor's Choice, CCTV, Surveillance & Remote Monitoring, News
Genetec has announced it is partnering with Cylance, a business unit of Blackberry, to bring AI-based antivirus protection to its appliance customers.
Read more...
---
Increase security efficiency, decrease costs
September 2019 , Security Services & Risk Management, Integrated Solutions
Trackforce offers customisable mobile and web applications to increase security operational efficiency and lower costs.
Read more...
---
X-rays in 3D
September 2019, XPro Security Solutions , Editor's Choice, Security Services & Risk Management
Hi-Tech Security Solutions asked Greg Dixon, director of XPro, for some insights into X-ray scanning and its pros and cons in today?s volatile world.
Read more...
---
Smart Inspection Unit developed by Roteck
September 2019 , Editor's Choice, Security Services & Risk Management
Roteck has announced a portable personnel and bag scanning unit that can easily be transported, set up and used in almost any location.
Read more...
---
Biometrics control airport railroad
September 2019, Suprema , Access Control & Identity Management
63 km railroad to Incheon Airport is centrally controlled and secured by Suprema biometric hardware and software.
Read more...
---