printer friendly version
Surveillance trends
CCTV Handbook 2013
CCTV, Surveillance & Remote Monitoring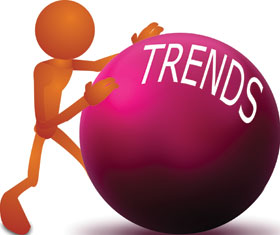 How did the CCTV industry change in 2012? A very strong growth in IP video surveillance was the trend. The strong demand for megapixel IP cameras has set the increase to almost 35%. The growth in IP surveillance will come from small to medium market size deployments.
HD-SDI made very little progress, due to price being high and limited recorder support compared to megapixel IP cameras. The industry is taking to megapixel IP cameras because of many VMS (video management systems) available, with easier integration and intelligent video analytics. VMS will have a significant growth due to the migration from analogue to IP cameras.
Hybrid systems have made a great impact in the CCTV market offering both analogue and IP connectivity. Security managers that have recently installed analogue cameras and want to expand are demanding hybrid solutions, helping to lower costs, but still giving the flexibility to expand into IP technology.
Trends in the next five years I expect to see include 10 or more megapixel IP super-resolution cameras entering the market. These super resolution cameras will cover a larger viewing area, resulting in clear crisp video pictures. This trend of super megapixel cameras will evolve as VMS servers will have faster processing power.
The other trend in the next five years will see video analytics take on a new dimension in surveillance. In this regard, Frank Street has been developing its own video analytics called ROM (Retail Operations Management). The ROM software uses CCTV cameras for POS interfacing and video analytics for shrinkage control, operational management, by integrating software and high megapixel IP cameras into a business management system, for effective management of sales, cashier performance predicting customer flow patterns, queue management and retail security monitoring.
With growing concerns in retail security on asset control, ROM is an effective business management tool, and is sure to prove itself successful in the years to come. POS (point of sale) integration solutions are now being used by retail giants like Woolworths to aid security with till transaction pilferage, buddy transactions and preventing suspicious transactions like dubious credits. Video analytics will certainly be a game changer in the surveillance market.
Yet another trend will see video being recorded in the cloud. I am not too sure if security managers will be in favour of vital video data sitting in the cloud. Added to that is the fact that costs are too high, at the moment. Edge recording onto SD cards is a great technology handling recordings directly onto the IP camera. Edge recording on SD cards will become common for users that need basic functionality and act as redundancy for larger VMS systems.
Thermal cameras have been around for many years, mostly deployed by the military, government installations and high-level security companies. This year will see the demand increase as prices get lower. Thermal cameras will never replace IR or low light cameras in the foreseeable future due to price, however.
In the camera market, we will see development in the HD camera segment, low light and WDR (wide-dynamic range) optimisations. Panoramic cameras have gained attention of the CCTV market and will grow over the years. A single panoramic camera offers a 360-degree view providing a greater situational awareness than a single camera normally provides, also reducing licensing costs by requiring only one licence instead of multiple cameras and licences to cover the same area. Many VMS software packages have the functionality for dewarping and dividing the 360-degree panoramic camera into quad and dual 180-degree video pictures.
In conclusion, the future for the surveillance market looks strong with the fast-paced evolution of technology and the market adapting to it.
For more information contact Frank Street, +27 (0)11 496 2300, [email protected], www.frankstreet.co.za
Credit(s)
Further reading:
A comprehensive video solution for retail
LD Africa Retail (Industry) CCTV, Surveillance & Remote Monitoring Products
Retail Intellect is a comprehensive, flexible solution for retailers that matches technologies to ensure point-of-sale safety and security with video analytics.
Read more...
---
Understanding customers better using AI
Secutel Technologies Retail (Industry) CCTV, Surveillance & Remote Monitoring Products
With in-store analytics of consumer behaviour, retailers can improve store performance and boost the productivity of their business.
Read more...
---
Benefits beyond just security
CCTV, Surveillance & Remote Monitoring
Store cameras are boosting customer experience and sales, as well as preventing losses, finds market research e-book from IDIS.
Read more...
---
Hikvision unveils first 'True 8K' NVRs
Hikvision South Africa CCTV, Surveillance & Remote Monitoring Products
The new M-Series NVRs can be used with a host of Hikvision cameras, and are ideal for environments where a wide field of view and extremely high image resolution are needed.
Read more...
---
AI in video analytics
CCTV, Surveillance & Remote Monitoring Integrated Solutions
AI (artificial intelligence), has been developed and debated ever since the first computers were invented, and while the most revolutionary incarnations are not yet here, AI-based technologies are widely used today.
Read more...
---
Milestone flies a Kite for small businesses
Milestone Systems CCTV, Surveillance & Remote Monitoring
Milestone Systems introduces Milestone Kite for small to medium-sized businesses and organisations, supporting 6000+ camera models from 100+ manufacturers.
Read more...
---
Railway AI-enabled video analytics
Rugged Interconnect Technologies CCTV, Surveillance & Remote Monitoring
The Rugged Computing Group has announced the AVA-RAGX, a fanless AIoT video analytics platform for railway applications, paired with Nvidia's Jetson AGX Xavier platform.
Read more...
---
No supply chain delays from Germany
Dallmeier Electronic Southern Africa News CCTV, Surveillance & Remote Monitoring Products
Dallmeier announces that its complete Domera single-sensor camera family is available without delivery problems for installers and channel partners.
Read more...
---
Hikvision releases eDVR Series with eSSD technology
Hikvision South Africa CCTV, Surveillance & Remote Monitoring Products
Hikvision recently added the eDVR Series to its expanding portfolio of security solutions for SMBs, offering compact, durable, easy-to-use and energy-efficient solutions.
Read more...
---
Axis announces W101 body-worn camera
Products CCTV, Surveillance & Remote Monitoring
Axis Communications has designed a body-worn camera, the Axis W101, that has an operating time of up to 17 hours with over 12 hours at 1080p.
Read more...
---