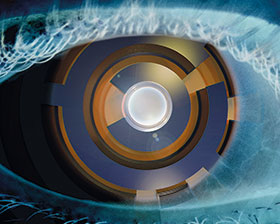 Transforming customer experience in retail
March 2018, Retail (Industry), Integrated Solutions, IT infrastructure
From virtual reality dressing rooms and drone deliveries, to iPads in-store and targeted mobile advertising, the retail sector is arguably at the forefront of technological innovation. The industry's focus on data-driven information with organisations merging the physical and the digital is creating a tailored experience for consumers.
Yet despite e-commerce being a firmly established method of shopping for consumers (58% of online adults in South Africa shopped online over the past 12 months, amounting to an estimated total spend of R37,1 bn), delivering a consistent service across the multiple channels they now operate in, has remained a challenge few have conquered. Digital start-ups are driving a new phase of e-commerce – e-Commerce 3.0 – where machine learning and cognitive computing are challenging the traditional players. Omnichannel experiences that customers demand from pre-sale and post-sale needs to be in sync and deliver 'personalised moments', which drives brand loyalty and increases basket spend.
However, creating these moments is not always an easy task. Challenges start to arise as consumers become empowered with numerous amounts of data and information at their fingertips. Whether they're comparing prices, products or services across retailers, it's levelling the playing field – the control no longer lies with the retailers. Instant gratification from a retail experience is now an expectation. Consumers want to influence and shape their entire purchasing journey, across every touchpoint they have.
But behind every great consumer experience is a hard-working retail process, of which technology is playing an increasingly effective role. With a digital workspace platform where users have simple, secure and seamless access to all business resources, retailers can focus on making their employees more mobile, boosting their productivity and creating new apps and services, that deliver the experience customers are looking for.
As online purchasing continues to rise in popularity, taking some of the pain of in-store purchasing away becomes even more important for retailers to transform traditional bricks and mortar stores to meet the demands of modern consumers. There are examples where technological innovations can not only benefit the consumer, but also streamline back end processes for employees.
m-Commerce – where retailers can buy and sell goods on wireless devices from anywhere in the store – is a good example of mobilising employees to process payments faster, as well as act as brand ambassadors to consult with individual customers on their purchasing decisions. A managed retail device can also support retailers in meeting the PCI-DSS compliance regulations when it comes to handling branded credit cards.
Tools now exist that allow retailers to access critical back-office content and resources from anywhere. Meanwhile, digital displays in store offer customers instant and accessible information about products or promotions on sale at that time. This can be very simple to customise for retailers, resulting in customers being kept informed in real-time and closer to their decision point of purchase. Managed content from a unified endpoint management stack is critical to achieving this. Expect the day to come when a retailers' app on your phone will tell you what you last bought, what items would suit you and tell you where in the store you can find it when you get near to a mirror, till or digital display.
The first step towards creating the ultimate experience for consumers is for retailers to understand the need to rethink their approach to digital application delivery. It will empower their employees, which in turn drives a better journey for customers.
Whether it's making small incremental changes or completely revisiting the operating model, a user-centric experience needs to sit at the heart of the offering. Retailers have to shift their focus towards consumer outcomes and realise the opportunities that new tech platforms such as the digital workspace, have to offer. These changes can ultimately transform the customer experience and put forward thinking retailers ahead of their competition.