printer friendly version
Two-dimensional supply chain
March 2018 Retail (Industry), Access Control & Identity Management
When goods leave a retail warehouse and are delivered to a retail outlet, two of the challenges are ensuring that the driver assigned to the delivery vehicle is actually the one driving the vehicle, and that the quantity of goods dispatched matches the quantity of goods received.
According to Riaan van den Berg, MD of Excellent ID (EXID), the 2D barcode reader is the ideal technology for verifying the identity of a driver using their South African Driver's Licence (SADL), and for ensuring the correct quantity of goods is received.
He points out that not only can a 2D scanner be used for deliveries and collections by retailer-owned vehicle drivers, but are also becoming increasingly popular with courier and logistics companies. When courier companies collect goods from a client, they can use a 2D barcode scanner to scan the unique barcode allocated to a consignment of goods. A big plus with 2D barcode scanners is that they not only read the newer 2D barcodes, but they can also read the old 1D barcodes.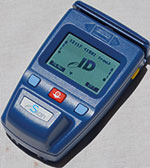 The EXID eSkan 2D barcode scanner.
A 2D barcode can store more information than a traditional 1D (linear) barcode, such as the batch's assigned location, for increased traceability. With information stored directly in the barcode rather than in a database over a network, retailers can conduct on-the-spot audits with a laptop and a 2D scanner. 2D barcodes can also store information, like batch production date, expiration dates, scheduled ship date, number of products in a batch.
Van den Berg says that a 2D barcode scanner is the ideal tool for supply chains, when linked to customer-specific logistics management and inventory control software. "2D barcode scanners have been designed to cater for identification verification of the vehicles entering and exiting premises, for access control and for asset management. Therefore, they can be used to link the driver (and his SADL) to the vehicle's licence disc. The odometer reading of the vehicle can be monitored by entering the reading when leaving the dispatch area, on entering the delivery area and then on its return to the original dispatch area.
The benefits of using 2D barcode scanners is that verification is guaranteed through the electronic capture of information in the barcode. This effectively streamlines the delivery/collection process, allowing for a faster through-flow of delivery vehicle traffic. Additionally, since everything is now on an electronic record, one can quickly refer back to the data. Since the times of departure and arrival of a driver are recorded, incident reports are instantaneous.
Van den Berg believes that a number of factors could be considered as best practice for identification verification in the retail sector. Devices should be portable, simple to use, splash-proof and robust enough to continuously operate in the demanding South African environment.
2D barcode scanners should have a long battery life since they will be used frequently and they should not be too heavy or large. An ideal device size is 120 x 70 x 50 mm and with a weight of approximately 175 grams. The software and any captured data should be resident on the device, but should be accessible only by the owner of the system, to ensure complete security and confidentiality.
Weighing less than a packet of coconut biscuits, the EXID eSkan 2D reader is a locally-designed and manufactured mobile SADL reader, which can also read third-party 1D and 2D barcodes. When partnered with Janus software, the eSkan allows retailers to quickly determine exactly who is on site, for accurate mustering purposes. The eSkan complies with both the OSH Act and PoPI Act (password protected) for decoding and storing confidential information.
For more information, contact EXID, +27 (0)12 548 0940, [email protected], www.exid.co.za
Further reading:
Be aware of privacy and cybercrimes issues
Security Services & Risk Management Cyber Security Retail (Industry)
Artificial intelligence (AI) is being deployed to help shoppers make better choices, but retailers must be aware of their obligations under personal privacy and cybercrimes laws.
Read more...
---
Gallagher launches Tech Talk
Gallagher News Access Control & Identity Management Perimeter Security, Alarms & Intruder Detection
Gallagher has announced the launch of its new Security in Focus podcast series called Tech Talk, hosted by chief technology officer Steve Bell.
Read more...
---
IDEMIA and Ideco demonstrate their value stacks
Technews Publishing Ideco Biometrics IDEMIA Conferences & Events Access Control & Identity Management News
Ideco and IDEMIA recently hosted a travelling show where attendees were given an update on the companies, as well as the full value stack they offer.
Read more...
---
Have biometrics changed the way mines operate?
ZKTeco Mining (Industry) Access Control & Identity Management
The mining industry continues to improve conditions for mine workers, striving for zero harm, however, innovations which improve worker safety and increase operational efficiency are still needed.
Read more...
---
CathexisVision integrated with Suprema's BioStar2
Technews Publishing News Access Control & Identity Management Integrated Solutions
This integration uses BioStar2 access control events to trigger automated actions on the CathexisVision system, including alerts, recording a camera and commands such as locking and unlocking doors, and clearing an alarm.
Read more...
---
Linux-based biometric access control
ZKTeco Products Access Control & Identity Management
The SpeedFace M4 is a Linux-based multi-biometric access control and time attendance terminal with visible light facial recognition and palm verification.
Read more...
---
Paxton promotes Dan Drayton
News Access Control & Identity Management Integrated Solutions
Dan Drayton has been promoted to divisional director – EMEA Sales Region for Paxton, the international security technology manufacturer.
Read more...
---
Heat mapping for retail optimisation
LD Africa CCTV, Surveillance & Remote Monitoring Retail (Industry)
With built-in statistical behaviour analysis, the objective of Milesight Heat Map is to introduce advanced technology that empowers beyond security.
Read more...
---
Salient Systems manages campus security
Education (Industry) CCTV, Surveillance & Remote Monitoring Access Control & Identity Management
The University of Massachusetts Amherst relies on Salient Systems for video, access control operations for flagship campus as it standardises on IP surveillance.
Read more...
---
QR Code passwordless authentication method
News Access Control & Identity Management Products
LogMeOnce introduces a patented QR Code passwordless authentication method allowing users to scan a code with their mobile device for secure authentication.
Read more...
---