printer friendly version
Open platform video set to grow
CCTV Handbook 2013
CCTV, Surveillance & Remote Monitoring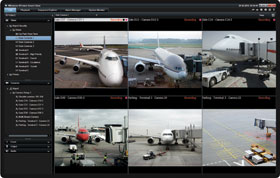 When considering the trends in the surveillance market, including the fast growing area of video management systems, Hi-Tech Security Solutions asked Milestone's Peter Biltsted to answer four questions on what to look out for in 2013, from the perspective of Milestone and the industry in general.
Hi-Tech Security Solutions: What do you think will be the biggest trend or influencer in the coming year in the surveillance market sector?
Peter Biltsted: Countless circumstances around the globe contribute to growth and innovation – even the smallest upgrade in technology or thinking can become a catalyst for change.
The economy: With budget cuts across the board, customers are under pressure. Budgets are scrutinised as demands for a safer environment and affordable security constantly battle for priority.
Politics: Political changes can influence degrees of regulatory requirements, affecting the balance of power and the focus on physical, data and other security improvements as countries reach election days, and if war or terrorism threatens. Changing requirements can also be driven by large public events like the Olympics, or impromptu ones like demonstrations or natural disasters.
The environment: Another perspective deals with the increased emphasis on climate change, from monitoring and tracking severe storms, hurricanes, flooding and drought, to improving protection of energy supplies and natural resources. Traffic control and management has become part of this trend, too.
Technology: Technical advances are influencing new degrees of necessity for surveillance and monitoring: biometrics, high-resolution cameras, cloud computing and video analytics require the most up-to-date hardware and software. This can be addressed by the open platform approach from Milestone Systems to allow endless upgrades and integrated solutions that can be added over time.
Basically, we see three trends today affecting Milestone and our marketplace in general:
1. Ease of use. In the low to mid-market, integrators and end-users alike are demanding 'easy' – easy to procure, easy to deploy and easy to use. Milestone's low and mid-market products are designed to address this trend from XProtect Go through XProtect Professional. These product offerings are built for ease of use, and we are working hard to continually improve on these products (installation, setup and use) with ease-of-use in mind.
2. Video as a service (VaaS). We hear a lot about cloud technology and VaaS these days. Offering video via the cloud is really like offering a traditional IT managed service, but using new technology. But the bandwidth services have to be in place first and at reasonable prices. These will come in the future but until then, talking about it is getting too much hype.
Milestone does not want to be a hosting company ourselves – that is not our core competency. Instead, we want to make the software tools to enable others to address this type of business model whenever it does become viable. Our XProtect Corporate product continues to be future-ready, receiving feature updates that make it well suited as the technology foundation of a hosted video solution. Features like Axis one-click connectivity, our Web client and remote clients, and Milestone Federated Architecture make XProtect Corporate an ideal hosted video solution platform.
3. Consolidated operational user interface (UI). Milestone continually evolves our XProtect Smart Client to be the umbrella client interface for operational visibility in a security environment. We work hard to provide a more flexible, powerful and relevant client for the operators by incorporating single client visibility to the video for live viewing, a strong toolset for investigations, and coupling this with integration of third-party alarm or other data (access control for example). Milestone XProtect Smart Client continues to progress in this direction providing the operators additional visibility and interaction with multiple disparate data that when correlated with video provides the best levels of operational overview.
Hi-Tech Security Solutions: What technologies/technical implementations do you think will stand out in the coming year?
Biltsted: In South Africa, Milestone sees a growing acceptance for open platform video, and larger installations and larger corporate entities are setting a surveillance policy for deployment of unified systems with increasing integration of multiple systems into one platform. There is also increased use of video content analytics. Video analytics have come of age, adding real value to the industry rather than just hope. These solutions are now affordable and on the cutting edge of the industry. Today the ease of use, improved algorithms (both at the edge and server levels) and data libraries are reducing false alarms and improving reliability across the board. The result of all of this is that the value of video is increased both in real-time and when viewing recorded video.
IP video is still driving the convergence of digital systems across ­multiple areas. It has improved the speed of innovation for diverse ­applications, such as access control, HR, finance, production and logistics. Open platform IP video is enabling business optimisations on a larger scale, handling more than just security matters – adding measurable long-term returns on investments (ROI) and lowering total costs of ownership (TCO).
Hi-Tech Security Solutions: Do you expect to see your products integrated into third-party solutions or will customers opt for single-brand solutions in 2013?
Biltsted: Value-adding integrations continue to be a huge growth factor to offer efficiency advantages for customers. Access control or licence plate recognition, for example, with interoperability to the video interface show people or vehicles on the move. These solutions are becoming more commonplace today, benefiting customers' bottom line as they are able to lift their implementations to new levels of professionalism and sophistication. Single-brand solutions lock customers out of future options to build on their initial investments.
Hi-Tech Security Solutions: If there is one piece of advice you could give customers and potential customers as the year starts, what would it be?
Biltsted: Adapting to change through openness – both today and with the future in mind – will have more positive results, effectively growing solutions parallel to the necessities of our world as they happen.
Such opportunities underline the fact that an IP VMS with an open platform is more than security, and prove that open architecture is absolutely the best way to go for sustainable value in customer installations. The technology adds more value than customers initially expect before installation because no one is locked into one set solution for the future. It can deliver ongoing flexibility to respond to changing needs, challenges and innovations.
For more information contact Milestone Systems, +45 88 300 300, cdp@milestonesys.com, www.milestonesys.com
Further reading:
A step up in safety
Issue 4 2020 , CCTV, Surveillance & Remote Monitoring
With the COVID-19 pandemic, body-worn cameras (BWC) now play an even more important role in safety and accountability than ever before, ensuring a more significant option in the protection of employees.
Read more...
---
Latest Longse thermal technology
Issue 4 2020, LD Africa , CCTV, Surveillance & Remote Monitoring
Longse thermal IP cameras include remote monitoring, a video server and high-definition camera functions.
Read more...
---
LenelS2 enhances VRx VMS
Issue 4 2020, UTC Fire & Security SSA , CCTV, Surveillance & Remote Monitoring
LenelS2 announces enhancements to VRx video management system, uses deep learning and native NetBox ecosystem integration for a unified security management experience.
Read more...
---
Empowering verticals with AI
Issue 4 2020, Dahua Technology South Africa , CCTV, Surveillance & Remote Monitoring
Dahua Technology has released WizMind, a portfolio of project-oriented products delivering AI solutions to verticals including government, retail, energy, finance and transportation.
Read more...
---
Safety and productivity for retailers
Issue 4 2020, Dahua Technology South Africa , CCTV, Surveillance & Remote Monitoring
Dahua Technology launches retail epidemic safety protection solution to enhance store operation safety under COVID-19.
Read more...
---
Non-contact and visual protection measures
Issue 4 2020 , CCTV, Surveillance & Remote Monitoring
Non-contact and visual protection measures to contain the coronavirus – Geutebrück extends its product portfolio by three DSGVO-compliant video solutions.
Read more...
---
Smart is the new black
Issue 4 2020 , CCTV, Surveillance & Remote Monitoring
The idea of 'smart' is becoming a reality in almost every aspect of our business and personal lives, from home security and lifestyle, through to smart buildings and smart working processes.
Read more...
---
Smarter monitoring with AI
Issue 4 2020, Deep Data , CCTV, Surveillance & Remote Monitoring
Deep Data's DeepAlert is changing the security monitoring market (remote and on-site) with deep learning and cloud services.
Read more...
---
Upgrade your current security system with SecuVue
Issue 4 2020, Secutel Technologies , CCTV, Surveillance & Remote Monitoring
Cloud-based analytics can be added to existing CCTV solutions to upgrade the efficacy and value the installation adds.
Read more...
---
Accurate temperature detection with thermal cameras
Issue 4 2020, Dahua Technology South Africa , CCTV, Surveillance & Remote Monitoring
Dahua Technology recently launched two thermal cameras specifically for accurate temperature measurement.
Read more...
---