printer friendly version
Intelligent mobile security system
March 2018 Security Services & Risk Management, Asset Management, EAS, RFID, Integrated Solutions, Products
BetaTrac Telematic Solutions, founded in 2002 focusing on GPS and telematics technologies, has designed its AIMSS (Analytical Intelligent Mobile Security Systems) specifically for the guarding patrol industry to assist management in enhancing services rendered.
From the ground up, the initial design of the eGuard hardware as a body-worn device with built-in panic-button delivered many advantages. Being part of the uniform, it is highly visible, out of harm's way and curtails on failures and losses of the device. Today, eGuard is renowned for its robust operational services and lifespan, along with aftersales services.
As the device transmits every 30 secs 24/7/365, data is processed into helpful reporting formats, including real-time alerting/notifications and daily performance reporting. Added to this is the company's control room software, called RealTrac. Operators can see live movements of all guards deployed with the eGuard solution, as well as extract manual reports. There is also a web URL for senior management to log in at any time for analysis purposes.
Additionally, users can make use of an Android app for the instant creation of new patrol routes. This means the area to be patrolled becomes a zero-cost zone when it comes to installing infrastructure such as virtual waypoints.
Vehicle tracking
BetaTrac has also added a compact vehicle-tracking module (RapidTrac), which can be installed in response vehicles and general supervisor fleets. This is now available as a consolidated package so that when a guard panic is triggered in the field, the control room automatically has information on the nearest vehicle to dispatch to the scene, avoiding guesswork. An alert can also be sent to selected mobile phones. Full fleet reporting on the vehicle comes as part of the package.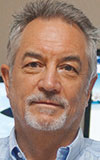 Keith Lawrence.
The daily reporting processes are autonomously created and pushed to management as they arrive in their offices. Any violations or panic alerts are immediately sent to all designated staff members with a three-tier fail-over process to prevent errors within the cycle of response. Another feature is the ability to immediately notify and report on any device that fails due to flat batteries or destruction in real time.
BetaTrac is striving towards AI technologies to further enhance on the overall performance of the guard patrol and to assist management in their efforts to improve services.
For more information, contact Keith Lawrence, BetaTrac Telematic Solutions, +27 (0)11 782 5335, keith.lawrence@betatrac.com, www.betatrac.com
Credit(s)
Further reading:
Post-Coronavirus communications: kick start your small business
Issue 4 2020 , Security Services & Risk Management
In these uncertain times, how should small companies and startups in the business-to-business domain recommence their selling and communication processes?
Read more...
---
The dashboard of the future
Issue 4 2020 , Security Services & Risk Management
Web-based Electronic Signature Dashboard offers quick access to eSignatures within the necessary legal parameters and incorporating advanced security.
Read more...
---
The end of blind alarms
Issue 3 2020 , Security Services & Risk Management, Perimeter Security, Alarms & Intruder Detection
Today's alarms should be supplemented by visual verification to ensure that guards are not dispatched to false alarms, wasting time and money.
Read more...
---
Is cash crime on lockdown this Easter?
Issue 3 2020 , Security Services & Risk Management
While Easter is generally a peak trading season for retailers, this has also always been one of the busiest times of the year for criminal activity – particularly at a retail level, as cash volumes rise ...
Read more...
---
Coronavirus scams abound
Issue 3 2020, Duxbury Networking , Security Services & Risk Management
Disturbingly, hackers are active even during times of global disaster, as evidenced in the various cyber-scams doing the rounds in the recent weeks.
Read more...
---
Now is the time to look for those hidden opportunities
Issue 3 2020 , Security Services & Risk Management
Now is the time to showcase your capabilities, to ensure that once the market turns, existing and potential clients know exactly what value you can offer.
Read more...
---
The COVID-19 lessons business must learn
Issue 3 2020, ContinuitySA , Security Services & Risk Management
Although the crisis is still unfolding, it's already clear that building resilience into your organisational DNA is more important than ever.
Read more...
---
All employees do it
Issue 3 2020 , Security Services & Risk Management
SearchInform analytics has summed up the most frequent security incidents detected in client companies.
Read more...
---
Can your backup solution handle business needs?
Issue 3 2020, Commvault , Security Services & Risk Management
With the accelerating growth of data continuing unabated, many organisations are faced with backup solutions that are unable to keep pace.
Read more...
---
South Africa to lead cloud adoption race on the continent
Issue 3 2020 , Security Services & Risk Management
As the battle between international cloud providers intensifies, Africa's cloud market is starting to gain traction with many enterprise customers seeking access to the cloud and associated services.
Read more...
---