printer friendly version
Paxton announces scholarship recipients
March 2018 Editor's Choice, Access Control & Identity Management, News
Paxton, the global brand of electronic IP access control and door entry systems has announced the first recipients of its new scholarship programme in conjunction with the University of Brighton.
The initiative, launched in November last year, offered the opportunity for students studying engineering and product design-related courses at the university to win one of three scholarship places, each worth £10 000 (approximately R160 000), plus a three-month paid work placement with the company from July 2018.
As part of the scholarship, the selected scholars will participate in technology research projects at Paxton, that will then form the final year project of their degree course.
In November 2017, the company hosted a student open day at its new state-of-the-art facility, the Paxton Technology Centre, which was attended by over 100 students from the University of Brighton. The open day provided them with the opportunity to learn more about the company and the application process, meet Paxton's experts in product development and research, and receive hands-on technology demonstrations of the company's diverse product range.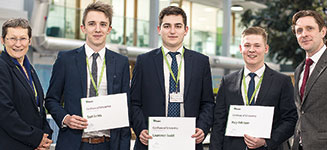 Pictured left to right: Professor Debra Humphris (vice chancellor, University of Brighton), Sam Innes, Laurence Budd, Yury Johnson, Adam Stroud (Paxton CEO).
From those that applied, 16 were then invited to an assessment day, where they undertook a series of practical tasks and interviews. Following this, the successful three students were then selected. They are:
• Yury Johnson, aged 20, who is studying (BEng) Electronics and Computing.
• Laurence Budd, aged 21, who is studying (BSc) Computer Science.
• Sam Innes, aged 20, who is also studying (BSc) Computer Science.
Commenting on the programme, Adam Stroud, Paxton's chief executive, said: "I'd like to congratulate the three students that have secured the 2018 Paxton Scholarship. The Paxton Scholarship is a long-term initiative designed to ensure that we can secure the bright-minds needed for the company's continued success and prosperity. I am thrilled at how the initiative was embraced by both the team at Paxton as well as the students and staff at the University of Brighton.
"We hope that for the students involved, the Paxton Scholarship will mean much more than just financial help. Industry experience, without having to take a year out, will be invaluable to their development and help them to decide what career they wish to pursue. We also believe it will continue to highlight the diverse range of roles available within the security industry and the opportunities offered by a growing and exciting business sector."
Sam Davies, University of Brighton's director of philanthropy and alumni engagement said: "Congratulations to the students and to Paxton for introducing this exciting and unique opportunity. "We are delighted to have partnered with Paxton in establishing this new scholarship programme which provides our students with access to the realities of the workplace and the challenges companies like Paxton face on a day-to-day basis."
For more information, contact Paxton, +27 (0)21 427 6691, support@paxtonaccess.co.za, www.paxtonaccess.co.za
Credit(s)
Further reading:
The same security assessment for different reasons
Issue 7 2020, Alwinco , Editor's Choice
Like everything else in life, a security risk assessment also has two sides: one is the proactive approach, and the other is the approach taken 'after the fact'.
Read more...
---
Risk intelligence the key to a sustainable future
Issue 7 2020 , Editor's Choice
Only by building risk intelligent organisations will leaders be able to overcome six distinct global threats identified by the Institute of Risk Management South Africa (IRMSA).
Read more...
---
Profile D for access control peripherals
Issue 7 2020 , Editor's Choice
Profile D provides interoperability for devices such as locks, credential/biometric readers, PIN pads, LPR cameras, door phones, sensors and displays.
Read more...
---
Security investments and culture
Issue 7 2020 , Editor's Choice
Organisations must embed security into the culture of the company and approach security investments with this culture in mind.
Read more...
---
Elastic storage pricing
Issue 7 2020 , Editor's Choice
With elastic pricing, users can switch from one storage model to another without having to pay a premium or a penalty, and without having to physically move any data.
Read more...
---
Use technology as a differentiator
Issue 7 2020 , Editor's Choice
Juni Yan, director of Transport, Logistics and Automotive at BT, shares her insights on how logistics companies can leverage digital transformation to become a real market differentiator – no matter the state of the pandemic.
Read more...
---
Management of PPE allocation made simple
Issue 7 2020, Powell Tronics, Technews Publishing , Editor's Choice
Of all the roadblocks and challenges COVID-19 has introduced us to over the past few months, one of the tasks organisations have to manage is the issuing of PPE to staff.
Read more...
---
Robots in warehousing and freight, a security perspective
Issue 7 2020, FSK Electronics , Editor's Choice
The logistics industry needs support from technology to meet its ongoing demands and ongoing security concerns.
Read more...
---
The new training normal
Issue 7 2020, Leaderware , Editor's Choice
Insights from running my first CCTV Surveillance Skills and Body Language and Advanced courses at physical training venues since COVID-19 started.
Read more...
---
An exciting journey in security
Issue 7 2020, Technews Publishing, BTC Training Africa , Editor's Choice
Errol Peace describes his 40-plus year career in the security industry where he was and is a great proponent of training as an "exceptionally exciting journey".
Read more...
---