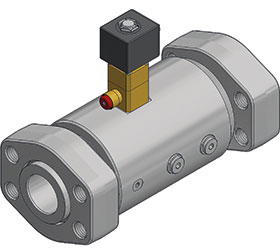 New range of local zone valves
March 2018, Products, Fire & Safety
Fire and Security Techniques of Centurion has introduced the Fire-Eater ZSV-25 Local Zone Valve for use in systems where multiple zones are protected by one cylinder bank. Zone valves control the flow of water or steam in a hydronic heating or cooling system in order to boost system efficiency.
Fire and Security Techniques CEO, Neil Hughes explains that the valve acts as a selector valve, directing the gas to the correct zone. Controlled electrically, the valve is used to control the flow of Inergen fire-extinguishing agent. Made of brass and stainless steel, the ZSV-25 weighs 2.3 kg, with a 62 mm diameter, and measuring 135 mm by 155 mm.
"The valve uses system pressure to operate the valve mechanism. When the solenoid is powered, the system pressure will force the valve open until the system pressure drops below 0.2 MPa, when it closes automatically," Hughes explains.
The valve must be pressurised on the inlet in order to be able to function properly. The valve's state can be monitored electrically when it is open and pressurised. Monitoring with additional equipment is also possible via the 3.5 mm activation ports.
The pneumatic activation chamber is designed with a small leakage to protect the valve from unwanted activation caused by small leakages into the activation chamber. Once the valve is open, it remains so until the system pressure has dropped below 2 bar. It closes automatically after discharge.
Hughes highlights that using a main and reserve bank with a sequence of zone valves, the system can discharge Inergen agent into the desired area, and thereby extinguish any fire. Following this, the system will reset automatically, with the reserve bank cylinders now on standby, in order to protect all the affected areas from fire damage.
"This process will also allow for cylinders to be removed and refilled without any system redundancies occurring," Hughes concludes.