printer friendly version
Video surveillance trends for 2013
March 2013
CCTV, Surveillance & Remote Monitoring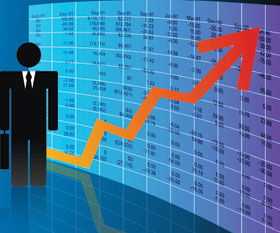 IMS Research has released its fourth annual video surveillance trends for the year ahead. These predictions for 2013 and beyond serve to provide insight into key trends and opportunities in the video surveillance industry. Ten trends to look out for are listed below.
1. New battle ground in image quality
The increased popularity of HD and megapixel resolution security cameras has been a hot topic in the video surveillance industry over recent years. And quite rightly so, world shipments of megapixel resolution network security cameras are predicted to out-sell standard resolution network security cameras in 2012 for the first time.
However, IMS Research does not expect higher megapixel resolutions to be a mass-market trend. Instead, it expects to see new technology developments and camera features that improve image quality become the key battleground as manufacturers try to establish their own USPs.
2. Mobile video streaming – the next gear of mobile video surveillance
Traditionally, in the mobile video surveillance market, recorded video on an on-board device is downloaded wirelessly when the vehicle returns to the station or depot. Recently, there has been increased buzz around the capability to wirelessly stream video from a mobile video surveillance camera back to a control centre.
For a control room operative, this brings a number of advantages. For the police, the ability for a control room to view an incident live allows for an instantaneous assessment of the situation and more effective guidance for officers on the ground. It could also provide assistance for lone workers on buses and trains. In the coming year, IMS Research predicts that there will be renewed emphasis on this type of solution.
3. India to remain a high growth market
Economic growth in India has slowed. IMS expects that GDP in Asia's third-largest economy will grow by just 5,1% in 2012, down from 6,9% in 2011 and 9,6% in 2010. However, despite this background, spending on video surveillance equipment has remained resilient with the Indian market forecast to enjoy healthy double-digit growth in 2012.
The unique characteristics of the Indian market make it an exciting place to do business. What is more, compared to other high growth markets, barriers to entry for foreign-owned suppliers are much lower.
4. Keeping it simple in 2013
Many suppliers of network video surveillance are now targeting smaller installations to grow their businesses. IMS Research therefore predicts 2013 to be the year where suppliers focus on developing products that are easy to install, easy to operate, and easy to maintain.
Network video surveillance can be an overly complex topic, particularly for those responsible for smaller installations. 2013 will be all about manufacturers making it more straightforward.
5. Intelligent video surveillance
Forums discussing this concept are not new. In 2011, IMS Conferences ran an intelligent video conference in Los Angeles and the Embedded Vision Alliance has regularly been bringing together engineers from leading companies to discuss the industry.
However, with the explosion of interest in intelligent video and the success of products such as Microsoft's Kinect, will 2013 be the year of intelligent video?
6. Private cloud – the future for enterprise video surveillance systems?
IMS Research forecasts that private cloud being used for the infrastructure of enterprise video surveillance systems will become a trend over the coming years. Private cloud offers the same advantages as public cloud, which includes: remote access to data, providing there is an Internet connection, and shared use of data processing and storage resources.
Video surveillance service providers have used aspects of cloud computing in their solutions for more than 10 years. However, the prevalence of enterprise video surveillance systems using private cloud is starting to gain some traction as IT managers increasingly take responsibility for the management of video surveillance systems.
7. Remote video applications
'Remote' has been a bit of a buzz word for video surveillance in 2012. Video surveillance as a service (VSaaS), and its ability to provide remote access, has been keenly debated with opinion divided on whether it will be successful. Additionally, remote video monitoring has become an increasingly important recurring monthly revenue (RMR) generator for many alarm receiving centres.
Both of these examples relate to physical security; however, there are a number of applications that can leverage remote video surveillance in non-security applications. IMS Research predicts a number of exciting new applications will enter the market in 2013.
8. Chinese companies looking west
It has been well documented that China is one of the largest and fastest growing markets for video surveillance equipment. To date, much of the narrative on this topic has centered on estimating the market opportunity, identifying the leading local vendors and discussing how western companies can take advantage of this high growth opportunity.
There has been little debate on the potential for Chinese video surveillance vendors to take advantage of the growth opportunities in other regional markets. However, this is beginning to change with the emergence of key Chinese vendors on the world stage.
9. Video surveillance goes vertical
System integrators and installers have been specialising in specific end-user industries for decades, with installation, design, service and maintenance offerings targeted to the unique requirements of customers in that industry.
IMS Research predicts that 2013 will be the year that video surveillance vendors and PSIM platform providers follow suit.
10. Video content analysis and video meta-data as 'Big Data'
'Big Data' has been a hot topic for businesses in 2012. While Big Data is not going to be a mainstream concept for video surveillance in 2013, IMS Research predicts that the use and aggregation of analytics and video feed metadata as Big Data will continue to grow, and that businesses looking to utilise Big Data will increasingly look at the potential to incorporate video feed meta-data streams into their data sets.
For more information contact IMS Research, +44 1933 402 255, niall.jenkins@imsresearch.com, www.imsresearch.com
Further reading:
Why rehearsals and drills for crises and evacuation are so important
August 2019, Leaderware , CCTV, Surveillance & Remote Monitoring, Security Services & Risk Management
The rehearsal of concept (ROC) drill has been used extensively in the military, but is just as important when facing risks in organisations and institutions to protect people on the ground.
Read more...
---
Milestone partners prove their skills
August 2019, Milestone Systems , News, CCTV, Surveillance & Remote Monitoring, Training & Education
Within the span of one week in mid-May, the Milestone Learning & Performance group celebrated important benchmarks: 200 000 course registrations and tutorial views, and 10 000 certifications.
Read more...
---
ONVIF Hosts 20th Developers' Plugfest
August 2019 , News, CCTV, Surveillance & Remote Monitoring
ONVIF, the global standardisation initiative for IP-based physical security products, hosted its twentieth ONVIF Developers' Plugfest in early June in Tokyo.
Read more...
---
Licence plate recognition camera
August 2019 , Products, CCTV, Surveillance & Remote Monitoring
VIVOTEK has introduced a new licence plate recognition camera featuring built-in licence plate recognition software and edge-computing capability.
Read more...
---
Securing Savannah Hills Estate
August 2019, Rhyco Risk Projects , CCTV, Surveillance & Remote Monitoring, Perimeter Security, Alarms & Intruder Detection
Savannah Hills Estate in Midrand planned a security upgrade which was awarded to Rhyco Risk Projects. The project started in March 2019 and was completed in May 2019.
Read more...
---
10 things to consider when shopping for a VMS
August 2019, Genetec , CCTV, Surveillance & Remote Monitoring, Integrated Solutions
Today's video management systems (VMS) provide a wide range of tools and capabilities that help make security personnel more efficient by allowing them to focus on what really matters.
Read more...
---
How far are we really at with artificial intelligence?
August 2019, Axis Communications SA , Editor's Choice, CCTV, Surveillance & Remote Monitoring, IT infrastructure, Residential Estate (Industry)
Justin Ludik unpacks exactly how far AI has come and what it potentially can do for society and more importantly, surveillance.
Read more...
---
Enhancing security with AI
August 2019, Hikvision South Africa , CCTV, Surveillance & Remote Monitoring
Hikvision explains how residential estates can revolutionise their security strategies and outcomes with artificial intelligence.
Read more...
---
More than simply a camera
August 2019, Forbatt SA, Secutel Technologies , CCTV, Surveillance & Remote Monitoring, Residential Estate (Industry)
With the human element being the weakest link in all security solutions, Hi-Tech Security Solutions looks at the pros and cons of using body-worn cameras in estates.
Read more...
---
The importance of effective perimeter security
August 2019, Elf Rentals - Electronic Security Solutions, Stafix , Editor's Choice, CCTV, Surveillance & Remote Monitoring, Residential Estate (Industry)
Protecting the perimeter is critical for any residential estate; how does one go about making sure your perimeter is as secure as possible?
Read more...
---