printer friendly version
From the editor's desk: All about skills and experience
CCTV Handbook 2013
News
Welcome to the 2013 CCTV Handbook. We have put together an interesting collection of articles from some of the leading minds in the surveillance world for your enjoyment.
In the pages that follow, you will find information on a variety of issues pertinent to your surveillance installations. One of the interesting things I heard repeatedly while talking to people and putting this handbook together was that, while there is an almost endless selection of technology to choose from (do not miss the 'Selection Guide'), the success of your project depends on the skills and integrity of the people doing the installation work.
A case in point comes from someone busy with two smallish projects. In one he hired an installer who knows his analogue systems backwards and the installation is going smoothly. For the other project, the individual wanted a few bells and whistles, so he decided IP was the route to take. All he really wants is a low-light system that will allow him to perform LPR and visually identify visitors in any light conditions. The great thing about the IP installation is that the client was prepared to pay whatever it cost to get what he wanted. How many people get a client like that?
Of course, things did not work out all that well. The IP installation has been going on for months with dismal results and poor visibility throughout the day, and none at night. The analogue system, on the other hand, is running perfectly.
The lesson here is that technology is only one part of a surveillance project. The crucial part is retaining people who know what they are doing and have a track record to verify their skills, their ability to offer good advice and to deliver. And I guess it would not hurt to do your own research beforehand to ensure you can separate marketing fact and fiction.
Your choice of installer or integrator can be the make or break factor of your entire project. Get the right people on board and you can get an analogue system to shine. Get the wrong people and the most impressive IP systems will fail, and cost a fortune.
Good news for locals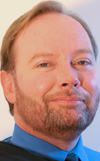 The Consumer Goods Council has just released its updated CCTV Guidelines, a document that will be invaluable to installers as well as those people responsible for their organisation's surveillance projects. It is a How-To put together by a group of people leading the field in the South African CCTV industry. Make sure you get yours if you want your surveillance system to deliver results.
I hope you enjoy the handbook and get value from it in whatever field you operate in. If you have any comments or criticisms, please let me know at [email protected] .
Andrew Seldon, Editor
Credit(s)
Further reading:
Securiton and Dallmeier announce partnership
Dallmeier Electronic Southern Africa News
Securiton AG Switzerland is now integrating the Panomera and Domera camera systems from Dallmeier to ensure its customers benefit from the highest standards of privacy and security.
Read more...
---
Sasol ensures Zero Trust for SAP financials with bioLock
Technews Publishing Editor's Choice Cyber Security Security Services & Risk Management
Multi-factor authentication, including biometrics, for SAP Financials from realtime North America prevents financial compliance avoidance for Sasol.
Read more...
---
KPMG 2022 CEO Outlook, South African edition
Editor's Choice News
Mid-November saw the release of the latest KPMG 2022 CEO Outlook, South African edition, aptly sub-titled 'Potential Growth in Uncertain Times'.
Read more...
---
Mending Africa's digital infrastructure gaps
News
inq. Fabric is the first African-developed cloud connectivity, network-as-a-service software for automated provisioning and routing.
Read more...
---
Suprema renews international privacy and security standard certifications
Suprema News Access Control & Identity Management
Suprema has simultaneously renewed two important international standard certifications regarding information security management (ISO/IEC 27001) and privacy information management (ISO/IEC 27701).
Read more...
---
Technoswitch partners with Ciqurix for video fire detection
Technoswitch Fire Detection & Suppression News Fire & Safety
Technoswitch is pleased to announce the signing of an exclusive distribution agreement with Ciqurix (UK), a leading supplier of video fire detection products.
Read more...
---
Do you know where your data is?
Technews Publishing Editor's Choice
Flow Security focuses on making sure companies manage their data security in real time through automated Data Security Posture Management (DSPM).
Read more...
---
Two cases of cyber resilience
Technews Publishing Editor's Choice
Infinidat consolidates backups and cyber resilience for a cloud service provider in the healthcare environment, as well as an energy utility based in EMEA.
Read more...
---
Are you below the security poverty line?
Technews Publishing Editor's Choice
While management may think their company is pulling its weight in terms of cybersecurity, the security team knows if it is operating below the security poverty line.
Read more...
---
Cyber resilience is more than cybersecurity
Technews Publishing Editor's Choice Cyber Security Integrated Solutions IT infrastructure
Hi-Tech Security Solutions held a round-table discussion focusing on cyber resilience and found that while the resilience discipline includes cybersecurity, it also goes much further.
Read more...
---