printer friendly version
From the editor's desk: All about skills and experience
CCTV Handbook 2013
News
Welcome to the 2013 CCTV Handbook. We have put together an interesting collection of articles from some of the leading minds in the surveillance world for your enjoyment.
In the pages that follow, you will find information on a variety of issues pertinent to your surveillance installations. One of the interesting things I heard repeatedly while talking to people and putting this handbook together was that, while there is an almost endless selection of technology to choose from (do not miss the 'Selection Guide'), the success of your project depends on the skills and integrity of the people doing the installation work.
A case in point comes from someone busy with two smallish projects. In one he hired an installer who knows his analogue systems backwards and the installation is going smoothly. For the other project, the individual wanted a few bells and whistles, so he decided IP was the route to take. All he really wants is a low-light system that will allow him to perform LPR and visually identify visitors in any light conditions. The great thing about the IP installation is that the client was prepared to pay whatever it cost to get what he wanted. How many people get a client like that?
Of course, things did not work out all that well. The IP installation has been going on for months with dismal results and poor visibility throughout the day, and none at night. The analogue system, on the other hand, is running perfectly.
The lesson here is that technology is only one part of a surveillance project. The crucial part is retaining people who know what they are doing and have a track record to verify their skills, their ability to offer good advice and to deliver. And I guess it would not hurt to do your own research beforehand to ensure you can separate marketing fact and fiction.
Your choice of installer or integrator can be the make or break factor of your entire project. Get the right people on board and you can get an analogue system to shine. Get the wrong people and the most impressive IP systems will fail, and cost a fortune.
Good news for locals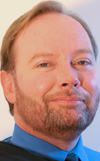 The Consumer Goods Council has just released its updated CCTV Guidelines, a document that will be invaluable to installers as well as those people responsible for their organisation's surveillance projects. It is a How-To put together by a group of people leading the field in the South African CCTV industry. Make sure you get yours if you want your surveillance system to deliver results.
I hope you enjoy the handbook and get value from it in whatever field you operate in. If you have any comments or criticisms, please let me know at [email protected] .
Andrew Seldon, Editor
Credit(s)
Further reading:
Cyber resilience is more than cybersecurity
Technews Publishing Cyber Security Integrated Solutions IT infrastructure
Hi-Tech Security Solutions held a round-table discussion focusing on cyber resilience and found that while the resilience discipline includes cybersecurity, it also goes much further.
Read more...
---
Johnny Aucamp joins iPulse exco
News
Johnny Aucamp has joined iPulse Systems as its chief sales officer (CSO), adding a massive boost to the executive team.
Read more...
---
From the editor's desk: Security and resilience
Technews Publishing News
It's often said that South Africans are a resilient bunch, and history has proven this correct. When it comes to security, both cyber and physical, resilience is key to an effective defensive plan. ...
Read more...
---
Hikvision aims for solutions
Technews Publishing Hikvision South Africa Editor's Choice CCTV, Surveillance & Remote Monitoring News Integrated Solutions Conferences & Events
Hikvision recently held a roadshow titled Industry X, where the company highlighted its latest products and solutions, supported by partners and distributors.
Read more...
---
Olarm launches PRO 4G communicator
Olarm News Perimeter Security, Alarms & Intruder Detection Products
Olarm has announced an additional 4G/LTE version of its Olarm PRO smart communicator. It is aimed at areas suffering from poor connectivity by providing support for 4G, 2G and Wi-Fi networks.
Read more...
---
ADI Expo returns to South Africa
Technews Publishing ADI Global Distribution News
September saw the return of the ADI Expo to South Africa. The Johannesburg event was held at the Focus Rooms and the Durban event, two days later, at the Southern Sun Elangeni & Maharani.
Read more...
---
Technoswitch Awards dinner for 2022
Technews Publishing News Fire & Safety
Technoswitch hosted its fifth awards dinner at Montecasino in September, where customers and suppliers celebrated a year of success.
Read more...
---
Suprema joins FiRa Consortium
Suprema News Access Control & Identity Management
Suprema recently became a member of the FiRa Consortium, a consultative body that establishes standards for ultra-wideband (UWB) technology, the next generation of wireless communication.
Read more...
---
Reliable, low-maintenance video appliances
Technews Publishing Editor's Choice CCTV, Surveillance & Remote Monitoring News IT infrastructure Products
Symetrix, part of the Agera Group, has added the AES range of video recording servers, storage appliances and workstations to its portfolio.
Read more...
---
ZYTEQ Fire Engineering Summit 2022
ZYTEQ Fire Fire & Safety News
Cape Town-based ZYTEQ Fire hosted its inaugural Engineering Summit at the Commodore Hotel in Cape Town and the Leonardo Hotel in Sandton, Johannesburg.
Read more...
---