Streamlining warehouse operations
February 2018, Asset Management, EAS, RFID, Security Services & Risk Management
Komatsu is a global Japanese industrial giant that has enjoyed a presence in southern Africa for over 50 years. It provides earthmoving and construction equipment to mining operations, plant hire, construction sites, quarries, agricultural and forestry and more.
From its quiet beginnings on the continent, Komatsu Africa Holdings has grown dramatically, with numerous acquisitions and an ever-expanding product line – all of which are directly marketed, serviced and supported throughout the sub-Saharan region.
Guided by its vision to become the leading earthmoving equipment company in southern Africa, Komatsu endeavours to provide the highest level of product support and added value to its customers.
Moving time
Komatsu SA's primary parts distribution centre required a larger space and hence needed to move to a new location (in Germiston, east of Johannesburg). Considering that the distribution facility provides parts to a broad network across the southern African region, the migration to the new facility needed to go smoothly – without any downtime. Any delays would impair service delivery to Komatsu's customers.
Simultaneously, Komatsu's head office in Tokyo selected the SA office as one of the first regions to be brought onto the firm's new global warehouse management system: KWMS. This required the local office to integrate their existing SAP-based ERP solution, into the KWMS global system, hosted in Tokyo, Japan.
At the parts distribution centre, the team was constrained by inefficiencies and struggled to process and fulfil orders as quickly as they would have liked. With an inventory valued at more than R2 billion on-hand at any one time, the lead-time to process large sea freight shipments was in the region of 10 days. Some significant 0,5% of shipments contained errors, proving to be problematic for the teams as they had to unravel the orders and resend them – all at Komatsu's expense.
Unprecedented speed
Komatsu and T-Systems had already completed a recent project to migrate the firm's SAP environment into the cloud (on T-Systems' Dynamic Services Platform). Komatsu's SA CIO, Joe Ferreira, explains that "SAP is the platform for all our business transactions and reporting requirements. Users are now able to transact at a higher volume and efficiency level."
In order to meet the tight deadlines laid down by head office, Ferreira says T-Systems was required to complete the setup of the new site, as well as the full integration into KWMS. This needed to be completed within just 8 weeks, as set out by the parent company.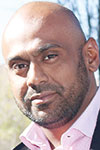 Dereshin Pillay.
"Completing a project of this scale, in such a short space of time, is virtually unprecedented in the local ICT industry", notes head of manufacturing and automotive at T-Systems SA, Dereshin Pillay. "The project encompassed many different technology sets, from infrastructure, connectivity, and warehouse processing, to integration of systems and the training of people.
"The team immediately mobilised, to design a project plan that made the eight-week time-frame a possibility. Very quickly, we moved to understand all the integration touchpoints and eradicate risks on the project as much as possible."
Ferreira praises Pillay's team, noting their "extensive knowledge, professionalism and performance under extreme pressure." He adds that it was only through disciplined and professional project management that such a complex programme of work could be completed, that so many elements could be brought together.
Business benefits
With the integration into KWMS now complete, Ferreira points to a number of clear benefits that Komatsu has already started to see, including these highlights:
• Single record of assets and inventory management (reported on at a local or global level).
• Real-time insights into inventory for the southern African region.
• Increased control and accuracy over stock ('scan as you pick' using Wi-Fi-enabled barcode scanning and Wi-Fi printers at dispatch).
• Reduced outsourcing headcount costs.
• We plan to reduce lead-time to sort parts from 10 days to two days.
• Improved employee experience and job satisfaction through the use of new handheld devices.
• New skills development opportunities for warehouse staff.
• Compliance with all legislation.
Now that the distribution centre is fully connected, the foundation has been laid for further automation and Internet of Things (IoT) innovations in the near future. In this way, Komatsu ensures its local operations are both scalable and future-proofed.