printer friendly version
Safety in education
February 2018 Education (Industry), CCTV, Surveillance & Remote Monitoring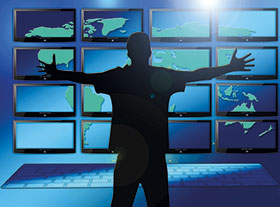 Drawing on the latest developments in technology and the Internet, schools and universities are spoiled for choice when it comes to securing their premises as well as the people on site.
Today, security for educational organisations is a multi-facetted discipline, but the effective and intelligent use of surveillance solutions assists administrators in ensuring their security operation as a whole works together for optimal, integrated safety and security that does not interfere with ongoing education.
Sadly, effective surveillance solutions are the exception rather than the norm. Whether due to financial constraints, poor advice or general apathy, security is a weakness in most educational locations. These weaknesses extend beyond a single location, however, which is unnecessary. Organisations with large, dispersed campuses or even multiple branches can use the latest technologies to ensure economies of scale and make sure their security operation covers more than one campus, even if the locations to secure are dispersed countrywide.
Gino de Oliveira, TVT sales manager at Forbatt SA, explains that security weaknesses can be overcome by selecting the right technology and building an effective solution one layer at a time. He says TVT offers a range of solutions for the education market. These solutions are not stand-alone options, but are integrated with each other – easy integration is one of the hallmarks of TVT's security technology. This allows customers to build effective solutions over time, confident that each phase will easily integrate with others.
Solutions on offer from TVT include video surveillance systems, vehicle management systems, access control and alarm systems. They are all integrated, even remote sites and can be managed from one central station, effectively improving school and university security management.
The outside in
Video surveillance is the basis of good security in the education market and De Oliveira advises administrators to start by installing high-definition (HD) cameras at all entrances and exit points. This creates a perimeter layer which can be integrated with other perimeter technology, all linked to a central control area where video and other data is stored on a centralised storage system. TVT also provides video wall solutions for large premises with many cameras to monitor.
Additional surveillance solutions can be used within the organisation's buildings and these can be integrated with access control systems to ensure the control room knows who is where and can even call up video footage of anyone's entry or exit where required. The addition of an alarm system, also integrated with the surveillance solution ensures that buildings are secure and that any after-hours alarms can be monitored via video streams for additional and immediate situational awareness.
The safety benefit
By integrating the various branches of security technology, De Oliveira explains that you end up with a system of security solutions that reinforce each other and deliver a stronger safety net than any of them could on their own. These solutions can even allow for an electronic roll-call in cases of emergency to ensure that everyone has evacuated the building safely.
Solutions such as the above, not only improve the general safety and security on campus, they also introduce a level of confidence in the staff, teachers and students since they feel secure in their learning environment. You can even extend their usefulness further and catch exam cheats in the act.
Credit(s)
Further reading:
Cybersecurity for video surveillance systems
September 2019, Mobotix , Cyber Security, CCTV, Surveillance & Remote Monitoring
Video surveillance systems are increasingly accessible over any IP network, which has led to the rise of potential cyberattack.
Read more...
---
Wireless access for visibility and security
Access & Identity Management Handbook 2020, Salto Systems Africa , Access Control & Identity Management, Education (Industry)
The Deutsche Internationale Schule Johannesburg has gained full visibility and improved security through the installation of locking technology from SALTO.
Read more...
---
What are the cybersecurity issues in video surveillance?
November 2019, Axis Communications SA , Editor's Choice, CCTV, Surveillance & Remote Monitoring, Cyber Security
he importance of the data captured by surveillance cameras – and what can be done with it – has led to a new breed of cybercriminals, looking for insights to steal and sell.
Read more...
---
The safe city and its need for interoperability
November 2019 , Integrated Solutions, CCTV, Surveillance & Remote Monitoring
Interoperability continues to present one of the greatest challenges, particularly with video management systems, video recording devices and cameras.
Read more...
---
TruVision licence plate cameras
November 2019, UTC Fire & Security SSA , Products, CCTV, Surveillance & Remote Monitoring
TruVision ANPR cameras offer functionality for applications where vehicle access management is required based on licence plate.
Read more...
---
A platform approach to innovation and value
CCTV Handbook 2019, Technews Publishing , Editor's Choice, CCTV, Surveillance & Remote Monitoring, Integrated Solutions, IT infrastructure
Moving to the platform model of doing business holds tremendous advantages for end users and smaller developers, but also for the whole technology supply chain.
Read more...
---
Open does not always mean easy integration
CCTV Handbook 2019, Veracitech, Technews Publishing , Editor's Choice, CCTV, Surveillance & Remote Monitoring, Integrated Solutions
Customers who opt for best-of-breed solutions will have to rely on their integrators to develop customised integrated solutions for them.
Read more...
---
The impact of AI on the surveillance industry
CCTV Handbook 2019, G4S South Africa, Hikvision South Africa, Myertal Tactical Security, Technews Publishing , Editor's Choice, CCTV, Surveillance & Remote Monitoring
What the impact of AI will be on companies, the services and solutions they supply, as well as on the jobs people do.
Read more...
---
Video analytics and AI
CCTV Handbook 2019, Axis Communications SA, Dallmeier Electronic Southern Africa , Hikvision South Africa, Technews Publishing, Dahua Technology South Africa , Editor's Choice, CCTV, Surveillance & Remote Monitoring, Integrated Solutions
Artificial intelligence has the potential to deliver real benefits in the world of video analytics and many companies are already delivering customer benefits.
Read more...
---
Cloudy with a chance of AI
CCTV Handbook 2019 , Editor's Choice, CCTV, Surveillance & Remote Monitoring, Integrated Solutions
One local company has developed an AI solution that can be added to existing surveillance installations, offering 24-hour intelligence.
Read more...
---