printer friendly version
University hospital goes digital
February 2018 Education (Industry), CCTV, Surveillance & Remote Monitoring, Integrated Solutions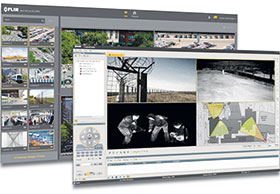 NNUH is a National Health Service (NHS) academic teaching hospital located on the southern outskirts of Norwich and was the first new NHS teaching hospital built in England for more than 30 years. It is one of the largest hospitals in the United Kingdom in terms of in-patient capacity and is a teaching centre for nurses (adult and children), midwives, doctors, therapists and operating department practitioners, whilst hosting the Norwich GP speciality training scheme.
Ensuring safety for patients, visitors and staff
An efficient and convenient CCTV system is a key element in any effort to ensure the safety of hospital patients, visitors and staff. So when NNUH's video monitoring system was hitting its technological limits, the hospital decided it was time for an upgrade of the control room. There was one major challenge: the control room is the main hub of hospital communications and therefore essential for 24/7 response to emergencies. As a result, NNUH required a seamless technology transition.
For the upgrade of the control room, NNUH called in Check Your Security, a Norfolk-based integrator of security monitoring systems. Check Your Security first evaluated the current physical security system in place at NNUH in order to determine which products and solutions would be optimal for the future proofing towards a fully digital environment. This process was undertaken by using an Enterprise Audit Report (EAR) in which Check Your Security establishes a facility characterisation with the key stakeholders and investigates how the latest advances in technology can be implemented.
FLIR's Latitude VMS
Based on the EAR, Check Your Security proposed to equip Norfolk and Norwich University Hospital with a new control room with the latest fully integrated and ergonomic command centre furniture. This shared working environment was tailored to NNUH's needs and now incorporates an effective incident planning area, making use of the latest Latitude VMS version from FLIR for real-time situational awareness. The control room now also features a video wall integrating the video feeds of key cameras, together with a connection to the barriers, access control and emergency intercoms.
FLIR's Latitude VMS provides seamless, forensic quality imaging and user-friendly operation consisting of dedicated, web-based and mobile client software. The system's scalable architecture efficiently supports systems of any size or architecture for implementation throughout enterprises, across multiple sites, cities and continents. Latitude version 7.0 offers effortless viewing, playback, search and export, while maintaining scalability and usability.
As part of the transition to a digital platform, the analogue recording equipment has been decommissioned and the existing cameras have been migrated onto FLIR recording servers and analogue video encoders to integrate its existing 76 external PTZ cameras, internal static cameras, intercom help points and barriers.
FLIR's range of encoders and edge devices allow for a seamless technology transition from analogue to digital using existing site infrastructures. FLIR's Arisel encoder products transform analogue video signals into digital video streams and transmit them via LAN, Internet or Intranet for live viewing and recording. Ariel encoders support H.264 and bi-directional audio.
Smooth technology transition
The NNUH security network and control room environment was quite challenging, with a range of outdated technology and legacy hardware across the hospital. But the implementation of FLIR's Latitude VMS was in fact a smooth and cost-effective transition, allowing Check Your Security to easily integrate the new solution from FLIR into the NNUH existing infrastructure.
The upgraded control room with FLIR's VMS has resulted in an extremely user-friendly and ergonomic shared workspace and lowered operational costs, enabling better patient control and higher quality service. The total solution not only consumes less space, but has also resulted in lower power consumption.
But the most important benefit for NNUH's control room operators probably is that the internal investigation time has been reduced by 25%. FLIR's Latitude VMS has certainly contributed to this, with its sleek and modern client web interface, optimised use of touch screens, thumbnail search for quick and accurate identification of desired clips and its presentation of relevant data and actionable information, allowing control room operators to focus on what is important.
For more information contact FLIR Systems www.flir.com or refer to the www.hsbd.co.za for SA distributors.
Further reading:
Platforms and community lead the future
May 2019, Milestone Systems , Editor's Choice, CCTV, Surveillance & Remote Monitoring, News, Integrated Solutions
Milestone Systems took a look into the future of open platforms and the power of community at MIPS EMEA in Copenhagen in March this year.
Read more...
---
The consequences of false alerts
May 2019, Leaderware , Editor's Choice, CCTV, Surveillance & Remote Monitoring, Integrated Solutions
Craig Donald discusses the impact of false alarm rates on the utility of intelligent security technology systems.
Read more...
---
Protecting people's money, and their data
May 2019, Cathexis Technologies, CA Southern Africa, IDEMIA , Editor's Choice, Integrated Solutions, Financial (Industry)
The temptations inherent to the banking sector, and financial institutions more generally, pit them in an eternal and increasingly high-tech battle to secure themselves against threats from within and without.
Read more...
---
Access authentication with a wave
May 2019, IDEMIA , Editor's Choice, Access Control & Identity Management, Integrated Solutions, Financial (Industry), Commercial (Industry)
Financial organisations are making the move to contactless fingerprint biometrics in order to meet the increasing burden of regulatory and compliance demands.
Read more...
---
Does your control room add value?
May 2019, Fidelity Security Group, G4S South Africa, Progroup , Editor's Choice, CCTV, Surveillance & Remote Monitoring, Integrated Solutions, IT infrastructure, Commercial (Industry)
Whether on- or offsite, control rooms are a critical aspect of security today and care must be taken in the design and rollout of these nerve centres.
Read more...
---
Augmenting surveillance video
May 2019, ISDS , News, Integrated Solutions
ISDS is moving from its previous business model to focusing on being a value-added distributor and supporting its channel partners.
Read more...
---
LunarX targets high-end security solutions
May 2019 , Editor's Choice, News, Integrated Solutions
LunarX Consulting and Projects, a new value-added distributor of high-end security solutions, was launched at an event at Serengeti Estate in March 2018.
Read more...
---
Delivering greater control room value
May 2019, Cathexis Technologies , Editor's Choice, CCTV, Surveillance & Remote Monitoring, Integrated Solutions
A truly integrated security system requires that all aspects of the security system work seamlessly together, while being managed by the heart of the system, which is the control room.
Read more...
---
Security workforce management platform
May 2019, Secutel Technologies , CCTV, Surveillance & Remote Monitoring, Integrated Solutions, Security Services & Risk Management
Secutel Technologies says the South African market is excited about body-cam technology and clearly sees the potential benefits.
Read more...
---
HD PIR camera with strobe light
May 2019, Hikvision South Africa , Perimeter Security, Alarms & Intruder Detection, CCTV, Surveillance & Remote Monitoring
Hikvision's Turbo HD passive infrared (PIR) camera uses advanced video surveillance technologies to capture infrared light given off by human bodies.
Read more...
---