printer friendly version
The value of a child?
1 February 2018 Education (Industry), Security Services & Risk Management
When considering security on a global level and in first world countries, schools usually take top priority. It is the protection of our children, which are our future after all. However, in South Africa, school security is not on par with the rest of the world.
Considering what I have seen in my life, there is not much that shocks me, but upon visiting some of our schools, I must admit that I am absolutely appalled with the overall standard of security.
I often interview individuals who are responsible for the security at the schools and their understanding of security astounds me even more. Not because they lack training, but because of how ignorant they are in that they do not realise how poor their security actually is.
To make matters worse, many wholeheartedly believe their security is the best and even boast about it proudly. Should I attempt to point out any flaws, they react aggressively. That is if I am even given the chance to voice my concerns because they clearly are not interested in listening.
A case study
In one particular case, I was informed that they have no problems, as the SAPS respond directly to the security guards on site. That surprised me because the rest of the country generally complains about SAPS' response time.
Moreover, the radios of these specific guards were in very bad shape and outdated. I have never heard of the SAPS taking orders from a security guard directly.
While on a tour through the school's premises with the teacher responsible for the school security, my jaw dropped the more she spoke and the more she showed me.
"Why yes, of course, we have regular security meetings," I was told in a manner that made this woman appear quite full of herself.
"How often?" I asked. "Every week, fortnightly, or once a month?"
"Every semester," she replied. That means that security is discussed and takes priority only four times a year!
"Can you show me what is discussed at these meetings?"
"No," she replied. "There are no minutes for these meetings."
My jaw dropped further. How can things be followed up if there are no minutes? There is no proper communication, no management and, in fact, no security.
Without a security risk assessment in hand, you do not have security. Whose responsibility is the safety and security of children?
The value of a child
During this particular interview, I started making some notes and calculations. I came to the following upsetting conclusion:
If you had to place a value on a child, what would it be? Then take into consideration how much an education costs these days. What would you then say the school spends per child regarding security?
Whatever you were thinking, I can guarantee you that you are way off. When calculating the security, the standard of it and the amount spent on it as evaluated by the size of the school, this specific school places the value of a child at approximately R1.00, most other schools go up to R53.00 per month.
Not only do the people who are responsible for security at the school not want to listen to me or any other security adviser, despite our experience, but they sincerely believe that they are at the top of their game.
As a teacher that is trained to guide our children, why will she not heed my advice or give me a chance to explain to her the potential and existing security risks at the school?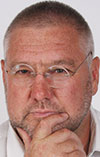 Andre Mundell.
I have over 30 years' experience in security and crime prevention and as an independent risk assessor, I personally had to deal with tons of missing person reports crossing my desk that involved children. This makes me question our security system and why our children and schools are not made a top priority as almost anywhere else in the world.
And as a parent, can you be 100% at ease knowing that while your child is receiving his/her education, that they are safe and will return home at the end of the day? Don't you think that as a parent, it is time that you get involved and take control of the security at your child's school?
For more information, contact Andre Mundell, Alwinco, +27 (0)62 341 3419, [email protected], www.alwinco.co.za
Credit(s)
Further reading:
Look before you leap into a back-up power solution
Editor's Choice Security Services & Risk Management
Before you rush into purchasing a back-up power solution, you need to take a considered and long-term view of how to get yourself as close to grid independence as possible.
Read more...
---
All-mobile people management solution with facial recognition
Editor's Choice Integrated Solutions Security Services & Risk Management Products
The new mobile Incident Desk People Management platform with facial recognition combines identification data on suppliers, staff, sub-contractors and even people on watch lists, for less than the cost of traditional service management tools.
Read more...
---
Passion, drive and hard work
Technews Publishing Editor's Choice CCTV, Surveillance & Remote Monitoring Security Services & Risk Management
Colleen Glaeser is a leader in the security market, having made her mark in the male-dominated security industry through determination and hard work, along with a vision of making the world a safer place.
Read more...
---
Are you your insider threat?
Technews Publishing Editor's Choice Security Services & Risk Management Commercial (Industry)
Insider threats are a critical aspect of risk management today, but what happens when it is the owner of the company acting fraudulently and making sure none of his staff can catch him?
Read more...
---
Trackforce Valiant acquires TrackTik Software
News Integrated Solutions Security Services & Risk Management
Trackforce Valiant, a provider of security workforce management solutions, announced the acquisition of TrackTik Software, a cloud-based security workforce management provider.
Read more...
---
Significant increase in fraud in a risk-heavy environment
News Security Services & Risk Management
The Southern African Fraud Prevention Service reports a significantly increased risk of becoming a victim of fraud as compared to 2021.
Read more...
---
The components of and need for cyber resilience
Cyber Security Security Services & Risk Management
Organisations need to implement a comprehensive cyber resilience solution with data protection, backup, disaster recovery and business continuity to protect against ever-more complex and rising cyberthreats.
Read more...
---
Is the smoke beginning to clear for password security?
Access Control & Identity Management Security Services & Risk Management
The password problem is the result of bad habits, and they can be hard to break. But ask anyone that has done it and they will not tire of telling you the benefits.
Read more...
---
The benefits of investing in whole-house surge protection
Smart Home Automation Security Services & Risk Management Residential Estate (Industry)
When you consider that the potential for equipment damage can run well into the hundreds of thousands of rands, whole-house surge protection is a worthwhile expense.
Read more...
---
Manage reckless driving while speed cameras are offline
Transport (Industry) Security Services & Risk Management
Motorists in Johannesburg have not been fined for infringing the law for almost a year, because the city hasn't had any functioning speed cameras since May 2021.
Read more...
---