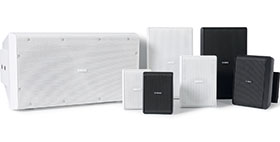 LB20 commercial loudspeakers
February 2018, Integrated Solutions, Security Services & Risk Management
The LB 20 series is the latest member of the Bosch family of compact loudspeakers for installed applications. Acoustically matched and aesthetically compatible with the other Bosch models, the LB20 series was designed with the contractor in mind – a cost-effective solution providing superior sound quality for fixed installations. It includes 4-inch, 5.25-inch and 8-inch 2-way models with a matching dual-10-inch subwoofer, making it easy to select a suitable model for a specific space.
The wall-mount system makes it easy: attach the wall-mount and pre-wire (a built-in bubble level saves time), apply the paint cover until construction is completed, then slide the loudspeaker onto the wall-mount and lock into place. Designed for indoors and outdoors, all models are weather resistant. An IP65 weatherproof version is available for the 5X models and dual-10-inch subwoofer.
Every aspect of the LB 20 series has been designed from the ground up to ensure efficient installation for the contractor and excellent results for the end-user. All LB 20 models offer Bosch-engineered components for good sound quality, low-profile looks and robust reliability for a wide range of indoor and outdoor applications. These include retail environments, hospitality settings, such as bars, lounges, patios, pool areas and restaurants.
For more information contact Bosch Security Systems – South Africa & sub-Saharan Africa, +27 (0)11 651 9600, security.systems@za.bosch.com, http://africa.boschsecurity.com