printer friendly version
Cyberattacks will not go away
February 2018 Cyber Security, IT infrastructure
It is an inescapable fact that in today's digital economy, with digital record storage, every enterprise faces some form of cybercrime threat. So it is no longer a matter of 'if' it happens, it is a matter of 'when'.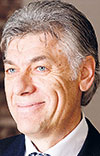 Andrea Lodolo.
What we have learnt from the past is that hacking is becoming a lucrative business and we can only expect this phenomenon to continue to grow with cybercriminals looking for more new and innovative ways to attack companies.
So what can businesses do to protect themselves and their data, especially in the face of increasingly stringent governance regulations coming into force? Internal policies and procedures can only take you so far, and simply cannot be enforced without the appropriate technology. We keep hearing about frictionless security where security technologies are enforced, but at the same time trying to minimise the impact on users, be they internal or external.
I believe that companies have to take security more seriously and implement technology more effectively and stringently. The corporate practice of permitting unlimited access to technical people needs to be curtailed. As we have also seen, more hacks are taking place through development environments which are typically less secure than production. Here too, corporates need to implement technology on a wider scale to close all the potential gaps in their environments.
I also think we may see some pull back from the rush we have witnessed of seeing companies moving to the cloud. With so many high profile companies being breached, including cloud providers, corporates may be a little more wary to move sensitive data to the cloud.
Another trend gaining momentum in the industry is with companies creating code for applications and having a requirement to create secure code. It is becoming paramount to ensure that code is tested for potential breaches before it goes into production, and companies like Veracode are spearheading these efforts. They scan code to identify areas of potential security weakness.
Finally, I also think that blockchain will start to become a major player. It is not in itself a security solution, but the principles of how it is used and implemented may mean it could be less susceptible to the amount of traditional security measures required in systems we use today, especially in financial implementations. Many companies are scrambling to build blockchain-based systems due to the fact that it can potentially increase security across three areas, namely: reduction in identity theft, prevention of data tampering, and negating 'denial of service' attacks.
Although these won't be mainstream for the next couple of years, the trend towards blockchain is accelerating rapidly and many believe this will be the next technology wave, and could well have a bigger influence than the Internet itself.
Credit(s)
Further reading:
Cyber attackers used over 500 tools and tactics in 2022
Cyber Security News
The most common root causes of attacks were unpatched vulnerabilities and compromised credentials, while ransomware continues to be the most common 'end game' and attacker dwell time is shrinking – for better or worse.
Read more...
---
Addressing the SCADA in the room
Industrial (Industry) Cyber Security
Few other sectors command the breadth of purpose-built and custom devices necessary to function, as the industrial and manufacturing industries. These unique devices create an uncommon risk that must be assessed and understood to fully protect against incoming attacks.
Read more...
---
Recession or stress?
Cyber Security News
The economic landscape has seen many technology companies lay off vast numbers of employees, but for cybersecurity, the picture looks very different – a dynamic mixture of excitement, challenges and toxicity.
Read more...
---
Vulnerabilities in industrial cellular routers' cloud management platforms
Industrial (Industry) Cyber Security Security Services & Risk Management
Research from OTORIO, a provider of operational technology cyber and digital risk management solutions, unveils cyber risks in M2M protocols and asset registration that expose hundreds of thousands of devices and OT networks to attack
Read more...
---
NEC XON appoints Armand Kruger as Head of Cybersecurity
News Cyber Security
NEC XON has announced the appointment of Armand Kruger as the Head of Cybersecurity. Kruger will oversee all cybersecurity offerings including cybersecurity strategy, programmes, and executive advisory.
Read more...
---
Caesar Tonkin new head of cybersecurity business, Armata
News Cyber Security
Vivica Holdings has announced the appointment of cybersecurity expert Caesar Tonkin to head up its cybersecurity business Armata, which provides technology solutions and niche expertise needed to help businesses better protect themselves.
Read more...
---
Smart buildings require smarter networks
Commercial (Industry) IT infrastructure
The smart building is not a new concept, but it's more than just four walls built sustainably, but a network that interconnects people, processes, data, and things. Lots and lots of things.
Read more...
---
Surveillance-free surfing
News Cyber Security Products
Zoho has launched Ulaa, a privacy-centric browser built specifically to help users secure their personal data and activity by providing a browser solution that universally blocks tracking and website surveillance.
Read more...
---
Troye and Arctic Wolf join forces
News Cyber Security Security Services & Risk Management
Troye has announced a strategic partnership with Arctic Wolf to enable Troye to provide customers with enhanced cybersecurity solutions and services that help protect their businesses from advanced cyber threats.
Read more...
---
Relaxed home cybersecurity could render consumers accidental 'inside actors'
Editor's Choice Cyber Security Smart Home Automation
Cisco security experts warn of snowball impact of relaxed approach to cybersecurity on personal devices, noting 60% of users primarily use their personal phone for work tasks and 76% have used unsecured public networks for work tasks.
Read more...
---