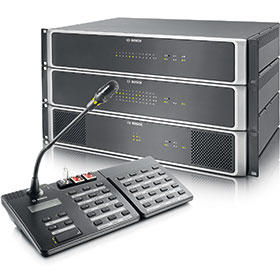 PAVIRO public address and voice evacuation system
February 2018, Integrated Solutions, Security Services & Risk Management
The PAVIRO Public Address and Voice Evacuation System from Bosch offers smart features making system specification and installation faster, simpler and more efficient than ever before. The new Dante network interface module ensures IP networking functionality, allowing larger areas with more audio channels with up to four decentralised controllers.
At the maximum configuration level, the PAVIRO system can now address up to 984 zones with a total of 164 000 watts of amplifying power in one system, making the system suitable for bigger installations in which a large number of zones and loud-speakers are needed. It also caters to existing installations whenever the infrastructure of a building changes and additional rooms have to be addressed. In addition, the network configuration provides redundant channels for safety purposes – in case of an emergency these channels will always work for evacuation signals, even if a controller loses network communication.
PAVIRO is EN 54-certified. The certification allows architects, planners and specifiers to fulfil mandatory requirements specified in many tenders. In addition to professional audio quality, PAVIRO's highly adaptable system architecture makes it ideal for small- to mid-sized offices, regional airports, mid-sized hotels, factories, schools and department stores. PAVIRO now also includes loudspeaker zone monitoring and 30 minutes of flash memory for recordings of evacuation-related communication.
For more information contact Bosch Security Systems – South Africa & sub-Saharan Africa, +27 (0)11 651 9600, security.systems@za.bosch.com, http://africa.boschsecurity.com