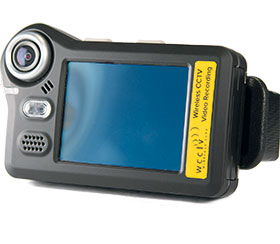 WCCTV body-worn camera launched
February 2018, CCTV, Surveillance & Remote Monitoring, Products
Rik Rhino has announced the WCCTV body-worn camera (BWC). At the ASIS International Annual Conference 2016 in Orlando, Florida, the WCCTV BWC Connect was deemed the most innovative entry, naming it the Judge's and People's Choice Award winner. More recently, the same device was awarded the Best New Product in the HD surveillance camera category at the 2017 SIA New Product Showcase at ISC (Las Vegas, Nevada).
"The ongoing recognition from our peers within the security industry is a testament to the company's commitment to developing and delivering innovative solutions that provide a tangible benefit to end-users," said WCCTV's managing director, David Gilbertson.
The camera itself is compact and contains all it needs within its casing, so there is no fumbling with external cables, battery packs, transmission units or tethering. The BWC has a 2,8-inch front-facing screen with 1080p resolution. The device boasts a 90-hour recorded video capacity and transmits a live feed and GPS location from the wearer's location to a control room via existing mobile networks. It can also send the recording to a number of mobile products and is Wi-Fi enabled. One of the draw cards of the BWC is the automatic fall-back, ensuring seamless coverage at all times.
Body-worn cameras are ideal for security personnel who might find themselves in a dangerous situation that could potentially require review at a later stage. Video recordings are objective, meaning that, should an account of a situation be required for any legal process to do with the situation in question, the wearer's potentially subjective view can be compared to the video evidence.
Gilbertson also said: "The uptake of body worn cameras has been driven by the need to protect the wearer and the public by providing greater transparency over how incidents occur and have been dealt with.
"Rik Rhino Surveillance specialises in technical security and surveillance solutions. We aim to improve the safety and security of our clients with wireless technology and smart applications to meet our customers' needs for technology-based surveillance systems."
For more information contact Rik Rhino Surveillance, +27 (0)74 675 3969, sales@rikrhino.co.za, www.rikrhino.co.za