printer friendly version
Hikvision safeguards SA electricity supply
February 2018
CCTV, Surveillance & Remote Monitoring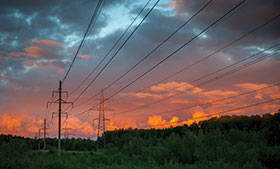 Hikvision is helping to ensure a safe and reliable electricity supply across South Africa with the deployment of a remote surveillance monitoring solution covering thousands of electricity substations and power transmission lines.
The largest electricity power distributor in South Africa, Eskom, operates a network of 400 000 km of overhead power lines and several thousand electricity substations providing electricity to domestic and business customers. In recent years, critical power infrastructure has become a target for cable and metal theft, resulting in vastly expensive and disruptive damage.
To combat the wide-scale problem, Eskom enlisted the help of a South African investigations company, Combined Private Investigations (CPI). "Copper and metal theft targeting power transmission infrastructure has become a real problem for maintaining the supply of electricity in South Africa," says Roy Robertson, principal director of CPI. "The impact of downtime for a substation hit by material theft can be significant, with loss of power to homes, hospitals, schools, factories and public transport services, so it was vital to our client that the theft incident rate should be significantly reduced.
"We needed to protect the most vulnerable and remote electricity substations, as these sites were experiencing the highest percentage of theft and service disruption. CPI strives to capitalise on the latest technologies to support an intelligence driven approach. As such, we approached Hikvision to provide the latest electronic security solutions."
Technology blueprint
Collaborating with Hikvision, CPI assessed the most effective technical specification of products to detect and deter the thefts. The specification formed a blueprint to be installed at all of the vulnerable electricity substations across South Africa.
CPI installed Hikvision DS-2CD2T42WD-I8 and DS-2DE5120W-AE cameras covering the internal and perimeter areas of each remote site. Equipped with 4 MP resolution, 120 dB Wide Dynamic Range, 3D DNR, EXIR high performance LEDs and 80-metre IR range, the DS-2CD2T42WD-I8 4 MP EXIR Network Bullet Camera was the right choice to monitor the substations, utilising its advanced performance to provide clear images day and night.
Additionally, the Hikvision DS-2DE5120W-AE 1.3MP 20X Network PTZ Cameras were used to provide 3D intelligent positioning and 20X Optical Zoom, to deliver instant visual confirmation on any on-site intruder detection – all in 1.3 MP resolution.
In conjunction with PIR devices covering the sites' perimeters, the Hikvision camera's Smart Video Content Analytics (VCA) technology was set-up to perform Line Detection, to confirm alarm activations and eliminate false alarms.
Recorded to Hikvision IDS-9632 NXI-1816S Embedded Plug & Play NVRs, up to 6 Megapixel recording resolution and a capacity of up to 4 SATA interfaces ensured the high-quality of local recording needed. Both live and recorded images are transmitted over a wireless LAN, back to CPI's central control room.
Rapid response
At the control room, Hikvision iVMS 5200 software with optional Video Wall driver was deployed to enable the monitoring of thousands of remote sites 24/7. In the event of an automated intruder alert being activated, surveillance operators can visually verify activity in seconds. During the process, all evidential video is tagged and automatically archived for future identification and prosecution usage.
"The Hikvision surveillance system ensures we can respond rapidly to any intrusion detected at the sites," continues Robertson. "Our response teams are equipped to attend sites quickly, to catch perpetrators in the act. The Hikvision camera images have proved critical in detecting and prosecuting offenders of metal theft, they have reduced incidents and enable us to visually confirm the precise cause of an alarm. This means we no longer need to deploy personnel to a site when it may be just a false alarm – saving valuable man hours and costs, vastly improving the effectiveness of our service.
Effective protection
"We are rolling-out the Hikvision-based security blueprint to many other power substations across South Africa. To date, over 1 000 electrical substations are protected by Hikvision systems – making a real difference to the provision of reliable power to all sections of industry and society across South Africa."
For more information contact Janis Roux, Hikvision South Africa, +27 (0)10 035 1172, [email protected], www.hikvision.com
Credit(s)
Further reading:
Antarctic surveillance
Dahua Technology South Africa CCTV, Surveillance & Remote Monitoring
Dahua Technology donated 15 security cameras to different scientific bases in the Argentine region of Antarctica; the cameras were especially developed to handle the harsh climate and extreme weather conditions in the area.
Read more...
---
Deep learning engine set to supercharge end-to-end solutions
CCTV, Surveillance & Remote Monitoring
IDIS, manufacturer of South Korean-made video technology, will be displaying an exciting line-up of end-to-end video solutions that include the latest advances in AI-powered video analytics for businesses of any size, at this year's Intersec.
Read more...
---
Realistic image quality even in dark environments
Dahua Technology South Africa CCTV, Surveillance & Remote Monitoring
The 4K video surveillance market size is expected to grow at 9 percent CAGR (compound annual growth rate), which is primarily driven by the increasing demand for public safety and security services.
Read more...
---
Cloud-based forensic video searching
CCTV, Surveillance & Remote Monitoring
Arcules introduces Forensic Video Search to empower rapid event identification within its video cloud service, providing a critical tool to help businesses identify specific objects or events in seconds.
Read more...
---
Minimising fire risks in automotive logistics
Hikvision South Africa CCTV, Surveillance & Remote Monitoring Products Logistics (Industry)
Automotive logistics company uses thermal imaging solution from Hikvision to ensure its stores of lithium batteries for electric vehicles never overheat and cause a fire.
Read more...
---
Axis launches P3265-LVE dome camera
Axis Communications SA Products CCTV, Surveillance & Remote Monitoring
Based on ARTPEC-8 — the latest Axis system-on-chip (SoC) — Axis' latest dome high-performance camera includes a deep learning processing unit (DLPU), and cybersecurity features.
Read more...
---
Smart car parking solution eases traffic flow
Dahua Technology South Africa CCTV, Surveillance & Remote Monitoring Integrated Solutions Products
Ethiopia's first smart parking lot, designed to improve traffic flow and management efficiency, has been built and installed using Dahua Technology's smart parking solutions.
Read more...
---
VMS 7.2 supports the investigation process and adds cloud capabilities
CCTV, Surveillance & Remote Monitoring Integrated Solutions Products
Qognify has launched the second release of its VMS, including extended support for body-worn video, additional functionalities to support investigations, and a new web client architecture. VMS 7.2 addresses the increasing use of body-worn video (BWV) across many sectors.
Read more...
---
The future of AIoT
Hikvision South Africa News CCTV, Surveillance & Remote Monitoring
Hikvision hosted its 2022 Shaping Intelligence Summit in Bali, Indonesia, on 29-30 November, where the company, its customers, and technology and solution partners, looked into the future of AIoT and explored paths to shared success.
Read more...
---
A comprehensive video solution for retail
LD Africa Retail (Industry) CCTV, Surveillance & Remote Monitoring Products
Retail Intellect is a comprehensive, flexible solution for retailers that matches technologies to ensure point-of-sale safety and security with video analytics.
Read more...
---