printer friendly version
Actively tracking tampering
February 2018 Asset Management, EAS, RFID, Products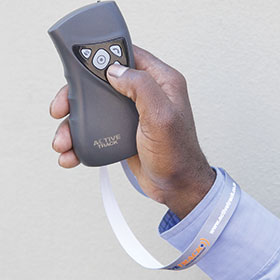 Players in the logistics industry know all too well that limitation of liability is crucial. While standard trading conditions can reduce one's exposure, one is constantly on the lookout for innovative ways to better protect property and life without unduly burdening one's business.
The Active Track is an easy-to-use, versatile device suited to the needs of the logistics field. Customers who implement the Active Track enjoy a range of benefits from improved security, service delivery and heightened client satisfaction, to an overall reduction of loss and wasted costs. This was recently demonstrated by a checks and balances procedure implemented by a company using the Active Track.
The customer runs a warehousing and transport business. It owns a fleet of trucks which it uses to ship goods from its central warehouse to its various distribution centres across the country. In an attempt to deliver a superior service, the company fitted its warehouses with closed-circuit television systems and employed a company to render security services at each of its premises.
As a further measure, each truck would be sealed with a plastic seal once packed. On arrival at the relevant destination, a security officer would check that the seal was intact to ensure that the contents had not been interfered with. A company employee would thereafter unpack the vehicle and confirm receipt of the goods as per the packing list.
However, despite these measures, certain shipments were routinely short-delivered. Upon investigation, it appeared that company employees were cutting the seal, removing certain goods from the shipments, and gluing the seal back together.
After discussing its various options, the company decided on Active Track as the solution to the ongoing theft.
The security officers responsible for checking the seal on arrival at the various premises were advised that an RFID seal would be used in place of the plastic seal. On implementation of this strategy, each security officer was issued with a hand-held Active Track device.
The Active Track device has a built-in RFID reader which enables the security officer to scan the RFID card of the driver, as well as the RFID seal, on arrival at the distribution centre. If the seal has been tampered with, the Active Track will be unable to read it. In reaction to an unreadable seal, the security officer will rely on the GSM capabilities of the Active Track and call the warehouse manager to report the event. An automated text message or email can also be sent at the touch of a button, to report the event to the warehouse manager or similar official.
The Active Track's GPS functionality ensures that each security officer remains at the point of entry to the warehouse during his shift, and carries out his scanning duties correctly.
The data captured by the Active Track is accessible by the company in real-time, remotely, via the online portal. This equips the company to be sure that the correct processes are being carried out, and to act swiftly in the case of a deviation in procedure or a discrepancy.
With the addition of Active Track, the company experienced a reduction in theft, greater control over its stock and improved staff performance overall.
For more information contact Active Track, +27 (0)11 551 1687, info@activetrack.co.za, www.activetrack.co.za
Credit(s)
Further reading:
The era of smart surveillance
September 2019, Forbatt SA , CCTV, Surveillance & Remote Monitoring, Products
Professionals in the surveillance industry know CCTV is not what it used to be. Smart functions on cameras are no longer nice to haves, they have become a necessity.
Read more...
---
Arteco launches new management platform
September 2019, Arteco Global, Technews Publishing , CCTV, Surveillance & Remote Monitoring, Products
Arteco has released its latest management platform, Omnia, designed to be faster and more responsive to operators? needs.
Read more...
---
Edwards Public Address & Voice Alarm System
October 2019 , Security Services & Risk Management, Products
Carrier has added the Public Address & Voice Alarm (PAVA) range to its fire product offerings.
Read more...
---
Your business needs synchronised security
September 2019 , Cyber Security, Products
This complete security portfolio from Sophos offers endpoint, servers, firewall, Wi-Fi, mobile, email and encryption that is fully scalable to grow as your business does.
Read more...
---
Sarix Professional Series 3 IP cameras
September 2019, Pelco by Schneider Electric , CCTV, Surveillance & Remote Monitoring, Products
Offered in mini-dome, bullet, box, and wedge configurations, the Sarix Professional (Pro) Series 3 Fixed IP cameras deliver a set of features and performance at affordable price points.
Read more...
---
The future of connectivity in South Africa
September 2019 , IT infrastructure, Products
Next-generation technologies will drive real transformation in companies. Organisations across all industries must prepare to enter the next phase of the digital future, says Matthew Hall, product director at Rectron.
Read more...
---
Improving access in mines
October 2019, Astra Fasteners , Mining (Industry), Access Control & Identity Management, Products
The VP1 controller provides full access control and remote monitoring of intelligent locks without having to wire into a network or install, manage and maintain software.
Read more...
---
Johnson Controls introduces Verasys
October 2019, Johnson Controls , Integrated Solutions, Products
Johnson Controls introduces a flexible solution to the South African market - ensures low field installation costs and new level of insight into building operations.
Read more...
---
Using home security to provide home automation
October 2019, TPA Security Distributors , Perimeter Security, Alarms & Intruder Detection, Products
Making outdoor intrusion detection sensors an integral part of the security/home automation system is a reality with Texecom Connect and Ricochet technology.
Read more...
---
Not just intruder detection systems
October 2019, Elvey Security Technologies , Perimeter Security, Alarms & Intruder Detection, Products
The market is clamouring for the integration of traditional intruder detection systems with home automation, surveillance and access control solutions.
Read more...
---