printer friendly version
Technology in education
February 2018 Education (Industry), Access Control & Identity Management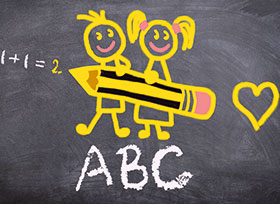 Imagine being able to keep track of where your child goes the moment he or she is dropped off at school from just a swipe of your finger, monitoring their every move within the school premises on your cellphone or PC at home.
Education is a vital sector for the future prosperity of the country and is one of government's top priorities. Therefore, to be an effective tool for the future success of learners, education must keep up with the latest developments in technology. It is becoming ever more important for learners, teachers and parents to be able to participate in an increasingly digital world.
Picture a classroom infrastructure that includes wireless technologies, remotely accessible switches and routers, and collaboration tools to create an intelligent environment for the invention of real-world Internet of Things (IoT) products, services and experiences by students. Educational institutions recognise the threat of insecurity to their children and are starting to adopt biometric identification systems to protect the students under their care.
The education sector and related entities are becoming consumers of security, both physical and electronic forms thereof. It is also a fact that most of this consumption is rather uncoordinated and inefficient at most times due to various reasons that cascade from lack of knowledge about the real as well as potential risks and threats that necessitates such a service or technology, to lack of knowledge of what products, solutions and services are available in the market to address any security challenges that they may face.
A need for comprehensive and well-constructed security strategies for educational institutions is more profound now than it has ever been in the past. This is due to present day security threats that are common knowledge to the education sector throughout the world.
It can no longer be a place of learning as usual and security can no longer be relegated to the status of a peripheral service. There are companies that offer education institutions a new user-friendly UI platform to monitor the safety and security of the students and learners that enter their premises. From parent SMS notification, classroom attendance monitoring, secure student entrance, CCTV integration, regulated vehicle entrance, an all-in-one school attendance and security solution is customised to for institution's needs.
Credit(s)
Further reading:
Salient Systems manages campus security
Education (Industry) CCTV, Surveillance & Remote Monitoring Access Control & Identity Management
The University of Massachusetts Amherst relies on Salient Systems for video, access control operations for flagship campus as it standardises on IP surveillance.
Read more...
---
QR Code passwordless authentication method
News Access Control & Identity Management Products
LogMeOnce introduces a patented QR Code passwordless authentication method allowing users to scan a code with their mobile device for secure authentication.
Read more...
---
Improving biometrics to address privacy, scale and accuracy
Editor's Choice Access Control & Identity Management News
CryptoNets uses artificial intelligence and a new type of encryption; it is very fast, locating a face among countless others in milliseconds without the need to have any other data to narrow the search.
Read more...
---
Web-based access control
Regal Distributors SA ZKTeco Access Control & Identity Management
Managed over the cloud, ZKBioSecurity is the access control solution that ensures total control over all entrances, exits, internal doors, gates and turnstiles, and more.
Read more...
---
Gallagher announces ISO 27001 certification
Gallagher News Access Control & Identity Management
Gallagher has announced it has achieved ISO 27001 accreditation, a standard that ensures organisations protect their information in a systematic and efficient way, through a comprehensive Information Security Management System (ISMS).
Read more...
---
ZKTeco Experience Centre
ZKTeco News Access Control & Identity Management
ZKTeco South Africa has opened the doors to its innovative and interactive space, the ZKTeco Experience Centre in Centurion, Pretoria and welcomes visitors to partake in the 'Powered by ZKTeco' experience.
Read more...
---
ZKTeco
ZKTeco Products
ZKTeco's biometric security technology is aimed at overcoming shortcomings of previous facial recognition terminals and achieve an all-rounded upgrade on performance and reliability by using deep learning. ...
Read more...
---
Touchless school access control
neaMetrics Suprema Editor's Choice Access Control & Identity Management Integrated Solutions Education (Industry) Products
Wolverhampton Grammar School deployed a Suprema access control solution, integrated with Paxton to resolve its legacy access control challenges.
Read more...
---
Visible light facial recognition
ZKTeco Access Control & Identity Management
The ZKTeco SpeedFace-V5L [TI] is a fully upgraded version of the SpeedFace-V5L [TD] visible light facial recognition body temperature detection terminal, supporting facial and palm recognition.
Read more...
---
Upgraded ProFace product line
ZKTeco Products
The ZKTeco ProFace X [TI] is powered by the ZKTeco-customised CPU for running its intellectualised engineering facial recognition algorithm and the latest computer vision technology.
Read more...
---