printer friendly version
Fire safety in Ghana
February 2018 Fire & Safety, Products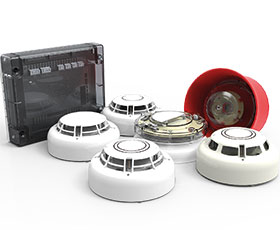 Hochiki Europe has supported the construction of a new petrochemical storage and distribution facility in Ghana, by supplying a range of fire detection and alarm equipment.
Called the New Petroleum Products Storage and Distribution Terminal, the facility is spread across an area of more than 113 000 m² in the heart of the port city of Tema. Eight buildings on the site all required the highest possible standard of life safety protection.
Oil and gas facilities can be particularly challenging environments when it comes to specifying life safety systems. The presence of hazardous and potentially volatile materials, like petrochemicals, requires an even closer focus on safety considerations. In addition, higher than usual levels of smoke, dust and other particulates in the atmosphere can pose a challenge for accurate fire detection, resulting in a need for highly intelligent detection devices.
Metron Energy Applications, a Greek-based provider of oil and gas industry construction solutions, led the development of the Tema facility. The firm tasked fire safety solutions supplier, Formula Techniki, with delivering a detection system that met the requirements of the National Fire Protection Association's (NFPA) National Fire Alarm and Signalling Code. Also known as NFPA 72, this internationally recognised US standard includes requirements specific to the fire safety risks found in chemical facilities.
It was also essential that any products installed as part of the fire detection system were intelligent, and would allow the facilities managers to quickly identify hazards in order to help them take appropriate action to protect the building and its occupants.
Finding the right solution
Formula Techniki specified a number of products from Hochiki Europe's Safety Integrity Level (SIL) range. SIL is a standard that has been widely adopted by the global oil and gas industry, and provides targets around the reliability and performance of the safety systems used to protect such hazardous environments. All of Hochiki's SIL Approved range provides SIL Level 2 protection.
A total of 18 SIL approved wall sounders and 45 SIL approved photoelectric smoke sensors were installed across the storage facility. These sensors feature variable sensitivity levels, allowing the facilities managers to increase or decrease the sensor threshold, depending on the surrounding operating environment. This improves the so-called 'signal-to-noise' ratio, meaning the sensors can be set to ensure they are not triggered by the background 'noise' caused by the constant presence of airborne material normally found in the vicinity, but only by the unique 'signals' resulting from the release of additional particles generated by a fire. In doing so, it helps reduce the risk of a false alarm.
Nineteen SIL-approved addressable weatherproof manual call points were also installed throughout the site. These allow building occupants to manually sound the alarm in the event of a fire or life safety incident, further safeguarding against a system failure. They have been specially designed and approved for use in some of the most demanding applications, including oil platforms and marine environments. Featuring integral short-circuit isolators to ensure loop performance, they also offer rapid response communications to virtually eliminate the risk of false alarms.
Both the photoelectric sensors and the weatherproof manual call points installed at the facility are compatible with Hochiki Europe's ESP open protocol, in line with Metron Energy Application's need for a flexible and intelligent fire and life safety solution.
Keeping occupants safe
The life safety equipment at Tema has now been installed and the construction of the new facility is now complete. The site now has a fire safety system capable of meeting the strict requirements of such a hazardous environment.
Speaking about the project, Angelos Angelikas, technical manager at Formula Techniki, noted: "In any hazardous environment, there is a whole raft of fire safety considerations that need to be taken into account.
"To match the increased risks faced by building occupants in these hazardous locations, we needed to use products globally-recognised for their high quality and enhanced performance. With a dedicated range of SIL products and approvals from the Loss Prevention Certification Board (LPCB), Hochiki Europe was the obvious choice."
For more information contact Paul Adams, Hochiki Europe (UK), +44 1634 266 568, [email protected], www.hochikieurope.com
Further reading:
Turkish university installs IDIS surveillance
CCTV, Surveillance & Remote Monitoring Products
IDIS video streamlines complex surveillance systems for learning institution, upgrading a 350-camera system with 24/7 control room monitoring to transform security for Social Sciences University of Ankara (ASBU).
Read more...
---
Fidelity SecureFire steps into critical fire response space
News Fire & Safety
With the majority of fire stations around the country being crippled by a lack of resources to offer effective responses, Fidelity Fire Solutions has launched its own 'first responder' model, Fidelity SecureFire.
Read more...
---
Long-distance connectivity with Simplex ES Net Life Safety
Johnson Controls Global Products Fire & Safety Products
ES Net Network Bridge allows fire alarm system data to be transmitted across distant buildings via a customer's existing network infrastructure, improving system-wide monitoring and control in facilities and campuses where life safety networks are often widely dispersed.
Read more...
---
Visitor management via QR code
ATG Digital Access Control & Identity Management Products
ATG Digital has launched its QR Code Reader to enhance access control's security and efficiency. The new QR Code Reader enables seamless, contactless access control, creating an efficient user journey.
Read more...
---
District secures activity centre
Paxton Access Control & Identity Management Products
Paxton's Net2 access control solution is a user-friendly and flexible networked access control system, which made installing and managing access control security at an activity centre straightforward.
Read more...
---
Manage security systems remotely
Hikvision South Africa CCTV, Surveillance & Remote Monitoring IT infrastructure Products
Hikvision launched a new generation of smart managed switches that, in conjunction with the Hik-Partner Pro mobile app, enable installers to remotely deploy and configure security systems with comprehensive operation and maintenance capabilities.
Read more...
---
From overwhelm to oversight
Editor's Choice Cyber Security Products
Security automation is vital in today's world, and Microsoft Sentinel is a widely adopted, but complex answer. ContraForce is an easy-to-use add-on that automatically processes, verifies and warns of threats round-the-clock.
Read more...
---
Synology enhances functions for advanced surveillance integration
Technews Publishing CCTV, Surveillance & Remote Monitoring IT infrastructure Products
With the capability to function as both an API client and server, Surveillance Station offers a versatile platform for integration, whether it's embedding video streams into other platforms or overlaying external data onto recorded video.
Read more...
---
Elvey Group and Technoswitch part ways
Elvey Security Technologies Fire & Safety News
The Elvey Group (a division of the Hudaco Group of Companies) is relinquishing its distributorship of the Technoswitch brand, following Hudaco's acquisition of Brigit Fire.
Read more...
---
Simplify adoption of Generative AI
News IT infrastructure Products
Nutanix simplifies adoption of Generative AI with Nutanix GPT-in-a-Box, an AI infrastructure solution that accelerates customers' path to GPT and LLMs while keeping organisations in control of their data.
Read more...
---