printer friendly version
Fire safety in Ghana
February 2018 Fire & Safety, Products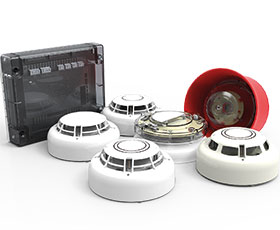 Hochiki Europe has supported the construction of a new petrochemical storage and distribution facility in Ghana, by supplying a range of fire detection and alarm equipment.
Called the New Petroleum Products Storage and Distribution Terminal, the facility is spread across an area of more than 113 000 m² in the heart of the port city of Tema. Eight buildings on the site all required the highest possible standard of life safety protection.
Oil and gas facilities can be particularly challenging environments when it comes to specifying life safety systems. The presence of hazardous and potentially volatile materials, like petrochemicals, requires an even closer focus on safety considerations. In addition, higher than usual levels of smoke, dust and other particulates in the atmosphere can pose a challenge for accurate fire detection, resulting in a need for highly intelligent detection devices.
Metron Energy Applications, a Greek-based provider of oil and gas industry construction solutions, led the development of the Tema facility. The firm tasked fire safety solutions supplier, Formula Techniki, with delivering a detection system that met the requirements of the National Fire Protection Association's (NFPA) National Fire Alarm and Signalling Code. Also known as NFPA 72, this internationally recognised US standard includes requirements specific to the fire safety risks found in chemical facilities.
It was also essential that any products installed as part of the fire detection system were intelligent, and would allow the facilities managers to quickly identify hazards in order to help them take appropriate action to protect the building and its occupants.
Finding the right solution
Formula Techniki specified a number of products from Hochiki Europe's Safety Integrity Level (SIL) range. SIL is a standard that has been widely adopted by the global oil and gas industry, and provides targets around the reliability and performance of the safety systems used to protect such hazardous environments. All of Hochiki's SIL Approved range provides SIL Level 2 protection.
A total of 18 SIL approved wall sounders and 45 SIL approved photoelectric smoke sensors were installed across the storage facility. These sensors feature variable sensitivity levels, allowing the facilities managers to increase or decrease the sensor threshold, depending on the surrounding operating environment. This improves the so-called 'signal-to-noise' ratio, meaning the sensors can be set to ensure they are not triggered by the background 'noise' caused by the constant presence of airborne material normally found in the vicinity, but only by the unique 'signals' resulting from the release of additional particles generated by a fire. In doing so, it helps reduce the risk of a false alarm.
Nineteen SIL-approved addressable weatherproof manual call points were also installed throughout the site. These allow building occupants to manually sound the alarm in the event of a fire or life safety incident, further safeguarding against a system failure. They have been specially designed and approved for use in some of the most demanding applications, including oil platforms and marine environments. Featuring integral short-circuit isolators to ensure loop performance, they also offer rapid response communications to virtually eliminate the risk of false alarms.
Both the photoelectric sensors and the weatherproof manual call points installed at the facility are compatible with Hochiki Europe's ESP open protocol, in line with Metron Energy Application's need for a flexible and intelligent fire and life safety solution.
Keeping occupants safe
The life safety equipment at Tema has now been installed and the construction of the new facility is now complete. The site now has a fire safety system capable of meeting the strict requirements of such a hazardous environment.
Speaking about the project, Angelos Angelikas, technical manager at Formula Techniki, noted: "In any hazardous environment, there is a whole raft of fire safety considerations that need to be taken into account.
"To match the increased risks faced by building occupants in these hazardous locations, we needed to use products globally-recognised for their high quality and enhanced performance. With a dedicated range of SIL products and approvals from the Loss Prevention Certification Board (LPCB), Hochiki Europe was the obvious choice."
For more information contact Paul Adams, Hochiki Europe (UK), +44 1634 266 568, padams@hochikieurope.com, www.hochikieurope.com
Further reading:
Improved security health check tool
Gallagher Access Control & Identity Management Products
Gallagher Security has streamlined its free Security Health Check tool, making it easier than ever to protect against potential system risks and improve business efficiencies.
Read more...
---
Maximum fire protection for the most dangerous places
Securiton Fire & Safety Mining (Industry) Products
Africa's heavy mining and resource processing industries are some of the continent's leading economic lights. They also present some of its toughest fire safety challenges on the planet.
Read more...
---
RDC expands its production capabilities
Radio Data Communications Perimeter Security, Alarms & Intruder Detection Products
Local electronics manufacturer, RDC, recently acquired a new SMT (surface mount technology) machine to boost its manufacturing output and meet the needs of its global customer base.
Read more...
---
Suprema showcases integrated security solutions
Suprema Access Control & Identity Management Products
Apart from being an access terminal that supports multiple credentials such as facial recognition, RFID, mobile and QR codes, the BioStation 3 also supports VoIP Intercom and real-time video monitoring features to make it a truly multi-functional reader.
Read more...
---
Unlock seamless security with integrated products
Secutel Technologies Integrated Solutions Products
By combining SecuVue and Secutraq, Secutel has created a system that enables users to configure analytics, facial recognition, pose detection, and XFS among other security triggers modern service providers require.
Read more...
---
Paxton secures multi-tenant office in Cape Town
Paxton Integrated Solutions Access Control & Identity Management Products
Cecilia Square in Paarl, Cape Town is an office building from where several businesses operate. The multi-tenant site has recently undergone a full refurbishment, including a complete upgrade of its security system for access control.
Read more...
---
AI face recognition OEM module
Suprema News Access Control & Identity Management Products
Suprema AI, a company specialized in artificial intelligence–based integrated security solutions, recently launched its high-performance face recognition OEM module called 'Q-Face Pro' in response to the growing need for contactless security solutions.
Read more...
---
Technology to thwart solar panel thieves
Asset Management, EAS, RFID Security Services & Risk Management Products
A highly efficient industrial network is coming to the rescue of the solar industry, as solar panels, inverters and batteries are being targeted by thieves and threaten to destabilise the industry.
Read more...
---
Invisible connection and tangible protection via cloud
Dahua Technology South Africa Perimeter Security, Alarms & Intruder Detection CCTV, Surveillance & Remote Monitoring Products
Dahua Technology has launched its AirShield security solution that uses advanced, stable and reliable RF communication technology and cloud services, integrating alarm hubs, various detectors and accessories, with several software apps.
Read more...
---
Bi-directional integration of Gallagher and Qognify
Gallagher Integrated Solutions Products
In a world of converging technology ecosystems, siloed solutions are no longer viable; this applies in particular to physical security, where only combined information enables a comprehensive assessment of a situation and a timely response.
Read more...
---